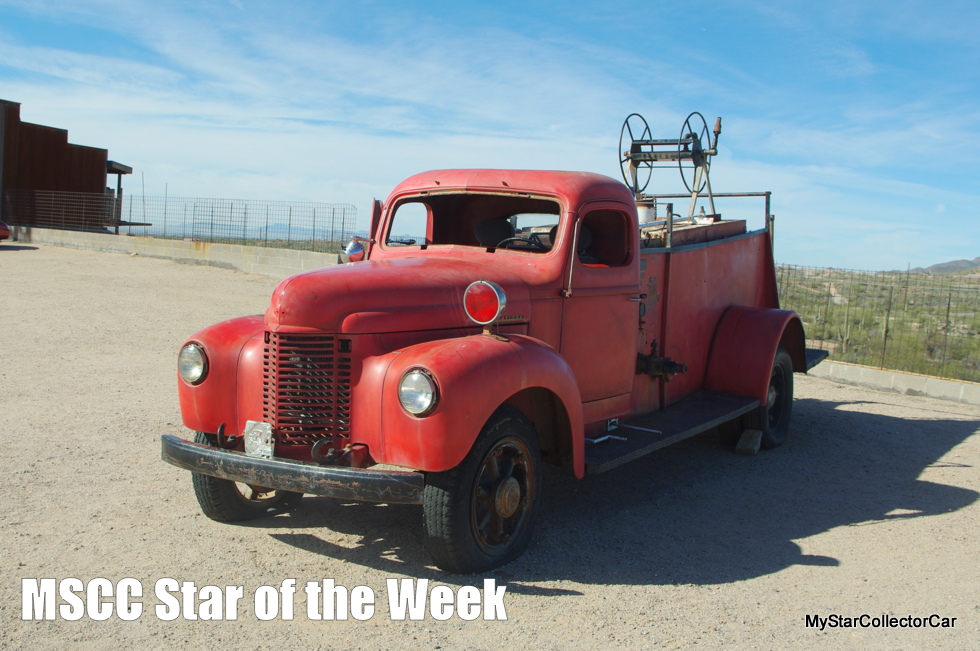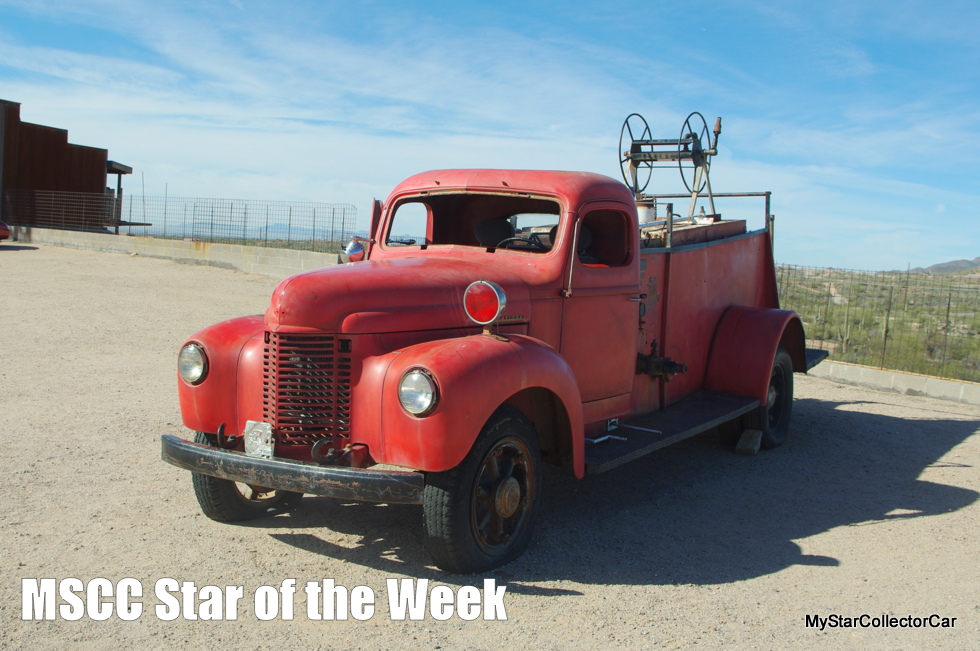 MSCC JANUARY 31 STAR OF THE WEEK: IHC FIRE TRUCK—THE REAL STAR OF AUCTION WEEK
This past week in Scottsdale was an all-star lineup for old iron of every shape, size and decade.
The biggest problem was finding time to evaluate all these incredible rides.
'These were examples of the best of the best in car world so there were literally hundreds of examples of what happens when incredible talent, creativity and tons of money are thrown into a project.'
Despite the glitter in Scottsdale, this unloved, neglected and weathered IHC fire truck spotted near the city is the real Star of the Week.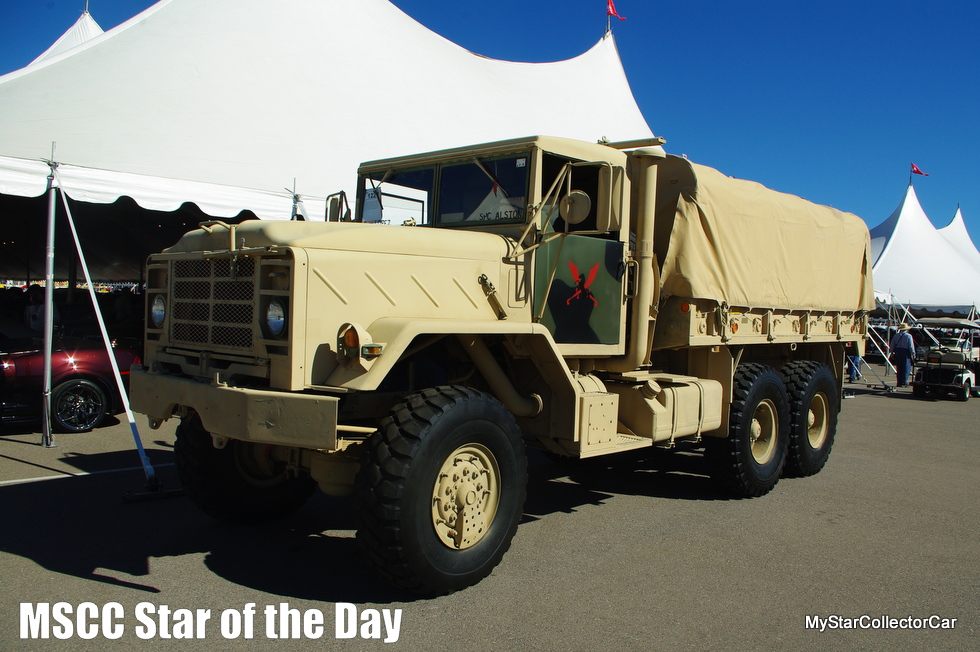 MSCC JANUARY 30 STAR OF THE DAY: 1990 BMY HASCO M923A2 TACTICAL CARGO TRUCK—WHEN YOU HAVE A LOT OF STUFF TO HAUL
Trucks are multi-dimensional vehicles in 2016 but their basic function is to haul stuff.
Hauling stuff is why the truck was invented.
'The loads may vary but they can range from a light load of lumber, to a medium load of garbage to a giant load of gravel but at the end of the day stuff gets hauled.'
This MSCC Star of the Day is a 1990 BMY Hasco M923A2 tactical cargo truck for those days when you have a lot of stuff to haul.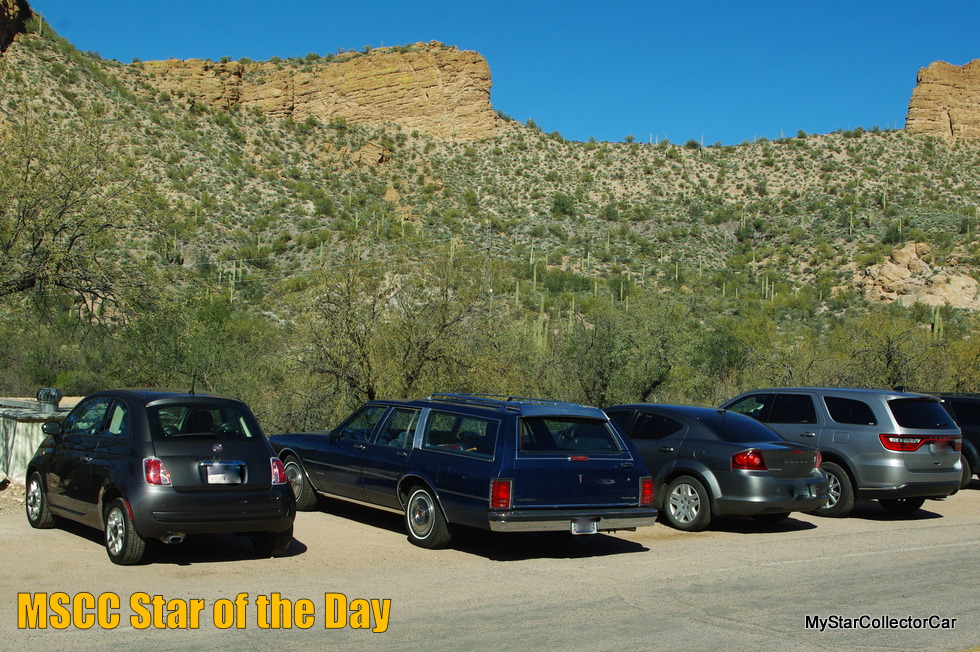 MSCC JANUARY 29 STAR OF THE DAY: OLD SCHOOL WAGON VERSUS NEW SCHOOL—80S NOSTALGIA
There was a time when station wagons were the heart and soul of family life.
This was long before the compartmentalized world of cars in 2016.
'Wagons were a catch all invention for all the daily chores in an average family so they could be hauling a load of Cub Scouts one day and a load of plywood the next because there were no minivans, SUVs or Smart Cars so they were all rolled into the humble station wagon.'
This MSCC Star of the Day was in a parking lot yesterday-it was truly old school versus new school.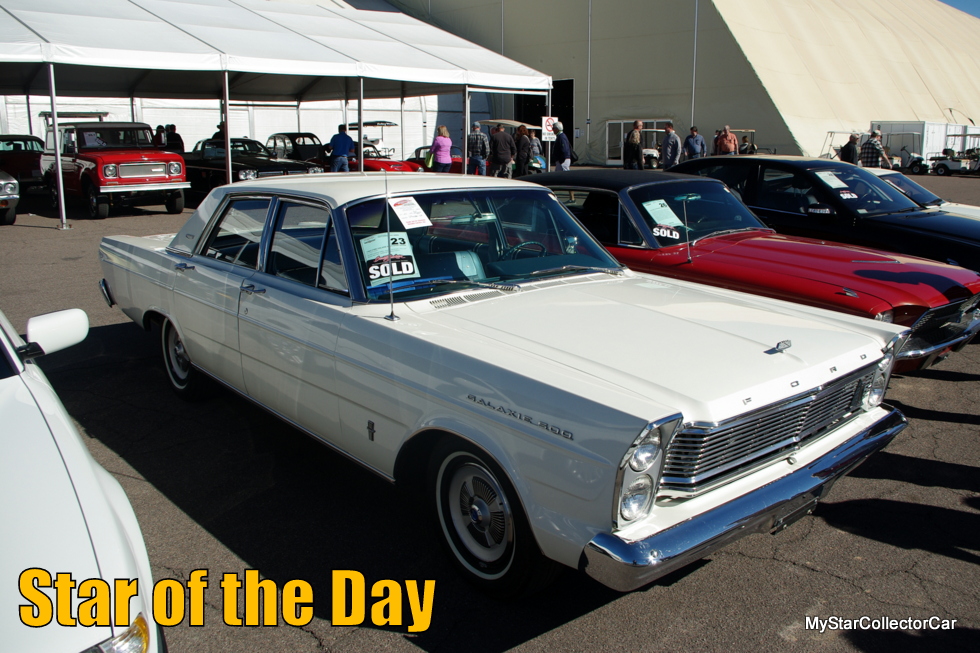 MSCC JANUARY 28 STAR OF THE DAY: 1965 FORD GALAXIE—BECAUSE HISTORY NEEDS TO BE PRESERVED.
You can envision many scenarios for a 4-door sedan and very few of them have happy ending written into the plot.
These were cars that were used up and discarded because they were function over from to the next level.
'You can easily calculate the number of 11-year old kids who went to sleep every night and dreamed about the day they could own Dad's trusty old 4-door sedan in one simple number (zero)–these cars were unfortunate sacrifices to the gods of cool.'
That's why this MSCC Star of the Day survivor 1965 Ford Galaxie is so important—history need to be preserved.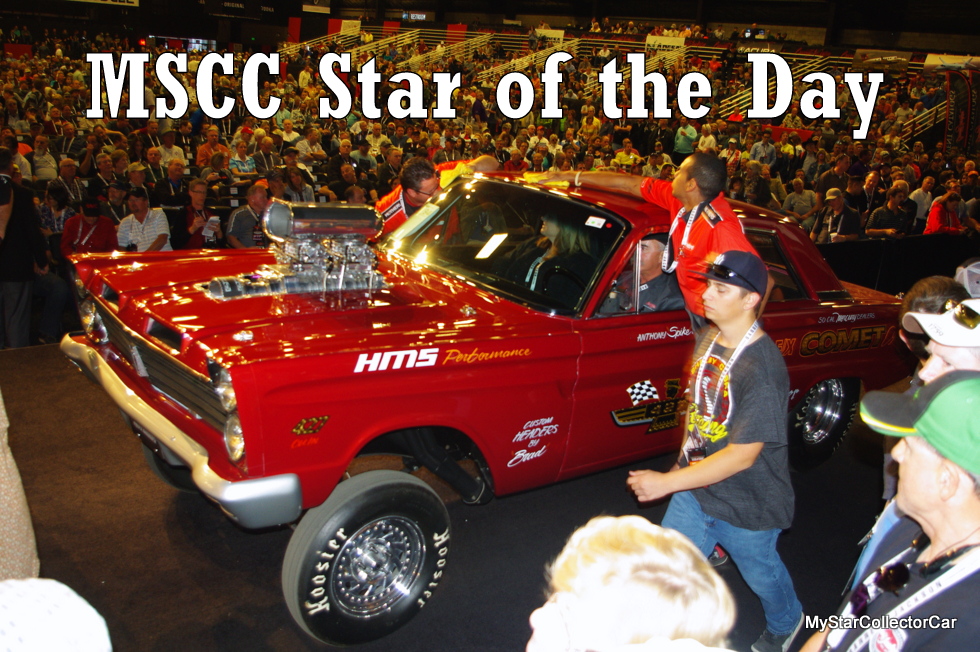 MSCC JANUARY 27 STAR OF THE DAY: '65 COMET GASSER—THIS IS HOW YOU MAKE AN ENTRANCE
There are two ways to make an entrance.
You can be quiet and dignified with an air of confidence and win people over with subtle grace.
'Or you can enter like a carefully tossed hand grenade and literally blow people up with a concussion blast that takes the audience by the throat—clearly there's a huge difference between option 1 and option 2.'
This MSCC Star of the Day '65 Comet gasser showed up on the Barrett-Jackson auction stage with open headers and the distinctive whine of a supercharger—this is how you make an entrance.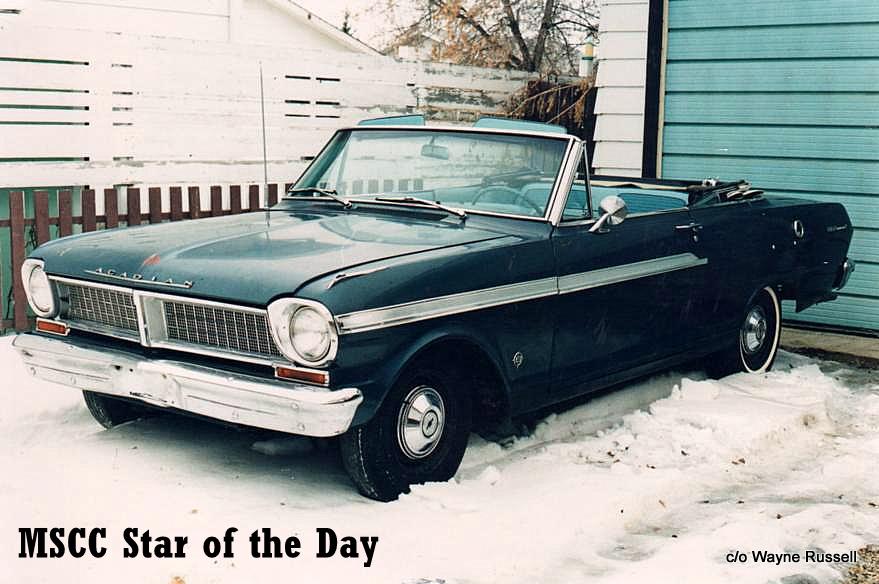 MSCC JANUARY 26 STAR OF THE DAY: ACADIAN CONVERTIBLE—YES, CANADA DOES HAVE SUMMER
There was a time when Canada and the United States had some distinctively different cars and trucks.
Canadians bought cars with mix and match parts and badges that differed greatly from their American cousins.
'They bought Plodges (Canadian Dodges with Plymouth back ends), Fargo trucks, Meteor cars and Pontiac Acadians because that's what dealers offered in the Great White North.'
This MSCC Star of the Day is a Pontiac Acadian convertible because yes—Canada does have summer.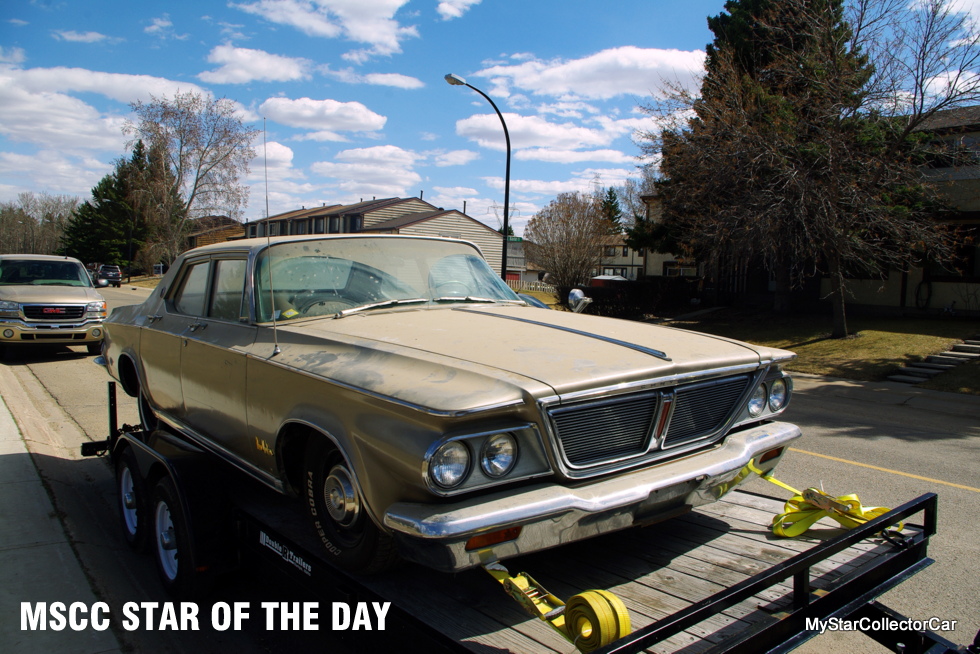 MSCC JANUARY 25 STAR OF THE DAY: THE EXCITEMENT OF THE BARN FIND
Barn finds are the Holy Grail of the car hobby.
Barn finds are so popular there's an urban myth that won't die on the new age social media.
'You've all seen it—it's the one about a warehouse in Portugal sold for next to nothing–it turned out to be full of exotic and rare cars so the owner made millions on his minimum investment thanks to a barn full of dusty old iron but like Santa Claus; it was a happy dream and not a real world event.'
This MSCC Star of the Day is a dusty '64 Chrysler—it reflects the true excitement of the barn find because it's still fun but in a real way, not a made-up social media way.
CLICK HERE to Like us on Facebook
CLICK HERE to Follow us on Twitter
CLICK HERE to Follow us on Pinterest
Please re-post this if you like this article.