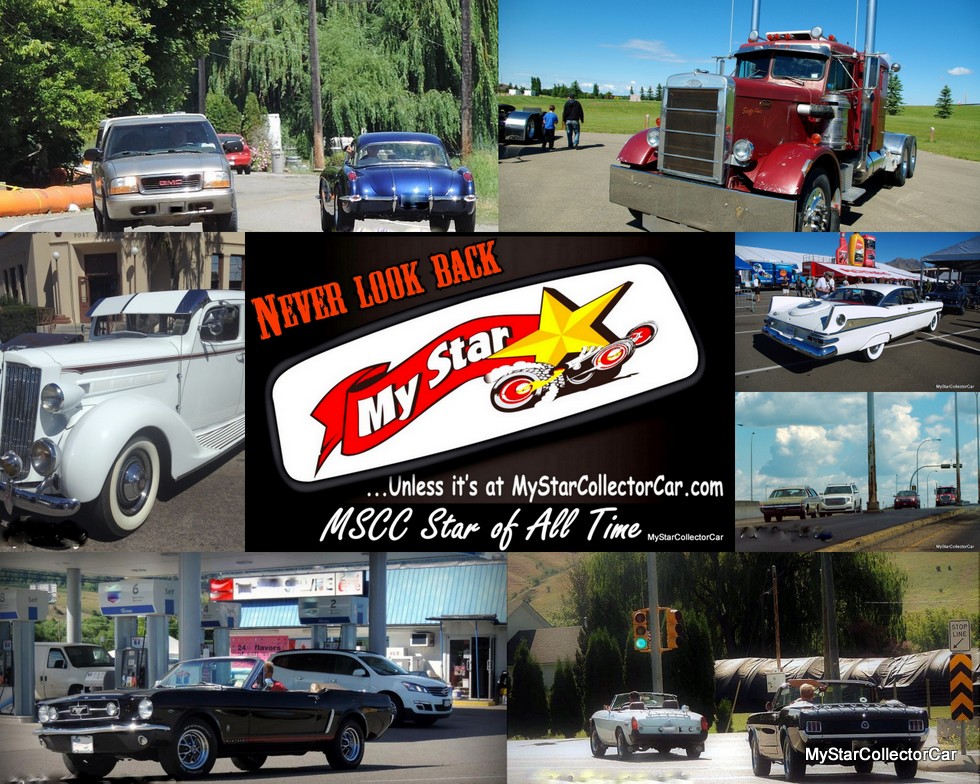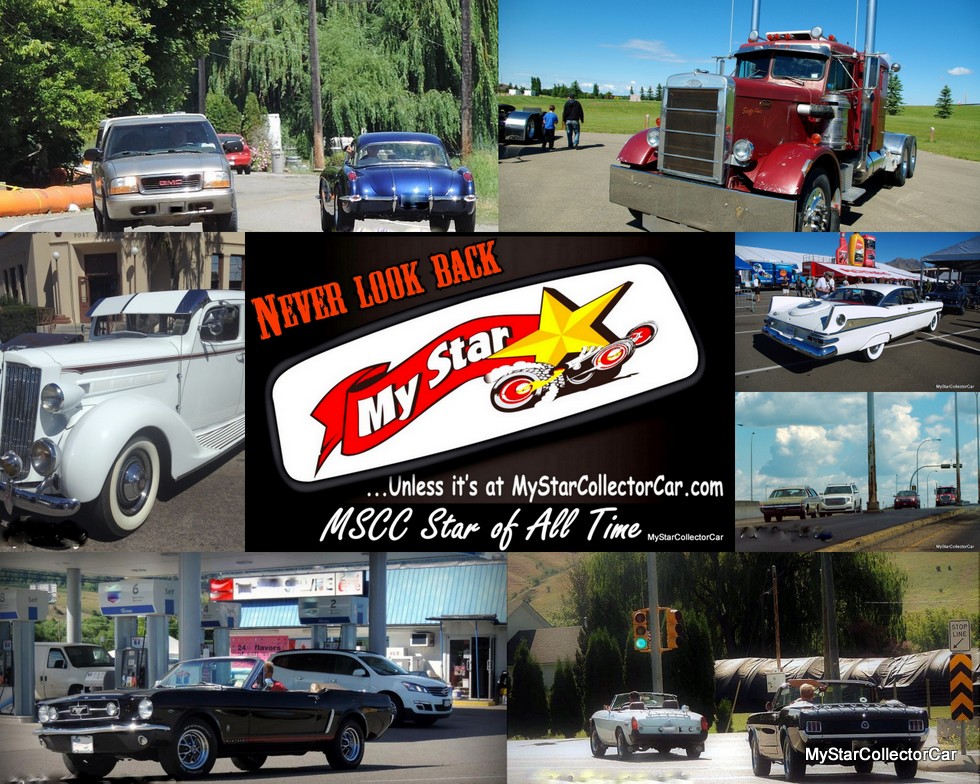 MSCC JULY 2 STAR OF ALL TIME: '59 FURY—THIS ONE IS PERSONAL
This will be the last MSCC Star of the Day but it's been packed with some incredible old iron.
The first Star of the Day was a '69 Dart back on May 9, 2011—here's the MSCC link to that historical event.
This has always been a subjective exercise so it's never been scientific—it's all about gut reaction so this last pick is more of the same.
I've always been a huge Exner era fan and the '59 Plymouths were the high water mark (in my opinion) of these incredible machines so that's why the MSCC Star of All Time is this 1959 Fury.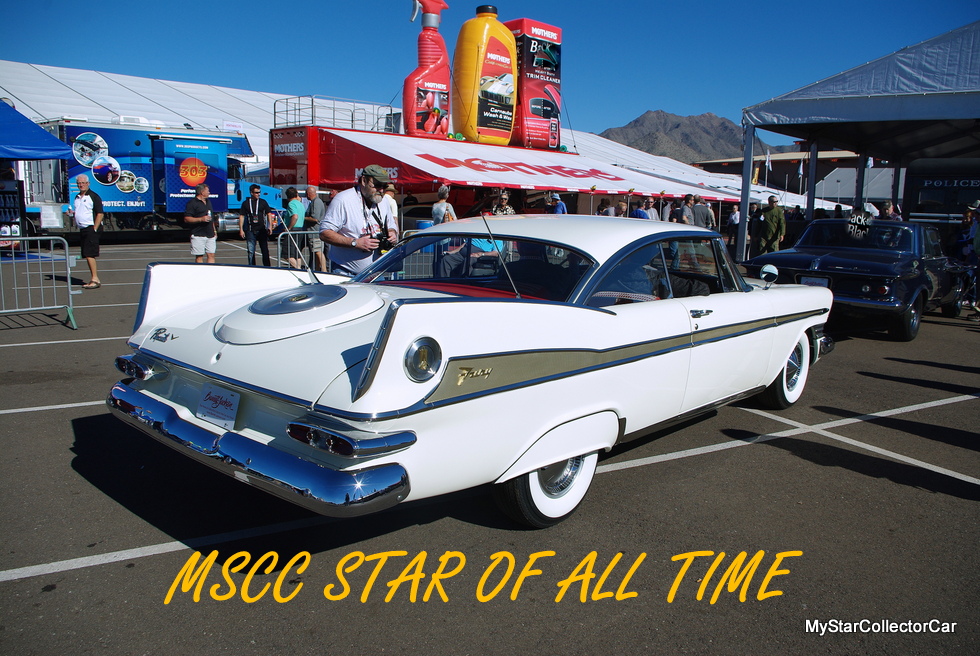 It's been a fun run for the MSCC Star of the Day but this month there will be a new feature because like the sign says:
"Never look back unless it's at MyStarCollectorCar".     
JS
MSCC JULY 1 STAR OF THE DAY: TWO MORE VERSIONS OF THE OPEN AIR RIDE
It doesn't matter what side of the pond you're on when it comes to affordable sporty convertibles.
The British built lots of them in the 60s and Ford countered with the Mustang.
The Star of the Day encompasses both concepts in one street scene.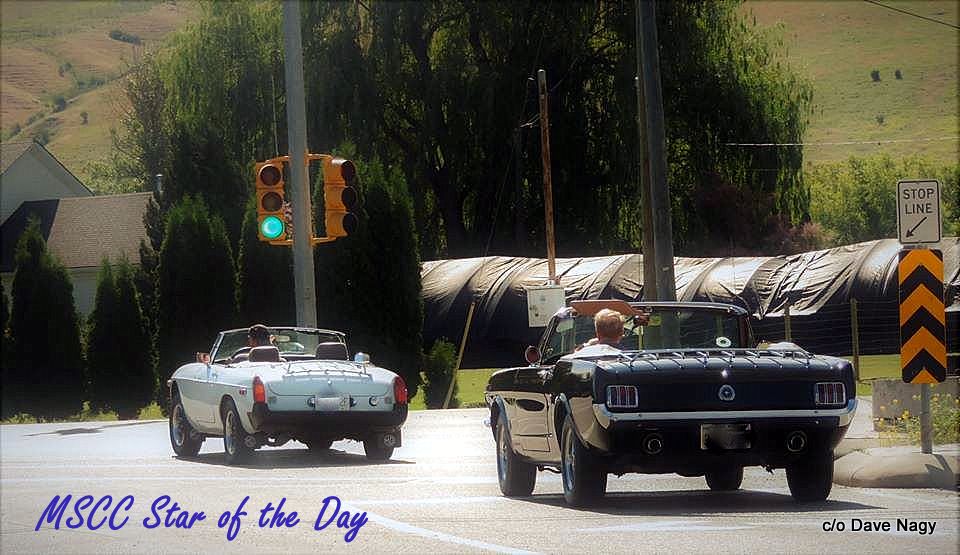 Two versions of an open air ride.
MSCC JUNE 30 STAR OF THE DAY: IT'S ALMOST JULY—WHY NOT MAKE IT A CORVETTE SUMMER?
There was a movie made back in 1978 called 'Corvette Summer'.
Luke Skywalker  (Mark Hamill) was in it and he owned the title Corvette.
This MSCC Star of the Day Vette was spotted in summer traffic yesterday.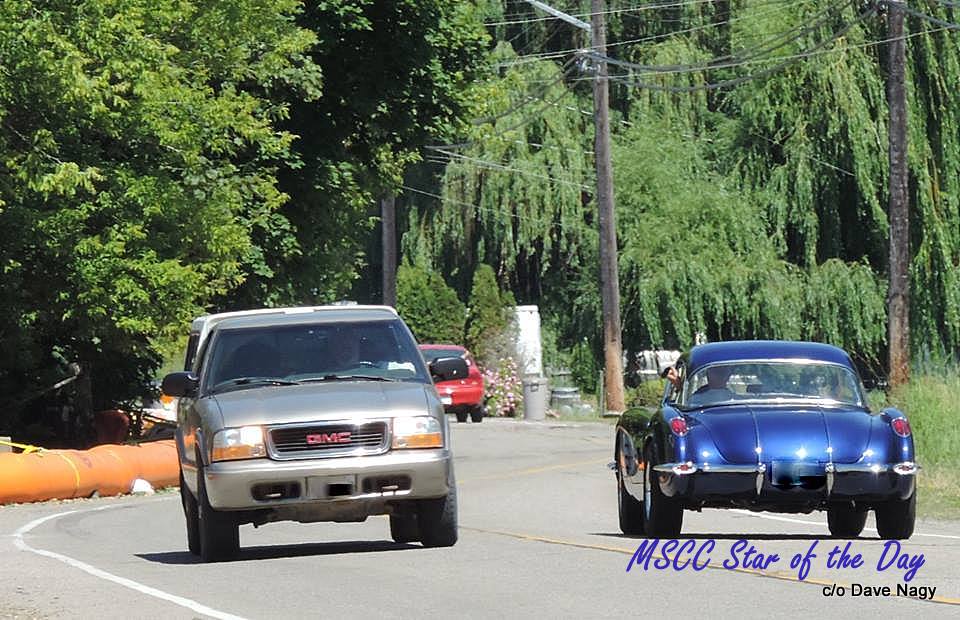 Why not make it a Corvette Summer 2017?
MSCC JUNE 29 STAR OF THE DAY: PETERBILT—WHEN TOUGHNESS COUNTS ON THE OUTSIDE AND INSIDE
Big rigs are a lot more than a pretty face.
That was even more important in the old days because now trucks have aerodynamics, comfortable cabs and computer controlled everything–these trucks were built with none of those.
This MSCC Star of the Day Peterbilt is a classic example of an old school big rig.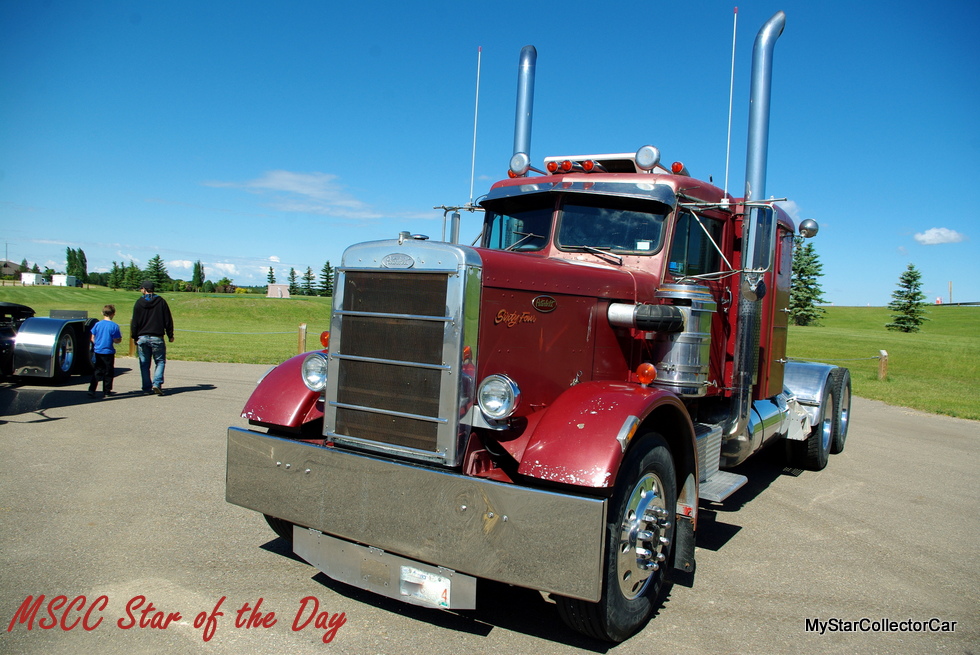 It was built when toughness counted on the outside and inside.
MSCC JUNE 28 STAR OF THE DAY: MUSTANG GT CONVERTIBLE—THE TOP RUNG FOR SUMMER CARS
Today's cars put you in a climate controlled, safe environment in hot weather but back in the day there was only one option for summer driving.
That option (with the exception of higher end cars) was the convertible and the only climate control you had was to put the top up or down.
This MSCC Star of the Day Mustang GT convertible is an excellent example of how summer driving really was back in the Swingin' Sixties.
This was the top rung for summer cars.
MSCC JUNE 27 STAR OF THE DAY: SOME PERSONAL TOUCHES ON A PACKARD
Every car guy likes to put his personal brand on his vehicle.
Some guys will add mags to a Prius or raise their truck so high it needs an airport beacon but other guys are more subtle.
This MSCC Star of the Day Packard has a few add-ons that separate it from a run-of-the-mill bare bones Packard.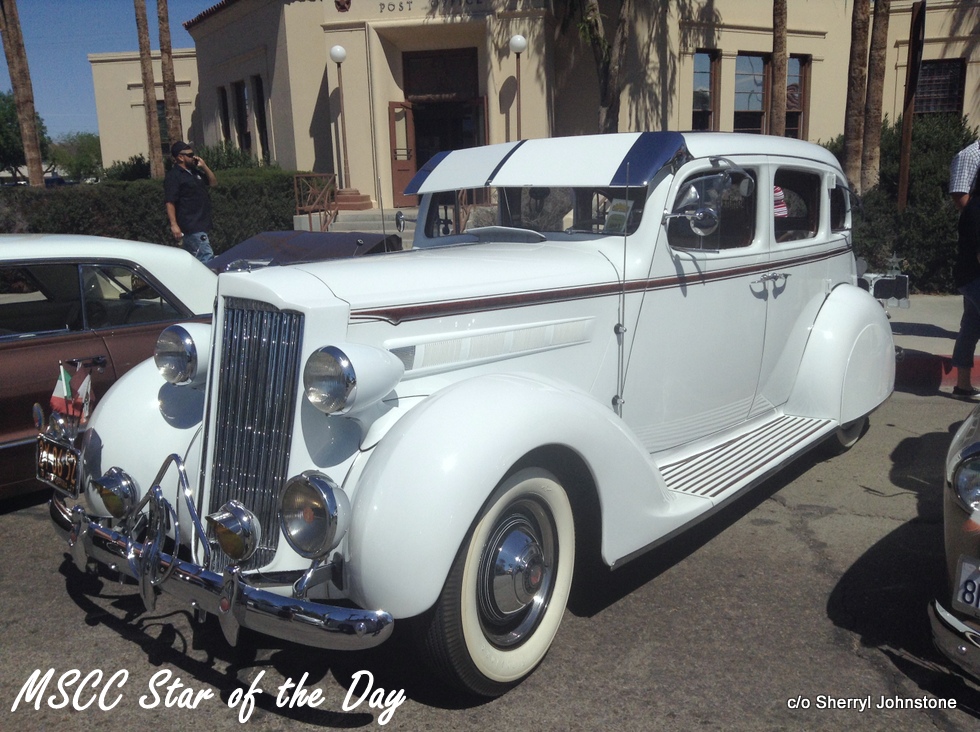 It's all about personal touches.
MSCC JUNE 26 STAR OF THE DAY—LEAD THE PARADE IN A BIG C-BODY DODGE WAGON
There are those of us who follow trends and there are those of us who set trends.
If you look at an average street full of generic SUVs—most of us follow trends.
That's not the case with this MSCC Star of the Day.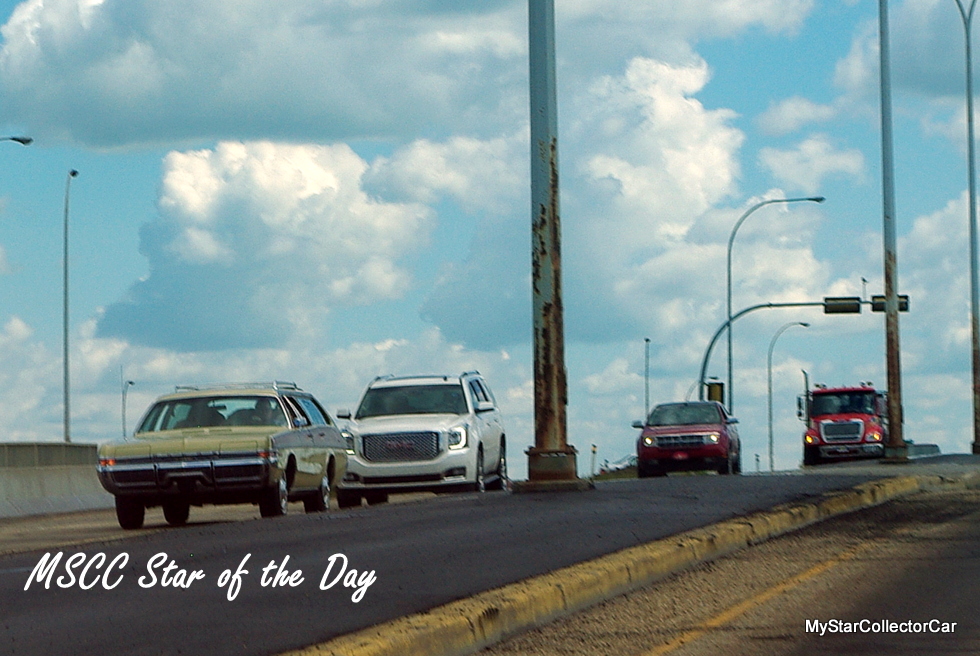 You lead the parade with a big C-body Dodge wagon.
CLICK HERE to Like us on Facebook
CLICK HERE to Follow us on Twitter
CLICK HERE to Follow us on Pinterest