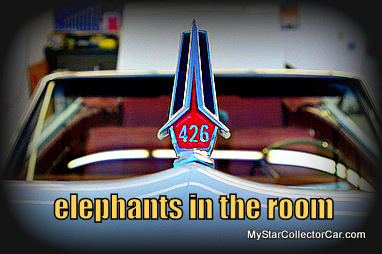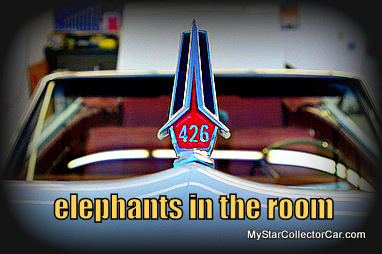 First impressions are permanent in most situations. In my world as an 11 year old kid in 1966, early 426 Hemi "Elephant" Mopars were far more than a mere "impression".
They were a life altering experience.
That's why a recent trip to see a roomful of shoebox 1966 and 67 Plymouths and Dodges was a life-affirming experience.
These cars looked conservative-even in 1966 but they hid a big secret under the hood. A monster known as the 426 Street Hemi and these early versions were barely "street" tamed. They were like tigers missing one claw…a heartbeat away from the NASCAR Hemi.
Chrysler added a simple badge to the car-no stripes, no spoilers, no giant rear tires and built the original stealth bomber in 1966. Before they mauled the competition on the street, non-Hemi guys used to laugh at this boxy-looking car in their rear view mirror.
The chuckle lasted about 5 seconds…that's about how much time the shoebox Hemi took to hit 60 miles per hour.
Floyd Lauer has assembled one of the finest collections of shoebox Hemi (1966 and 67 Dodge and Plymouth B-bodies) in the world including one of the world's rarest examples.
The entrance to his shop is a little misleading because the first car you see is a Mercedes. After that the collection starts to make more sense because a 70 Cuda sits next to it and behind that legendary ride are two classic Chevy trucks.
They are really nice trucks but Floyd's reputation is based on the Chrysler Pentastar. No problem. The next room contained 4 incredible cars all bearing the one insignia that needs no further explanation… 4-2-6 H-E-M-I.
The first car in the line is a 1966 Charger and this is one of 37 with the complete package including a big Hemi badge of honor on the fender. Most older NASCAR fans will remember that David Pearson drove a Charger to a NASCAR Championship that year and this car has the same heart. Floyd's Charger would be a class winner at any show but in this garage you actually look down the line.
Next to the Charger is a 1967 Plymouth GTX and this is the last car Floyd would sell. He has a serious attachment to classic Hemi cars in general but this one is the keeper. It has some of the most complete documentation ever gathered for a car-you can practically track the oil changes. The piece de resistance is the Galen Govier certification on this car because Govier's endorsement is like a blessing from the Pope in the world of Mopar.
Floyd veered off the factory original mode with the next car in the lineup. This is a 1967 Plymouth GTX clone but it did go one step further than typical clone mode because the Hemi under the hood is a date code correct block circa 1967. Most clone cars rarely go that one extra step. Floyd has pure fun with this faux Hemi GTX because he's actually raced his new Challenger 500 with it at the local track. Simple answer for the outcome? It was a dead heat.
Next to the clone sits the world's rarest Plymouth. This is a pre-production 1967 "pilot car" and it was hand built in April 1966. On the surface it looks like a 1967 Satellite convertible but this car was built to introduce the up and coming GTX line. That certainly explains the Hemi engine but this Plymouth is a curious blend of Satellite and GTX styling plus it was roaming the Detroit streets in 1966 wearing 1967 styling cues.
This car nearly disappeared in a salvage yard except that an astute guy saved this legend from a date with a shredder. He was highly motivated because the car (by now a basket case) traded hands at the time for a 30K 1970 Hemi Charger.
Later on, the partially restored Plymouth sold for 145,000 dollars and eventually wound up in a car museum. Floyd acquired the car from the now bankrupt museum and recently showed the car to some high-powered Chrysler executives. They offered him significant dollars for the historical Plymouth but the car remains lined up with its elephant brothers.
Floyd has another shop filled with more unique cars. There's an extremely rare 383 Barracuda notchback sitting under a celebrity car-a 67 Hemi GTX formerly owned by former WCW and WWE star Bill Golderg.
Behind those cars sits one of Dodge's rarest trucks-a 1957 Dodge Sweptside pickup. This finned wonder was Dodge's answer to the Chevy Cameo and this example was world class. It's a mint 315 pushbutton automatic with an impeccable truck bed, immaculate stainless trim and a showroom quality interior and exterior.
The last car is tucked in the back room probably because it's a Ford Mustang in Floyd's Mopar dominated world. This is an incredibly low mileage six cylinder 3 speed manual car but its future is shaky. In fact, anything non-Mopar in Floyd's garage is destined for a new owner because he covets a Plymouth Super Bird so anything non-Mopar is on short time in his garage.
Floyd is a true believer in the "drive the wheels off them" philosophy and his cars get a routine workout. In fact the 4 original Hemis were used in his son's wedding. Floyd admits that "we ripped on 3 out of 4 of them that day". He was the fourth, more sedate guy because he was driving the bridal car-the 67 Satellite convertible.
Floyd admits that he's lucky to own such unique vehicles and with any luck he'll be down to a 100% Mopar collection but for now he's the King of the Hemi Shoeboxes…
Jerry Sutherland
Many more great car stories are found here-https://www.mystarcollectorcar.com/