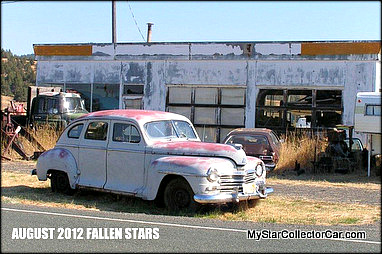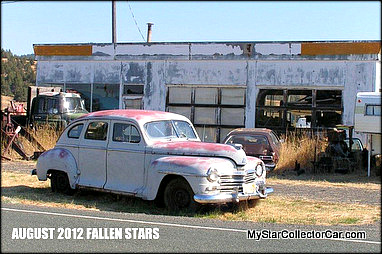 AUGUST 2012 FALLEN STARS – WHAT IS THE DEFINITION OF A FALLEN STAR?
There's a question that surfaces about the Fallen Star section at mscc.
Some guys wonder if it's simply a catchall term for an old car or truck that's past the parts car stage and well into a date with Mr. Car Shredder.
Turning a 63 Rambler sedan into a mass of metal confetti is a pretty spectacular ending for an old family friend but the key word is "fallen" star, not shredded star.
The truth is, that pre-shredder stage is just one example of a Fallen Star.
A Fallen Star can be an old Mercury wagon that hasn't seen daylight in 30 years in the back of a garage or a dust covered 18,000 original mile 65 Chevrolet 3 ton grain truck inside a farm equipment shed…
Sometimes it's a Beetle parked outside the shed.
A Fallen Star can be an old Chevy Impala buried in the bank of a river or covered in moss in the middle of a forest.
There's really no hard line definition for a Fallen Star but it does follow a simple rule – a Fallen Star is a neglected old ride of any type that meant something to somebody, somewhere, sometime.
Special thanks go out to Tracy Lanski for some of these classic Fallen Star pictures.

Follow us on Facebook at-http://www.facebook.com/MyStarCollectorCar
Follow us on Twitter at- https://twitter.com/#!/MyStarCollecto1