Allen Tomaszewki helped bring in the crop for a farmer buddy back in 1985.
He enjoyed the experience and was not particularly interested in a pay check for his services; instead he had his eye on an old truck that he spotted on the farm.
It was an old 1946 Chevy pickup truck that had not even been registered for the road since 1960.
This old workhorse was parked on the farm and essentially forgotten until it caught Allen's eye and inspired him to bring it back to life.
The farmer agreed to give him the truck and Allen began a lengthy restoration process that lasted over 12 years. Allen wanted to live within a budget at the time, so he left it with a body shop that would work on it when they had idle time and he had extra money.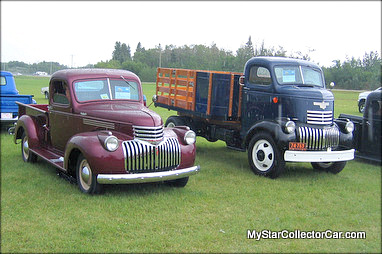 The years passed by and finally Allen told the body shop owner to put the Chevy truck at the front of the priority line and work on it full time before Allen was "too old to drive it".
The truck was a complete frame-off restoration in which every component was inspected and brought back to its original quality. Allen was very involved in the project outside of the body work which he felt was a little outside of his skill set.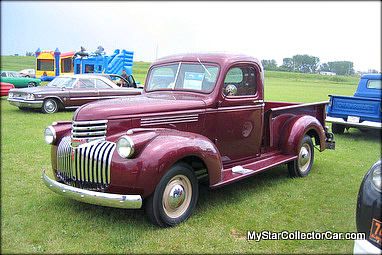 The end result is a stunning restoration of a post-war pickup truck that looks like it just left the dealership.
Allen has not driven the truck a great deal since the completion of the restoration phase but he has taken it to enough shows to get used to all of the attention it receives from the public. A 1946 Chevrolet pickup is not a common sight at many shows and Allen's truck is a big conversation piece.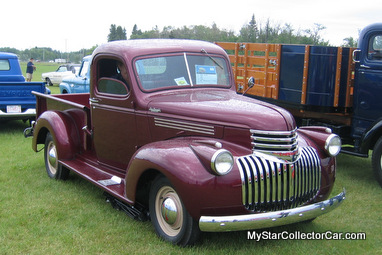 We have seen a few of the post war Chevy trucks at shows but most of them have been chopped, slammed and big-blocked into something radically different from Allen's stock version. Maybe that is why his Chevy gets so much attention because sometimes people just want to see what an original vehicle looked like in all of its fresh-out-of-the factory glory.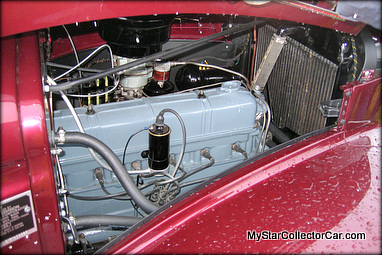 Allen probably never envisioned that his four-wheeled payment for helping to harvest a crop would take so long to reach completion when he got the truck back in 1985. We at MSCC applaud car guys like Allen who never give up on the project, no matter how many years pass along the way.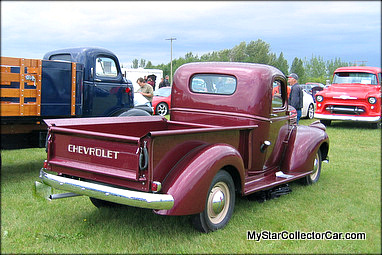 Patience is a vital part of the program when it comes to a good restoration and Allen's project is a great restoration.
Clearly he is a man with an enormous amount of patience when you see how incredible his 1946 Chevy truck turned out after a dozen years in the restoration process.
Jim Sutherland
Follow us on Facebook at-http://www.facebook.com/MyStarCollectorCar
Follow us on Twitter at- https://twitter.com/#!/MyStarCollecto1