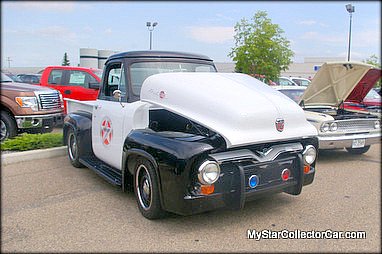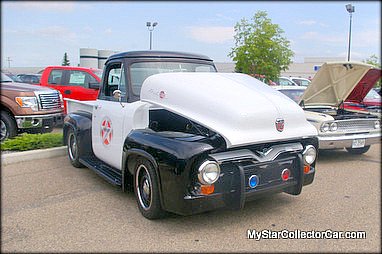 Very few Ford guys don't get emotional about the classic mid-50s era F-100 pickup because they're simply that awe-inspiring.
They set a high water mark for the ages with this truck.
These trucks were destined for the customizing crowd from Day 1 and many 2-year-old 1950s F-100s ended up with a Chrysler 1st Gen Hemi, Caddy or Lincoln big block under the hood.
None ended up as a 2006 Crown Victoria police car circa 1955 Ford F-100 truck.
Sid Krawchuk is a huge fan of these iconic Ford trucks plus he's a pure custom guy. He's been down the custom Ford truck road a few times and he's always interested in a new challenge.
The key to solving any challenge is to clearly define it — this challenge was spelled out by a buddy. The essence of the idea was simple. Why not take every mechanical piece out of a 2006 P-71 Ford Crown Victoria Interceptor and install it on a 1955 Ford F-100 pickup?
Sid's buddy was a Ford tech so he measured everything up and told him "this will work". Those were the magic words.
In many ways, this swap is a natural evolution for the Ford F-100. In 1958 a young guy would yank the 392 Hemi out of a wrecked Imperial on Saturday and have it running in the Ford truck by the following Wednesday. The truck might not have brakes or a real gas pedal but it could be fired up and close to ready for 1950 street wars.
This truck simply took the concept to a 21st Century level. There are few more affordable power packages than those found in a wrecked police car. These P-71 4.6 liter Fords were governed to keep the big Crown Vics below 140 miles per hour because they are simply that fast.
Everything is heavy duty in police car mechanicals. The charging system will light a Greyhound bus, the oil is cooled better and the suspension parts handle better and are much more resistant to heavy abuse. They make more power than civvy cars and they take a better pounding in the real world.
Sid and his buddy spent every weekend for two years doing the heart transplant on the F-100. Sid explained, "We used everything we could from the donor car including things like the AC system, cooling system, engine, transmission, and suspension – even the fuel pump. It's controlled by a pulse modulator".
They ad-libbed on the police dress-up items for the car. They liberated the blue and white lights in the grill form vintage motorcycle lights and the push bar was custom made from junk metal. They had to custom fit the push bar so the rear-opening hood would open properly.
Sid regretted they didn't start with a better project truck because, "most of the work goes into the body when they're that bad. We started out with a pretty bad cab and a frame. I would have preferred to start with a better truck".
Regardless of the difficulty, this is an extremely nice truck. It's so well done that you can almost imagine this one on the Ford assembly floor.
Sid built this one his own specifications so this F-100 is extremely quiet as he explained, "I've been through the noise stage. This one's quiet because we fabbed up the stock system including the catalytic parts. It ran great so we didn't want to screw it up".
The concept of a 2006 police car based '55 Ford F-100 pickup might sound odd to people from outside the hobby but car guys really get this concept.
An F-100 P-71.
Jerry Sutherland
Follow us on Facebook at-http://www.facebook.com/MyStarCollectorCar
Follow us on Twitter at- https://twitter.com/#!/MyStarCollecto1