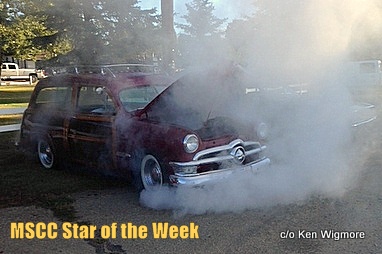 MSCC STAR OF THE WEEK: 1950 FORD WOODY – STEAMING MAD AT A RECENT SHOW
There are many ways to arrive in style at a car show and one of the best is in a 1950 Ford Woody wagon.
These are some of most sought-after classics in the hobby so they are a welcome addition to any show.
Woodys don't need any extra attention but this one definitely got it when it arrived at the show encased in a heavy cloud of steam.
The Woody was taken away on a trailer and that alone made it the MSCC Star of the Week but the story had a happy ending.
Fortunately, it was just a worn out head gasket…car guys love happy endings.
MSCC SEPTEMBER 6 STAR OF THE DAY: '30 FORD RATTIE – FLASHBACK TO SIXTY FIVE YEARS AGO
There was only one way build a car back in the day – on a budget.
You'd pick up an old Model A for fifty bucks and rip a flathead out of a junkyard Ford for another fifty bucks and you'd be on the road before the weekend was over.
There was nothing pretty about these early hot rods because they were purely function over form. Paint was frivolous but a three deuce set up was mandatory.
They looked a lot like this '30 Ford rattie at a show two weeks ago.
MSCC SEPTEMBER 5 STAR OF THE DAY: '55 PONTIAC – THE AUTHENTIC OLD CAR EXPERIENCE
The car hobby is heavily populated with pristine examples of stock old iron or resto-modded street monsters that can outhandle a Ferrari and win best of show.
They look great, they run like Swiss watches and they'll never see a bad day for the rest of their existence.
That's one side of the equation but what about the other side where the old ride shows every second of its sixty years? These cars pump out blue smoke, they lean into corners and every trip is an adventure waiting to happen.
This MSCC Star of the Day '55 Poncho was on the road yesterday with no mods, old paint, tired engine, tired springs and emitting that classic old car oil and gas exhaust smell.
That's the authentic old car experience.
MSCC SEPTEMBER 4 STAR OF THE DAY: RED AND WHITE '56 CHEVY – AN AMERICAN ICON
There are few things more iconic than a red and white '56 Chevy two-door hardtop.These cars are like Coke bottles because they're familiar and distinctive at the same time.
Coke liked red and white because of the natural association with Santa Claus and Chevy liked red and white in 1956 because of the natural association with cool.
Exhibit A?
This MSCC Star of the Day '56 Chevy on the road a few weeks ago.
MSCC SEPTEMBER 3 STAR OF THE DAY: FALCON STATION WAGON—COMPACT AND FUNCTIONAL
The 1960s began with a different philosophy at Detroit because compact cars were becoming a fact of life.
Families morphed into two-car families plus people were warming up to smaller cars with less of a thirst for fuel so VW Beetle sales skyrocketed in the late 50s .
Ford was in on the game early with the Falcon and this little car dominated the compact car market from Day 1.
This MSCC Star of the Day is a Falcon station wagon at a show back in June.
MSCC SEPTEMBER 2 STAR OF THE DAY: 1926 MODEL T ROD – THE CLASSIC LOOK IN CUSTOM
Strip off the layers on any hot rod and you'll find the DNA behind it begins and ends with the Model T.
They were the first affordable performance car because you could buy them and build them for peanuts in the early days of the hot rod.
Car guys figured out the economics so before long, fender-less flivvers became the early 20th century version of a Road Runner because they were cheap and fast.
Junkyard flathead V-8s upped the ante in the 1930s and big Caddy and Chrysler V-8s took the hot rod game to another level in the early 1950s.
This MSCC Star of the Day '26 T was at a show yesterday…flivvers still rule.
MSCC SEPTEMBER 1 STAR OF THE DAY: 1970 PLYMOUTH ROAD RUNNER – THE BIRD GOES TOPLESS
Road Runners debuted in the 1968 model year as glorified taxi cabs.
They got that public perception because they were stripped-down sedans with bench seats, no carpet, no console and no options.
They looked like Grandpa's Belvedere but they sure didn't have Grandpa's slant six under the hood.
The early Road Runners were all stripped down post cars but a hardtop debuted later in 1968 but every Road Runner had a roof that year.
1969 saw the debut of the topless Road Runner convertible and Plymouth sold a fair number of them that year.
This MSCC Star of the Day '70 Road Runner at a Mopar show a few weeks ago was very rare because they only built 179 of them that year in this exact configuration.
That makes this topless bird an endangered species.
For past MSCC Stars of the Day please follow this link.
CLICK HERE to Like us on Facebook
CLICK HERE to Follow us on Twitter
CLICK HERE to Follow us on Pinterest
Star of the Day page sponsored by Southside Dodge