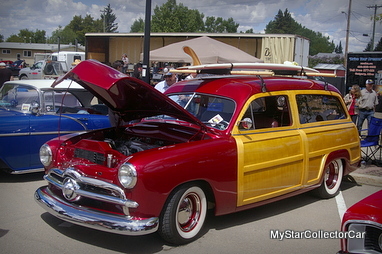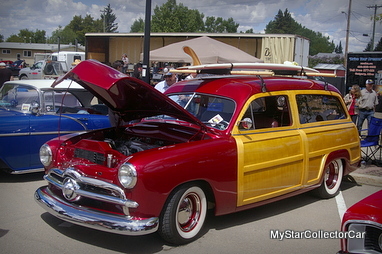 The rule is pretty simple: when you spot a 1949 Ford Woody wagon at a car show, you move mountains to find the owner.
Actually, you just need patience and some help from car guys parked near the Woody owner to point out the guy at the earliest possible opportunity.
It took about 3 hours to finally track down the owner of the beautiful 1949 Woody resto-mod and it was well worth the effort.
The owner was a likeable guy named Jim Sodero and he was very happy with his year-old purchase.
Jim told us the Woody was a promotional ride for a Los Angeles radio station, hence the surf wagon vibe from the 65-year-old wagon with the wood trim. Woody wagons have long been synonymous with the California surf scene and Jim's Ford looks like it belongs in a Frankie and Annette beach movie from the early 60s.
However, it has drastically changed addresses from its LA home and now resides in a small Canadian prairie city where "surf's up" means waves on a slough and applies only to ducks.
Jim recounted how the Woody became available when the radio station encountered a few litigation issues and needed to sell off assets to cover the court-ordered obligation.
Jim likes to road test his cars in a big way, so he drove the Woody back to Canada from LA. This old wagon has undergone many changes and is now a very comfortable road machine that will meet or exceed local speed limits. Jim jumped out of his car after the journey and marveled about how good he felt after all those miles.
He had done the same trip in his late 50s Corvette prior to this journey and almost needed to be hoisted out of the car when he arrived back home. The Woody sports a 5.0 HO Ford engine and now has a Mustang II front end. The interior is now all about creature comfort and is as good as any brand new vehicle in that department.
The best part about this Woody is it really does include the best elements of two automotive worlds. On one hand, it retains all of the classic style of a 1949 Ford Woody wagon in all its first new post-war- look- of- the- late- 40s glory. One the other hand, it has new automotive engineering to power it down the road.
In fact, Jim took a long summer car show odyssey that included Reno Hot August Nights, a Dover Delaware show, a Miami show, a Vegas show, and finally back to Canada "before the snow flies", in Jim's words. The car is completely at ease at 85 mph (approx. 145 km/h for the metric set).
Our guess is the Woody will easily win best of show at some of these meets because it is that nice in every detail. There is nothing that needs to be done to the Woody, outside of regular maintenance and a true appreciation for the build quality.
The circumstances did not exactly provide a storybook ending for the Los Angeles radio station involved in the legal issues, but it most certainly had a happily-ever-after ending for its new owner.
Jim Sutherland
LIKE US on Facebook
FOLLOW US on Twitter
FOLLOW US on Pinterest