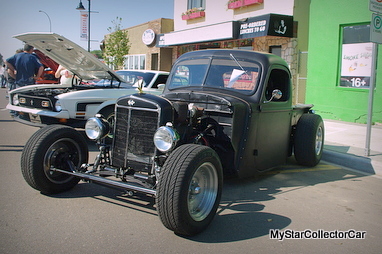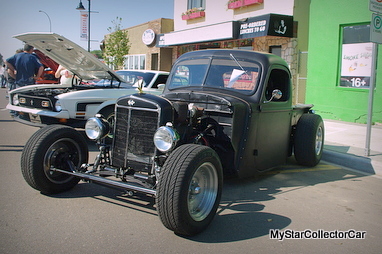 International Harvester trucks have always been known for their sturdy workhorse reputation so you didn't see country clubs with valets parking IHC pickups.
IHCs are brute force rides so a day off for a corn-binder isn't a trip to the beach – it's more like a trip to town to pick up a load of wood.
This 1937 IHC truck continues that blue collar tradition with one major alteration…a heart transplant.
Kevin Thompson is the proud owner of this classic old truck but he was quick to explain the very unusual and clearly non-stock engine in his IHC: "I couldn't do a 350 crate so it's a Kubota 3.3 industrial diesel. I had it for about six years and I wanted to use it for something".
Kevin's unusual choice was heavily laden in logic: "It came out of a nitrogen trailer where they used it for hydraulics and I knew it only had 300 hours on it. I ended up buying two of them because these engines are built to run 24-7 ".
The truck came a few years later as Kevin recalled: "I got the truck whole and then built everything from the ground up to make it work, It took eight months – it was started in October and on the road before June".
Kevin mapped out the rest of the power train to make this old truck run with a new heart: "It's got a GM Turbo 400 out of an '86 Chevy truck. I needed an adapter for that, I bought a fuel cell for it and it's got a 9″ Ford rear end out of a '67 Merc with a 3:70 ratio so it's got a lot of bottom end plus it's got a 4 bar setup now Everything's in the bulkhead because I did all the wiring myself. The best part is underneath because I ran all the tubing myself so it's run perfectly and I did the exhaust myself".
The IHC has a lot more punch thanks a to turbo technology so it's bumped from a stock 75 horsepower to 161 at the rear wheels but Kevin had to meet a few safety standards to get it on the road: "It had to have fenders for the safety so because all the stuff was brand new it breezed through a safety after that".
There are a few other modifications to the truck, "The seats are out of a 2006 Acura and they fit perfectly. The grill is off a '36 and I got the hood ornament at a swap meet and those are old school centerlines as well".
Few guys build a ride like this without some kind of practical side even if it's just for touring and Kevin has done some serious time behind the wheel of this old IHC: "Most of the weathering came from sitting in an old barn but this truck gets driven. It's awesome to drive, every third car somebody's giving me the thumbs up, it runs good and it fires right up".
Kevin is true to the hard-working IHC school: "It's a truck so you use it like one. This is a work truck, I bought some wood for a project so I threw it in the back and brought it home in the truck".
That's why 1937 IHC trucks never retire.
Jerry Sutherland
CLICK HERE to Like us on Facebook
CLICK HERE to Follow us on Twitter
CLICK HERE to Follow us on Pinterest