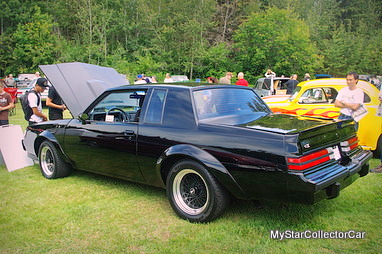 The 1980s were not known for anything close to the cutting edge of interesting.
Music was a bland mass of electronic/synthetic noise, TV was a disaster and cars had taken a lukewarm veer in an uninspired direction.
Despite the odds, there was a wolf in sheep's clothing back in the 80s and it was called the Buick GNX.
They looked like a stock Buick Regal in many ways but these GNXs were street monsters with a 231 cubic inch, 276 horsepower, intercooled turbo V-6 under the hood.
That may not sound like much but these cars could do 0-60 in 4.7 seconds with a 13.5 second 102 miles per hour ¼ mile. Those numbers put them right up there with the legendary big blocks of the late 60s and early 70s so these cars were the fastest production car built in 1987.
Tom Mah is the proud owner of an '87 GNX and he wanted the car for the most basic of reasons as he explained, "I've always been a big Buick guy because before this I had a GSS".
There are many reasons to own one of these brutes but the most obvious one is that they're really rare, "They only made 547 of these and they were really expensive by '87 standards so it took three years to find one. I didn't want one from the States because I'm not a fan of importing across the border".
This GNX was a museum piece as Tom explained: "I'm the 3rd owner and it's really original right down to the original lacquer paint.Basically it's stock and it's never been raced but it was filthy when I got it. This car has less than 13,000 original miles on it".
The history of the car is pretty easy to trace because it was originally purchased in Winnipeg, Manitoba Canada by a Buick dealer.
Tom was happy to explain why it was sold: "He bought it for his son on the condition that he work it off and the kid didn't do it so when the kid went to Mexico he put it on the lot and sold it".
Tom is a very meticulous owner and he was quick to correct the detail issues with his GNX, "It's a full time job keeping the dust off it but I hate cleaning it all the time but you have to. I keep two deodorants in the car all the time but the car required a lot of elbow grease but I knew exactly what I had to do to get the car up to another level. I refreshed the motor and I still need to get the antenna working but it's a big job".
Clearly the biggest thrill with a GNX is found on the road and Tom's has been exceptional: "I hit a lot of cruise nights and put on about 200 miles a year. The biggest thing I worry about is road rage from other drivers and too many traffic lights but it pulls pretty hard and I know what it can do. I get a lot of guys challenge me at the lights".
Those are pretty minor issues when weighed against the experience behind the wheel of a legendary car from a non-legendary era.
Jerry Sutherland
CLICK HERE to Like us on Facebook
CLICK HERE to Follow us on Twitter
CLICK HERE to Follow us on Pinterest