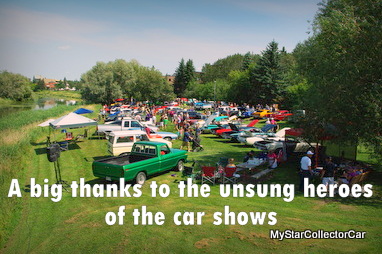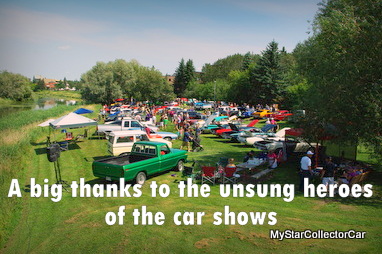 There is a fundamental truth to every car show: no cars-no shows.
The people who take the time, effort and financial investment to build their rides are the backbone of every show.
This news is not exactly the kind of information that will break in as a bulletin on TV during the endless loop of Big Bang Theory reruns, but it is a fact worthy of attention.
These people have bought into the car hobby in a big way and they are willing to attend shows on their own dime, including a registration fee at many shows.
Imagine how Mick Jagger and the Rolling Stones would feel about this kind of rock star treatment.
MSCC cannot thank these people enough for their dedication to the hobby and their willingness to share their rides with the public instead of imprisoning them in the garage, out of the spotlight, and gathering dust instead of miles on the road to shows.
The rides all have a story behind them, and we seek out the most interesting at each show. The more personal the connection between owner and vehicle, the better the story for us and our readers.
Car guys and girls know the perils and pitfalls found in the old car hobby because they know how much effort goes into their vehicles' attendance at a show. A vintage ride and their owners face some serious obstacles to attend a show, if they choose to drive them to the event.
Some of the vehicles were not designed for modern traffic flow with today's speeds and the sheer numbers of vehicles on busy roads.
These owners have three choices: leave the old warrior parked in a garage, trailer-queen it to a show, or drive it to a show.
The first two choices are pretty easy, but the third choice to get behind the wheel and drive the old ride to a show can be a major adventure for car guys and girls.
Most serious car hobbyists have a working knowledge of their cars from a mechanical standpoint and they travel with a basic set of tools/parts to fix an inevitable mechanical problem that may fall within their skill set on a road trip.
They also find the road less taken to a show so they can set a more relaxed pace along the way. A back road trip to shows is likely to add more miles to the trip, but at least they are less likely to get run over by a semi along the way.
Car hobbyists have a pretty healthy perspective about driving their old cars in the 21st century. It connects them in a very positive way with their own pasts and a bygone era when the pace was slower and there were more 2-lane highways and fewer multi-lane freeways.
We talk to these people every week during the summer car show season and we are always amazed about why and what it took for them to attend a car show.
We cannot thank them enough for their dedication to the car hobby.
Jim Sutherland
CLICK HERE to Like us on Facebook
CLICK HERE to Follow us on Twitter
CLICK HERE to Follow us on Pinterest
Please re-post this if you like this article.