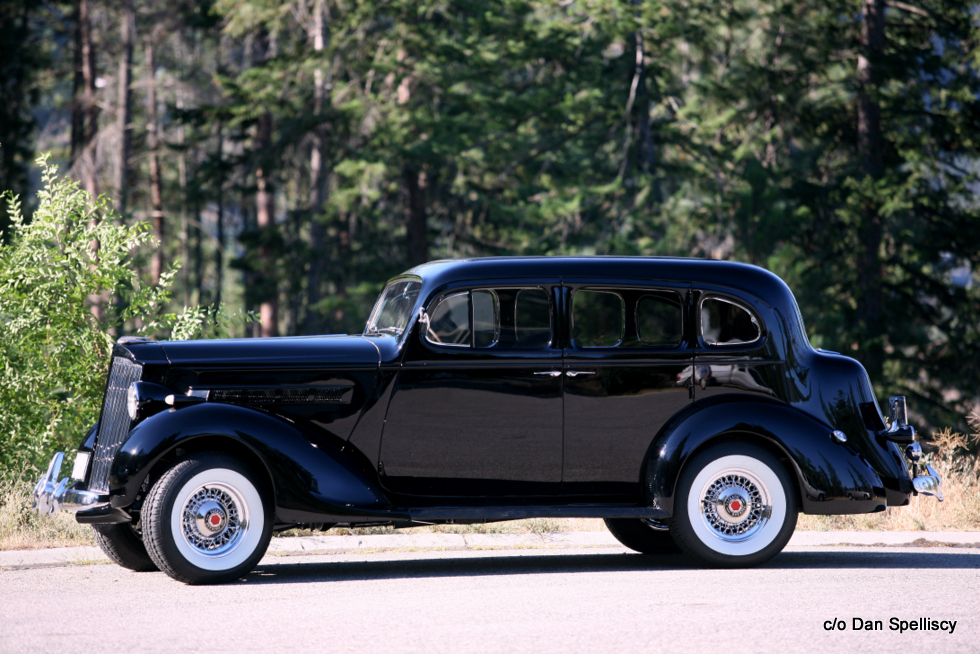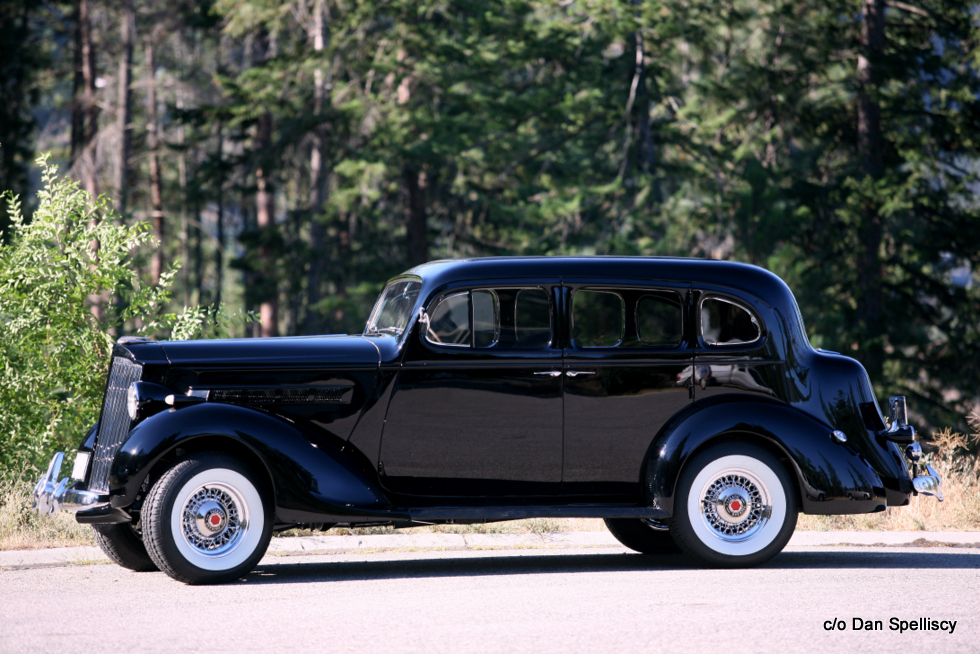 An inner car guy exists in every human being because there's always one car (or truck) that makes a major impact in our lives.
The inner car guy may come from owning a first car like a rusty old Toyota or it may be a project that makes no economic sense but it does reach out to that illogical side of the human mind.
Dan Spelliscy is a good example of the second scenario so he decided to tell MSCC a "closet car guy" story about his 1937 Packard Six Touring Sedan.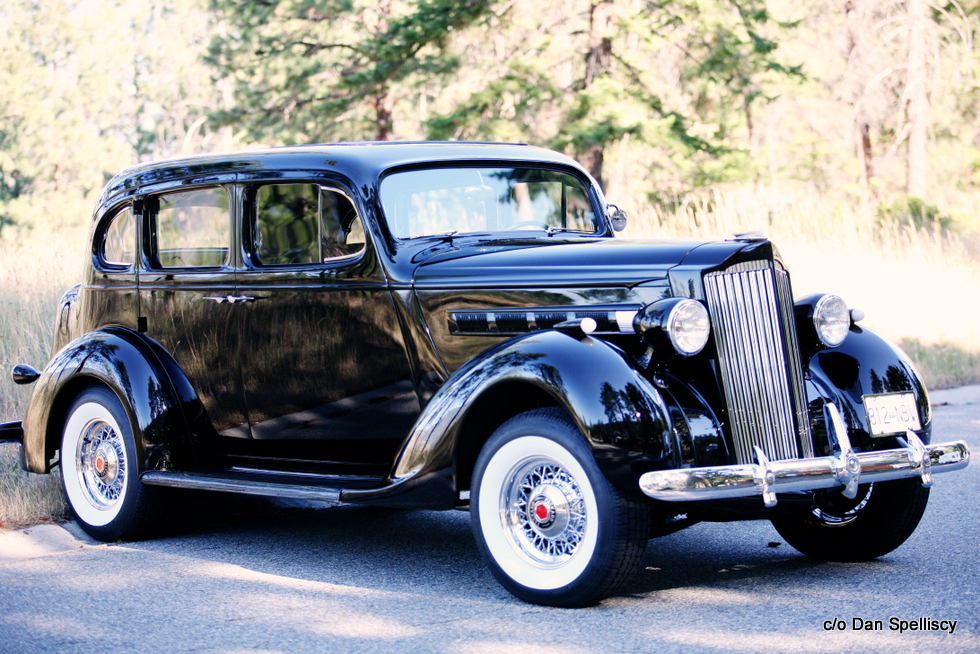 "I am not a "Car Guy"
My first priority in life has never been my car. I do not know the make and model of cars that I pass on the street as my kids once seemingly did. My cousins even laughed at me when I called AMA to fix the flat tire I got on the highway rather than changing it myself. There are worse stories evidencing my lack of knowledge of cars but I chose not to repeat them here as my cousins may, in fact, read this story.
I am a "House Guy", among other things. I have a heritage house built in 1908 and the plaque on the gatepost has a 1915 picture of my house and to the right side of that picture is an old car that I have been told is likely a "Whippet", a make of car I had not heard of up until that time. I had a friend/client that offered me a car that he said would look just great outside my house parked in the same place similar to the picture on the plaque.
I did a little research and almost everyone told me that it takes more money (not to mention time) to fix such an antique car, that one can usually can get in the sale of that restored vehicle. I went with my wife to see the car with such a thought in mind with the vague intention of giving him a polite "no thanks".
He pulled the tarp off the car. It was painted "rust inhibitor". Most of the parts, including the windows and door handles both inside and out, were in buckets and boxes surrounding the car. The interior was totally rusted out. My wife told me later that because I was such a "picky" guy, that she thought I would abide by my earlier decision to forgo the opportunity. She looked over to me and all I said was "that's gorgeous".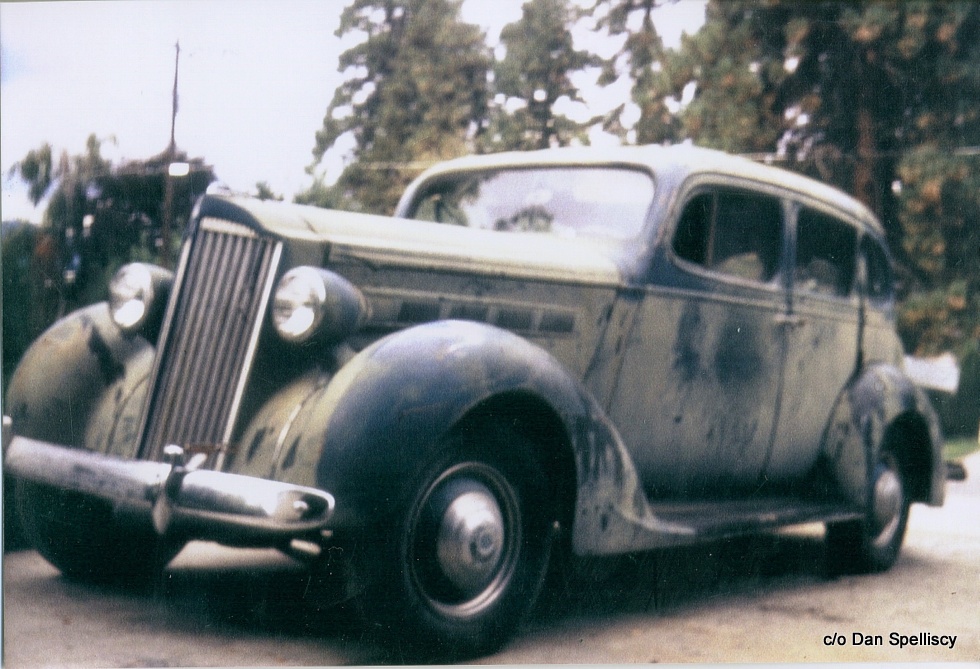 It was a 1937 115 6-cylinder 1082 Packard Touring Sedan. I loved the curve of the back of the roof and the suicide doors. It looked like Al Capone should be shooting a Tommie gun out the back window (more about that later).
My wife agreed to my taking the car, doing only minor restoration like reinstalling the parts, putting some sort of roof on it, painting it and using it as some sort of a "lawn ornament" for our heritage home. I knew, however, that somehow I had to make it run.
I took it for those minor repairs but soon after meet a mechanic who agreed to check it out. He put in some gas and asked me to try to turn over the motor. To his surprise, the motor was not seized and he said he could have it running in a week. This was the beginning of the initial repair phase of about 15 months and far exceeded anything I could have imagined in both the cost and time spent doing a "frame-off" restoration. I thought my friend had told me he paid $1,000 for the car in the state he found it. While researching the previous owners of the car, I found that my friend had actually paid $8,000 for it.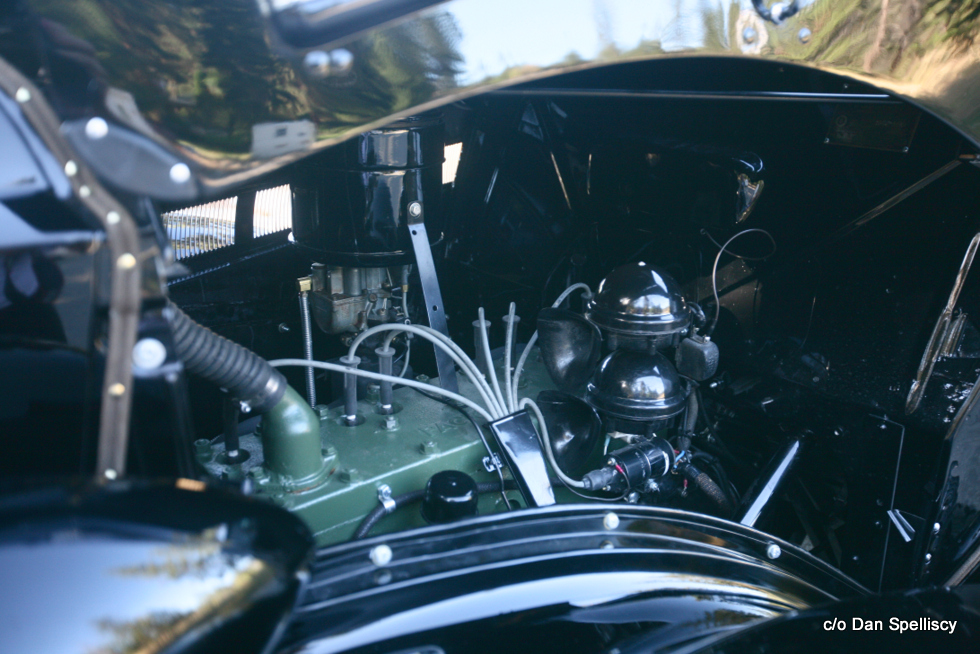 My assistant often said there were urgent matters to attend to at the office but I seemed to rather enjoy the search for some part or other. The mechanic said the block had a crack in it. He could weld it but then there would be a highly visible welding mark. He could get a new block but then it would not say "Packard". Instead, he flew (with his wife) to California to view a Packard motor he found on Craig's List. It turned out to be the right type of motor so he bought it and had it sent to the US/Canada border. He flew back to Canada and drove to the border to pick it up. They soaked that block for 2 weeks, machined it, painted it "Packard" green and installed it.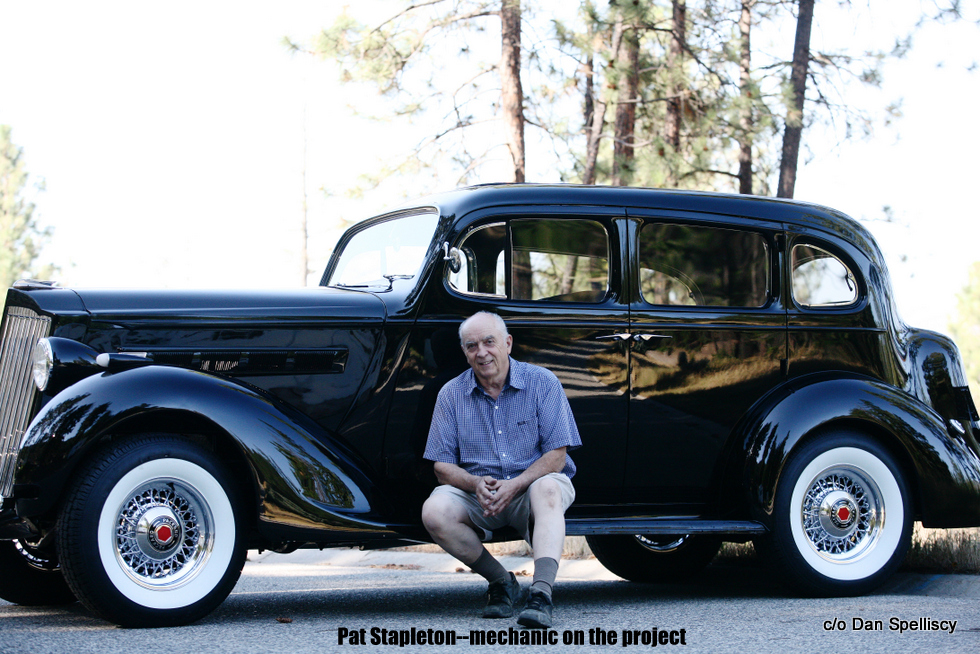 I drove with my mechanic to Packard Seattle just outside of Seattle and bought many parts including pulling a seat out of an old Packard (which I later had cut, welded and upholstered to fit my car). I spent $12,000 on rechroming various parts including the front grill, bumpers and all the handles. If they couldn't be rechromed, I found replacements on the internet.
I understand this was the last model that did not have a closed roof so I ended up spending more than $5,000 to redo the wood in both the floor and the ceiling. I certainly didn't budget for this amount of woodwork on a car (or do any budgeting at all really). I sent the dashboard dials to the US to be repainted by the same guy who does it for Jay Leno. I sent all the parts of the car that required keys, to a guy in the US to rekey them all identically with Packard marked keys. I had the Packard hood ornament "The Goddess of Speed" reminted. I bought specialty Packard parts such as a locking gas cap, cats eye lighter, hubcaps with spoked wheels, an in-car heater, radio, and a "banjo" steering wheel. I will not tell you what I ultimately spent on restoring this car because my wife might read this article and I still haven't even broke that news to her yet.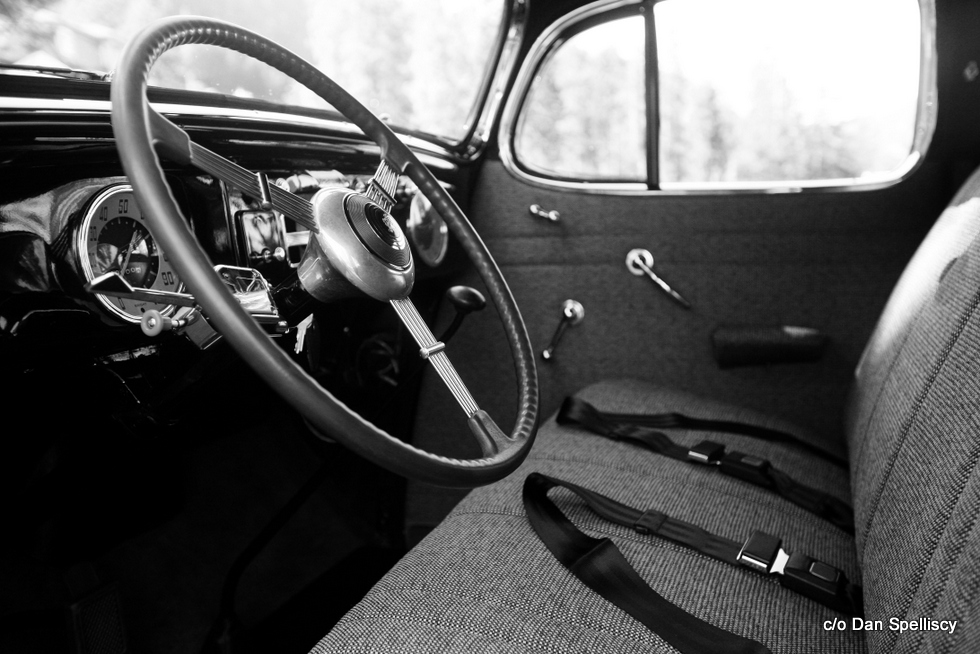 Needless to say, for someone who claims not to be a "car guy", I "learned" fast. Now beside the black hole I call a heritage house, I have a smaller black hole for my antique car.
Why I know I have a great wife
A cousin of mine said her daughter was having her destination wedding nearby where I lived and asked for some ideas. I said that I would drive her in my Packard if it was restored by the time of the wedding. This gave my mechanic a deadline to aim for and he came through. There were so many in the bridal party including the bride, her parents and the bride maids, that 2 had to sit up front. Let's just say that the stick shift was located in an area straddled by one of the bride maids that me concerned for her dignity every time I switched gears. She said she understood but I'm not sure my wife would.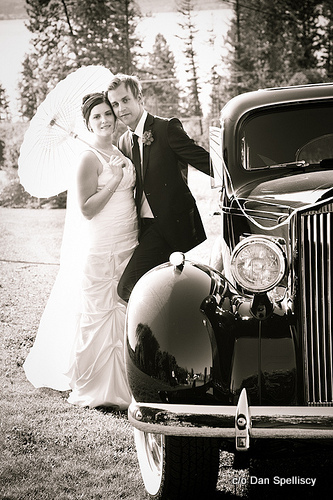 The wedding was held at a winery on a steep hill and the wedding party wanted the car near the bottom of the hill for wedding pictures. Being a relative novice driving the car, I was having trouble getting it up the hill so I gunned it. The top of the hill seemed to resemble the streets of San Francisco being a series of small hills. The suspension was not quite right so I bottomed out going over those hills. Later I would find that it had damaged the muffler but the engine had also shifted slightly ahead and the fan was hitting what I was later told was the damper. All I could tell at this point was that there was a clunking in the engine and determined that I had better not drive it home. It was late at night by this time and, as my wife had brought a second car, I thought we would just drive home in it and return to get the Packard in the morning with the mechanic. My wife, however, would hear nothing of it as the car was just too new and expensive to leave alone in a parking lot. He drove me home and returned in the car with a sleeping bag. She parked beside the Packard and spent the night. What a woman!
And then I got Eccentric
Remember when I said that the car looked like Al Capone should be should be shooting a Tommie gun out of the back window. Well, I got to thinking and starting searching the internet for even more Packard related items. I found a violin case that was actually designed to hold a Tommie gun. Then I went about finding a replica Tommie gun. I did locate one but now the problem was getting it across the border. I have a local supplier with a "warehouse" in the US so I had it sent there. Twice he was turned back at the border trying to get it across as was a friend who tried later.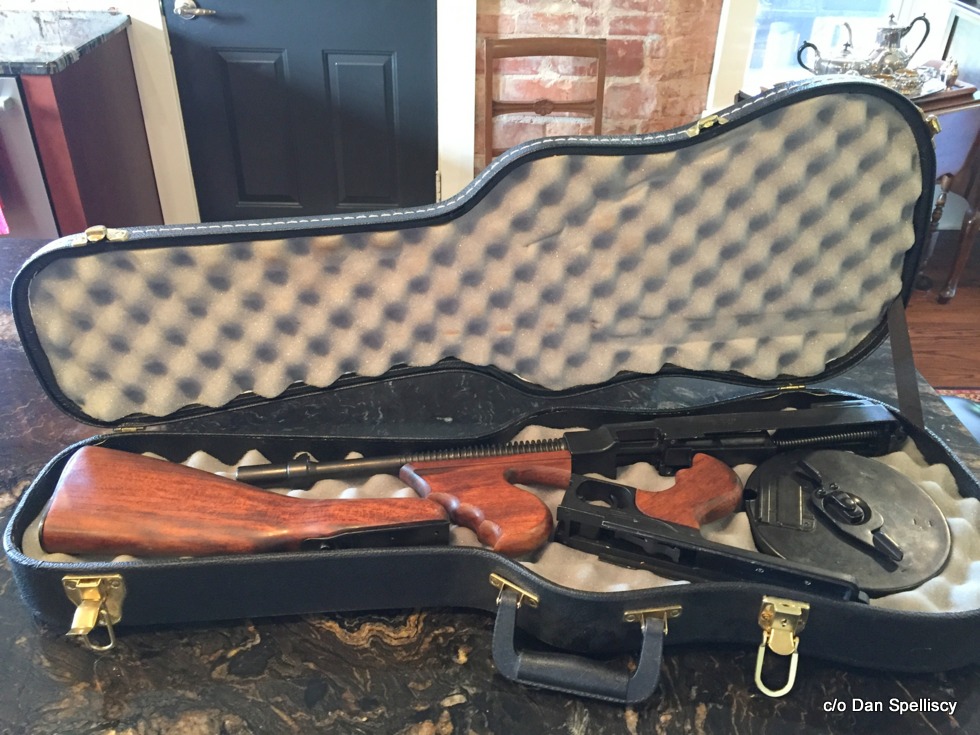 I went down, disassembled the Tommie gun into 4 parts, brought the handle back to Canada with me and mailed the other 3 parts to 3 relatives. I guess that's how terrorists must do it. The Tommie gun in its violin case gets almost as much attention at car shows than the car.
A Few More Details
Some other things about restoring the car:  All parts are original with the possible exception of the turn signal. The radio is original but doesn't currently work (something about it being 6-volt and the car now being run on 12-volt for the additional power to start it, etc., but I am told this can be fixed). I have, however, had the car sound-proofed and blue tooth installed so I can play music from my cell phone thru the stereo speakers (also not original). Because the door thresholds were poorly made, they were too beat-up to reinstall so I had some machined. I do know of a place in the US which will manufacture such replacement thresholds if I provide them the right specs.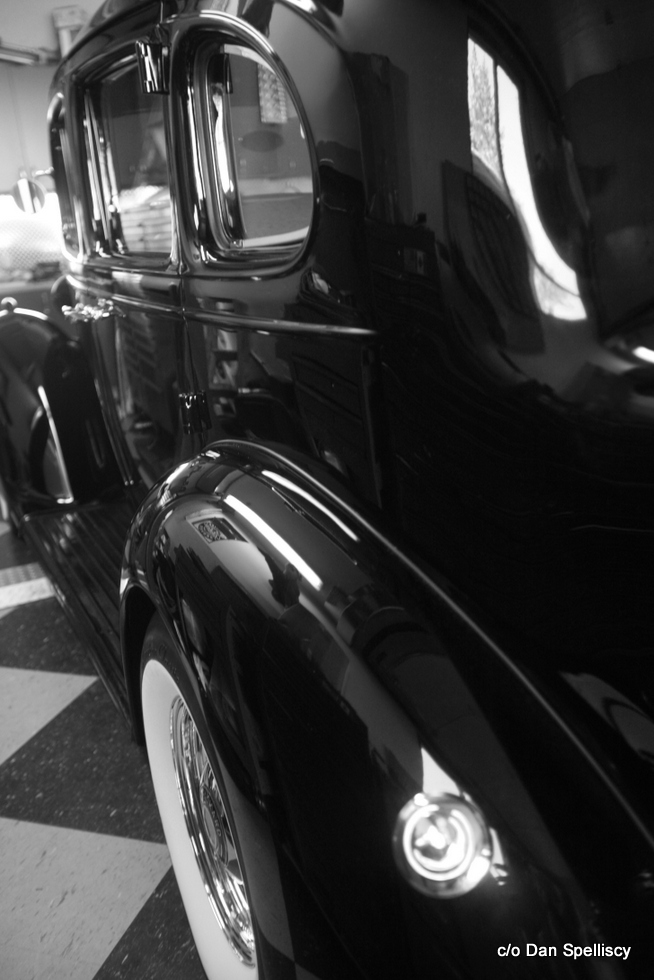 Dan is on the fence at this point about the future of his '37 Packard but one thing is certain—he's definitely a car guy.

Jerry Sutherland
CLICK HERE to Like us on Facebook
CLICK HERE to Follow us on Twitter
CLICK HERE to Follow us on Pinterest
Please re-post if you like this article.