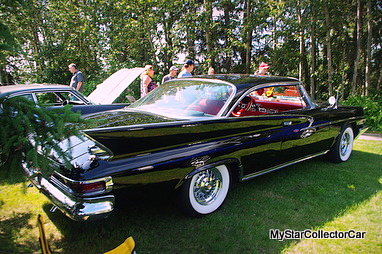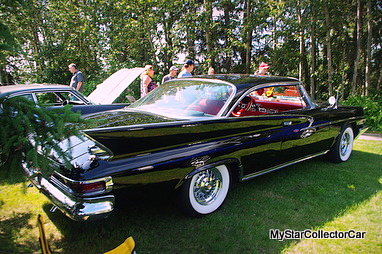 The 1961 Chryslers represented the last of the fin era at Chrysler.
Many owners call them Batmobiles for obvious reasons but fin car purists view these cars as a farewell to legendary designer Virgil Exner.
Ex is a god to the Forward Look guys for obvious reasons, so if the '61 Chrysler represented his swan song in fin cars, he left them wanting more.
This '61 Chrysler Windsor represented a swan song for a different reason.
Dallas and Lyla Vandressar are the current owners of this finned beauty and they were clear on how and why they acquired the car. Dallas explained: "It was part of a divorce settlement and Lyla wanted fins. She used to own a Mustang but she really wanted fins and the owner and I chummed around so he sold it to us".
This Windsor was in good shape but it did have a few issues: "It needed paint and it had a couple of little rust holes along the bottom so they were cut out and new stuff was put in".
Mechanically, this old fin car was solid, "This is a 361 with 150,000 real miles and the motor was rebuilt so we just tuned it up because everything was done on it".
Dallas did a little retro-fitting with his '61 Windsor, "The brakes were done, the master cylinder was replaced, it was upgraded to discs because the front brakes pulled and this made all the difference because it was bad I almost sold it plus it's got an HEI ignition now so now it purrs after getting rid of the points".
These cars came with a few unique features but Dallas upgraded those too: " This one has swivel buckets but now it has seat belts because my wife wanted them but it does have the original radio. We took the seats out and had new foam put in".
The real adventure with old iron happens on the road and a giant, finned Chrysler created adventure with every mile as Dallas explained: "Both of us love it because it's awesome to drive and it cruises best around 75 miles per hour. People come up to it all the time when we stop and most ask if it's the Batmobile".
Dallas and Lyla have done a number of trips in the Windsor and practicality is not an issue: "I don't know what the mileage is and I don't really care because gas prices don't matter when you drive something like this".
Their mission with the '61 Chrysler is simple – hit a number of car shows during the car show season and enjoy the ride in an Exner classic Mopar.
The Vandressars have traveled thousands of happy miles in this car and expect many more because, as Dallas explained, "Both of us love this car and we're definitely keeping it".
The key to a long term relationship is respect so even though this car is the victim of divorce, the Vandressars clearly respect this 1961 Windsor.
There is an even better reason for this relationship and Dallas put it best.
"You only live one day at a time-why not enjoy it with a car like this?"
Jerry Sutherland
CLICK HERE to Like us on Facebook
CLICK HERE to Follow us on Twitter
CLICK HERE to Follow us on Pinterest