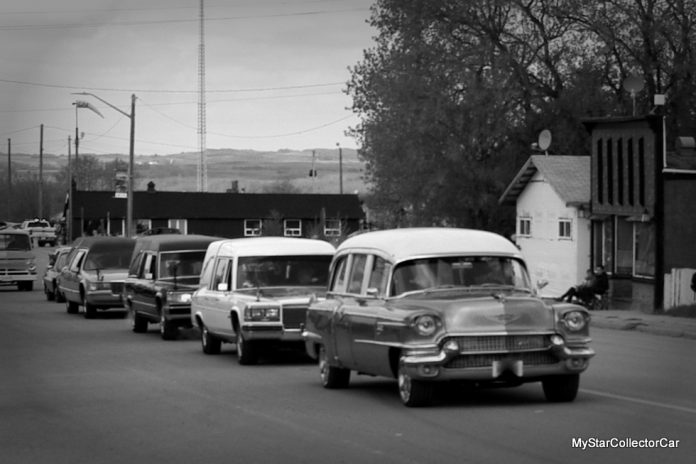 Grant McDonald is the proud owner of a 1956 Cadillac hearse that very likely took many passengers on their last ride during with its first owners behind the wheel.
Grant is reluctant to commit to his Caddy's legacy in the funeral business because he likes to document history before he makes a bold statement about it.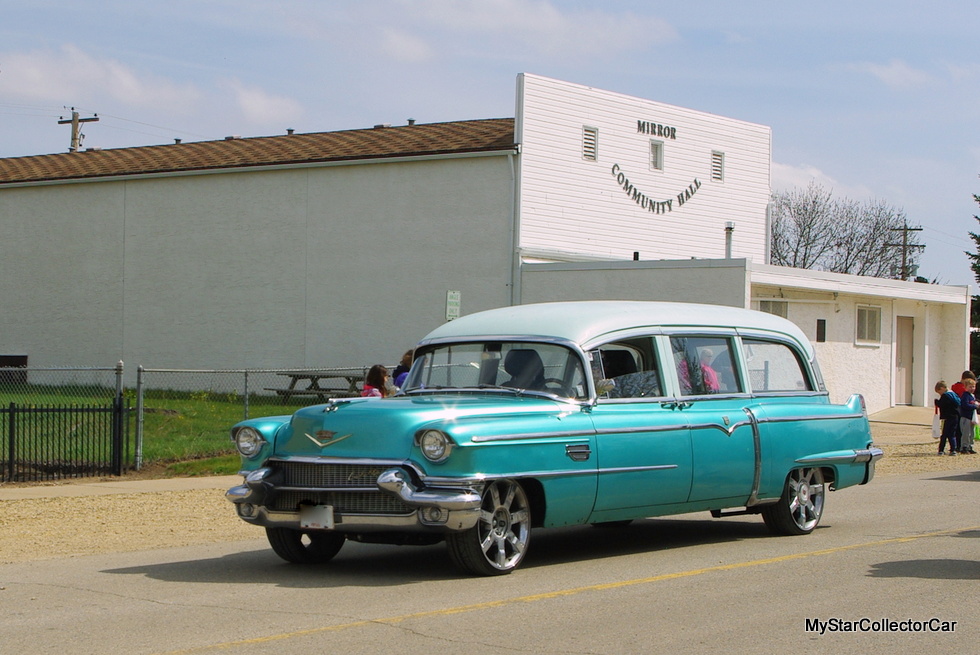 However, Grant leans heavily toward the notion that his car was indeed a hearse during its early years on the road, presumably driven in the direction of a cemetery during its working era. Grant told MyStarCollectorCar that his Caddy was a custom-built vehicle called a Miller-Meteor combination coach that was built either as an ambulance or a hearse.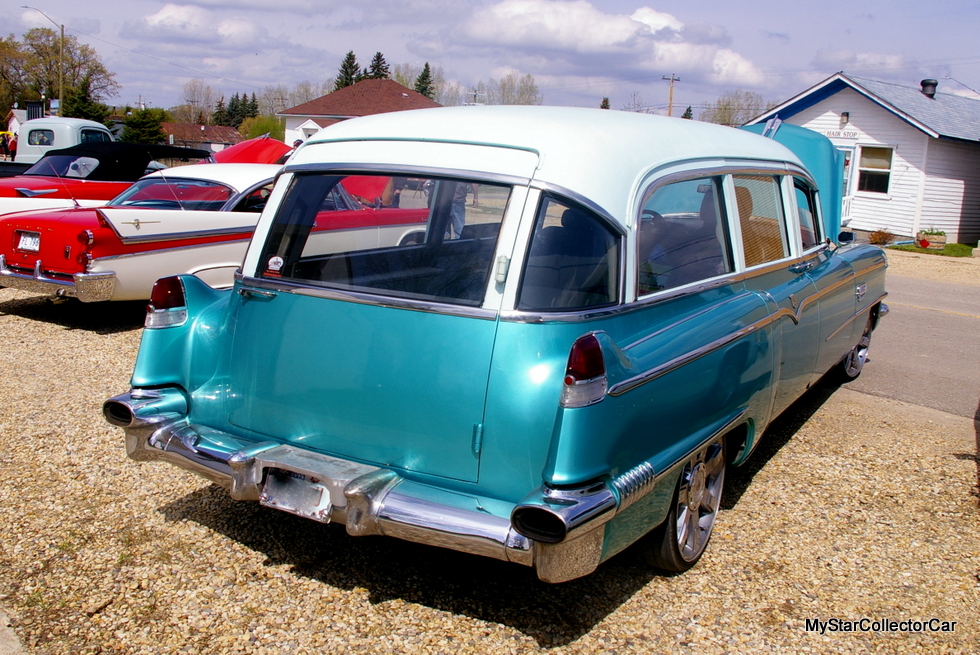 The general philosophy behind Grant's car choices lean toward the hearse models and the basic design of the interior of his Caddy suggests the car was indeed a hearse. Grant bought the car seven years ago and drove it for two years until he wore out the tired 350 Chevy/R-4 automatic tranny combination power train transplant in the Caddy.
The two-tone paint combination on the '56 Caddy is true to the original color scheme on the hearse, although the car was repainted in the 1980s.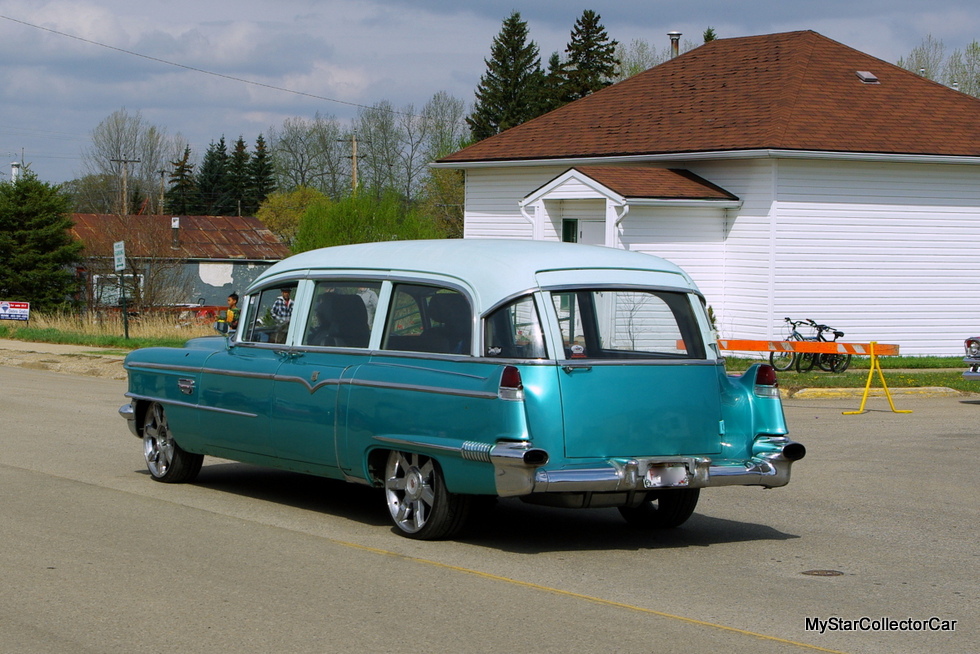 Grant decided to do an extensive makeover on his car, including a tribute to the lovely and talented Frankenstein whose Hollywood handsome good looks begat TV's Herman Munster.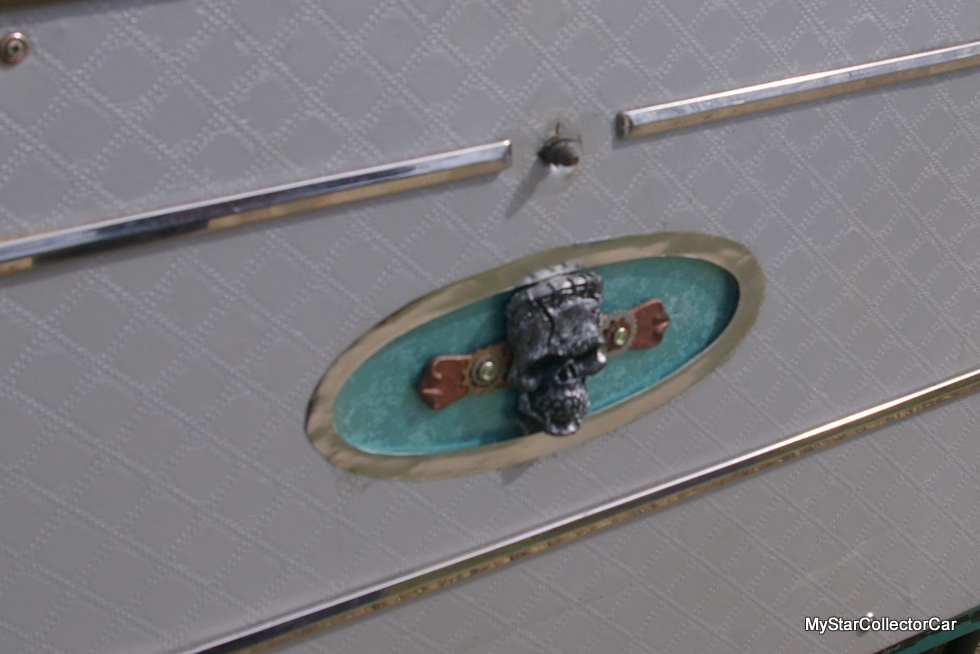 It comes as no surprise that Grant named his hearse "Frankie" in honor of his favorite resto mod movie monster built entirely of used human parts. Frankie the car is also built from a long list of parts that include an LS3 Camaro engine couple up to a 4-speed automatic tranny.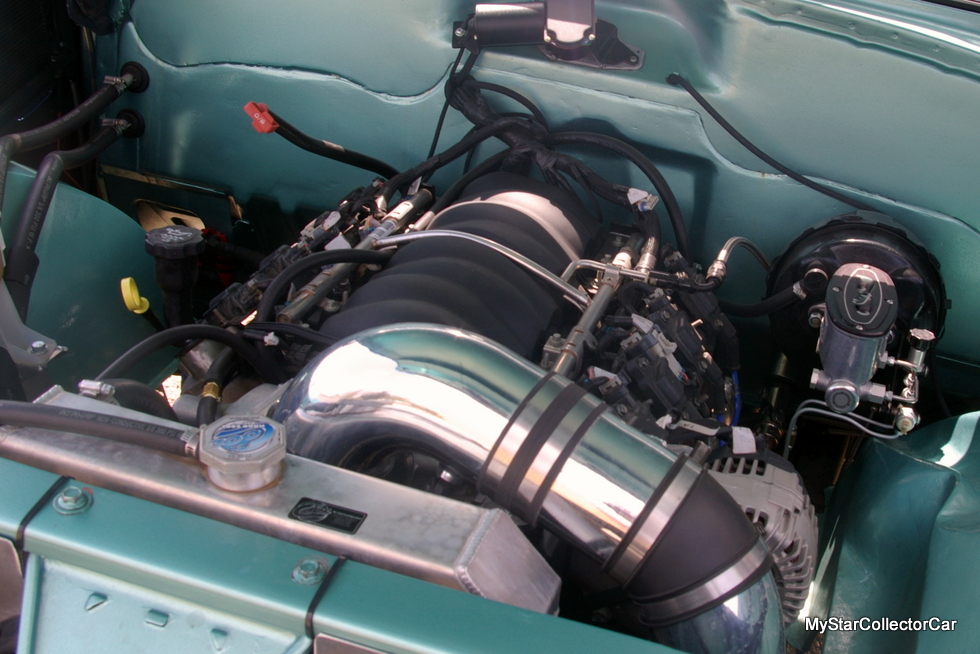 The marriage of the speedy GM small block with the transmission required some new age electronic wizardry so the two crucial powertrain items could "talk to each other", in Grant's words. He wanted a new tech car with an old school outer skin and the process took many years.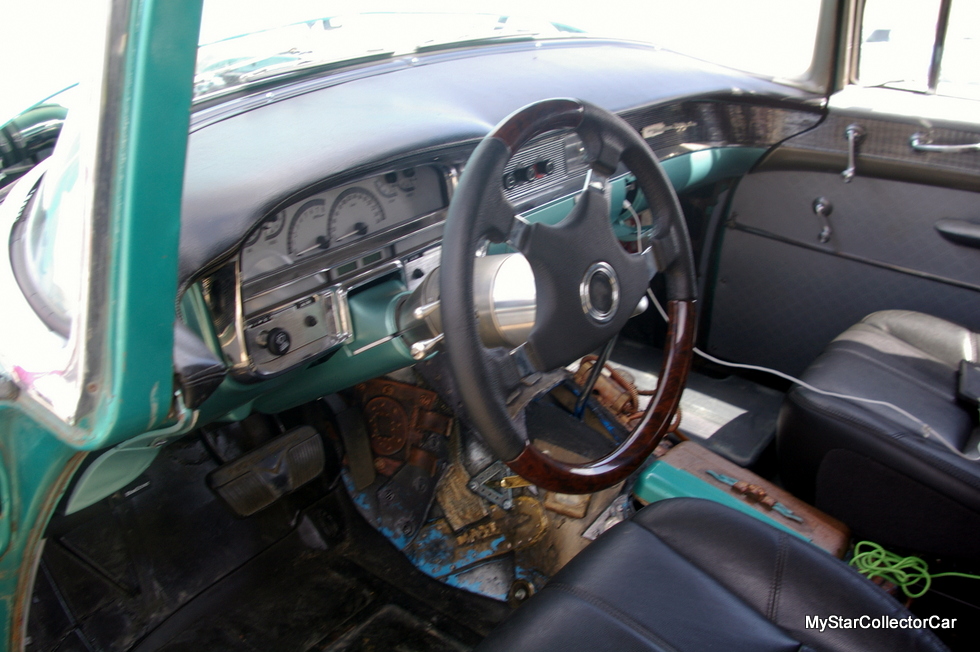 The car rides on an air suspension system that accounts for the heavy weight of the hearse version and could handle diesel trucks with ease. The Caddy's gauges are now digital so they can provide accurate information for the newer 21st century engine and transmission's computer components.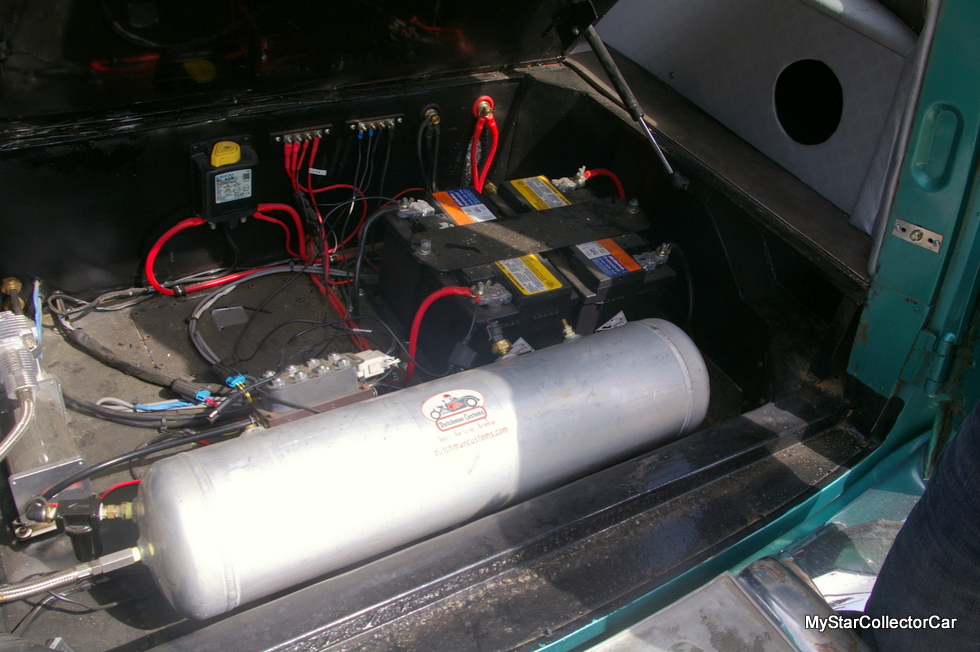 Even the Caddy's dual exhausts that protrude in their stock exit locations in the rear bumper needed to be custom-fitted around the air suspension system. Grant also added an aftermarket custom steering system modeled on Mustang II engineering to his hearse.
The old hearse with the new Chevy small block would give a fast ride to the graveyard upon request-but it would also stop on a dime at the front gates because Grant added an aftermarket four-wheel disc brake system to his Caddy.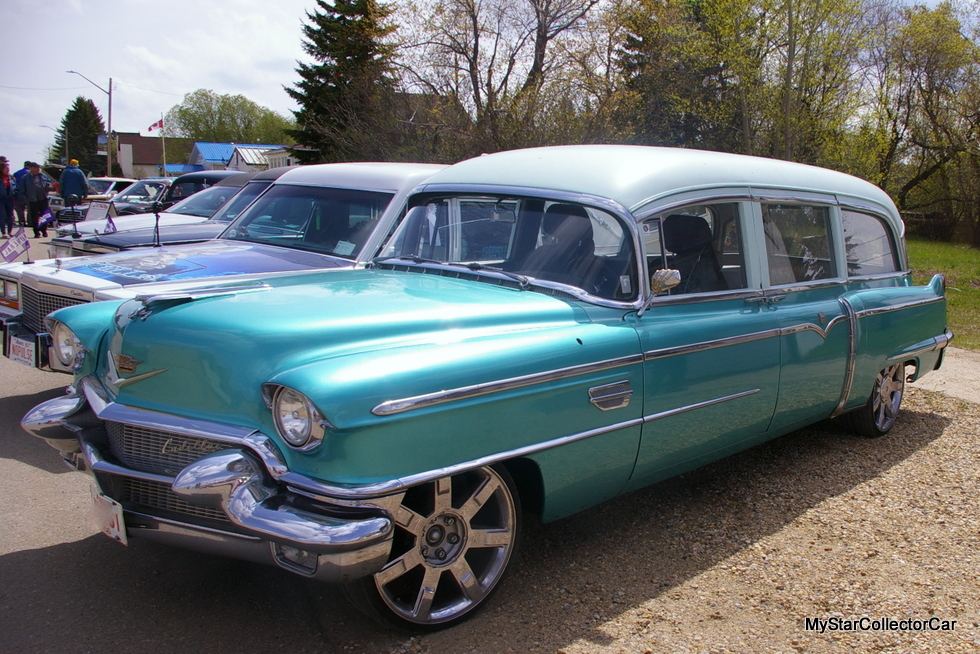 He also added some new custom interior features to his hearse, including wooden roof struts that bear the likeness of his aforementioned Frankenstein movie idol.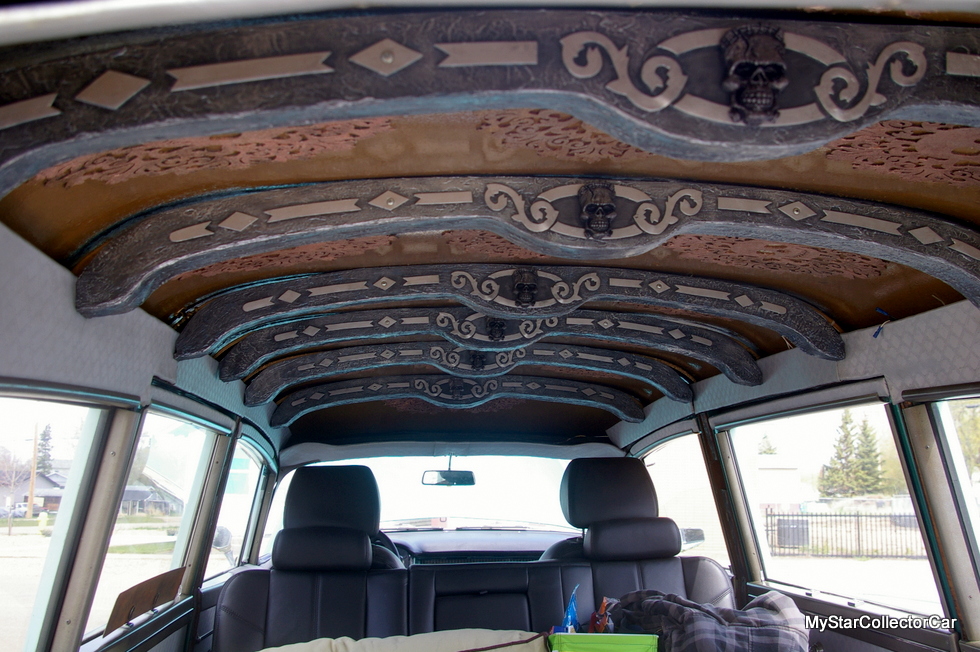 These days the Caddy hearse is more likely to be used as a camper unit rather than as a taxi for dead people because Grant and his bride use it as sleeping quarters on road trips.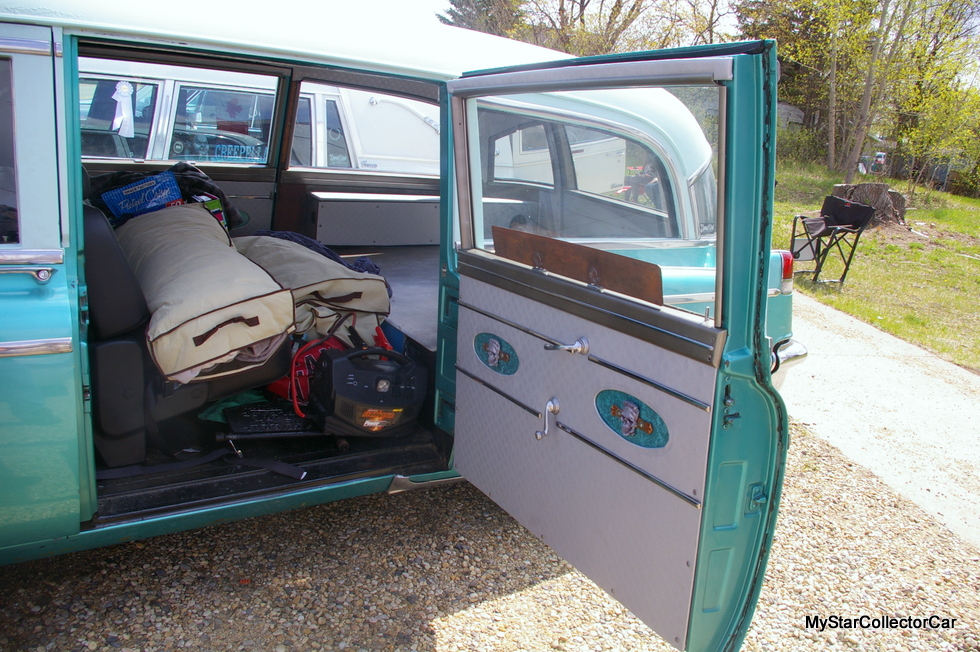 Just not on short road trips to eternal sleep like the former passengers in the back of this unique Caddy.

BY: Jim Sutherland
Jim Sutherland is a veteran automotive writer whose work has been published by many major print and online publications. The list includes Calgary Herald, The Truth About Cars, Red Deer Advocate, RPM Magazine, Edmonton Journal, Montreal Gazette, Windsor Star, Vancouver Province, and Post Media Wheels Section.