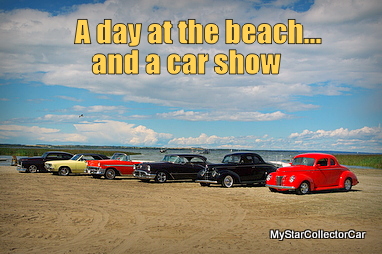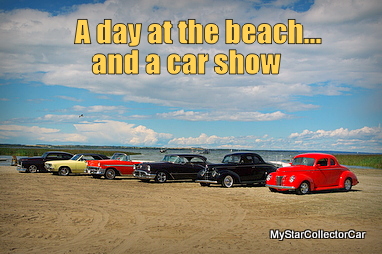 What is better than a day at the beach on a beautiful summer day in late August?
A car show within walking distance of the beach and that was how we at MSCC spent our last Sunday in August this year.
The scene of the show was Gull Lake, Alberta Canada and, while we did not see many actual seagulls at the lake, we did see over 100 hundred rides basking in the warm glow of late summer sunshine.
The vehicles were parked on the grass for the most part and they looked great in the mix of green lawn, blue skies and white clouds.
We spotted a few unusual cars in the crowd, including a beautiful 1961 Triumph TR4 with a very interesting story because of its long term owner.
The guy bought the car during his high school days in 1970 when he was presumably a classmate of Fred Flintstone and Barney Rubble, because that is a long time between high school and now.
How the guy and his high school car stayed together over all these years will be a topic in a future MSCC story about his TR4.
We spotted a bright red 1966 Cadillac convertible at the Gull Lake show and thought about how a trip to a car show at a lake on a sunny summer day in this big and beautiful Caddy is the stuff of dreams for car guys.
The Caddy was an amazing well-preserved car from a bygone era when these giant 'verts were kings of the road.
Find out how the Caddy left its home in Florida and found a new home thousands of miles north and west of the Sunshine State  in a future MSCC piece.
You know what happens when we spot a 1969 Corvette with its original big block 427 linked to its original 4-speed manual tranny? We get the story-immediately if not sooner.
This car has been owned by the same car guy since 1975 and you will not believe what he traded to get this 'Vette.
Find about the Corvette's past, present and future when we tell its story in an upcoming MSCC piece.
We spotted a 1964 International Harvester pickup at the Gull Lake show and waited until we found its owner.
The Corn-binder had spent its entire life on a ranch and worked hard over the past 50 years until its purchase by its current owner.
The 50-year-old IHC pickup even had the ranch cattle brand markings on the box sideboards and was a very cool addition to the Gull Lake show.
Read why the current owner bought an original equipment six- cylinder-with-a-three-on-the- tree- manual-tranny truck (and has no plans to change that combination) in a future MSCC article.
A 1986 Dodge 600 convertible is not a typical restoration project, particularly a rusty car, so we zeroed in on the one we saw at the Gull Lake show.
You can read why its owner chose to restore this Dodge convertible from the Iacocca era in a future MSCC piece.
The coolest part of the show occurred at the end of the show when show organizer Barry Cunningham got a few of the show winners, along with a few very stylish additions, to visit the beach so we could take some photos.
Lakeside shots are always a winner and we appreciate the opportunity to get photos of the cars in this setting.
Thanks Barry and car owners, you helped make this a perfect day at the beach for us at MSCC.
Jim Sutherland
CLICK HERE to Like us on Facebook
CLICK HERE to Follow us on Twitter
CLICK HERE to Follow us on Pinterest