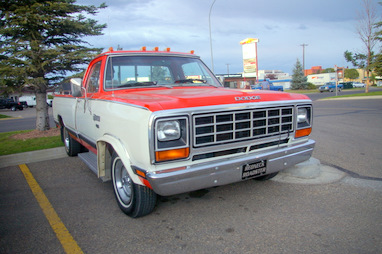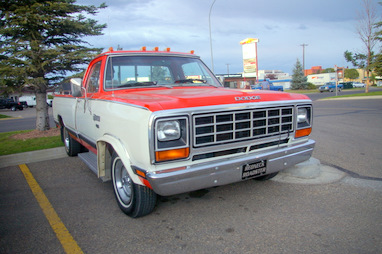 Grant Baldry's cousin bought this 1981 Dodge pickup when it was brand new back in 1981.
Those weren't exactly the apex of economic times because Ronnie Reagan had just started his economic recovery policies and Chrysler was backed up by government loans…
As the legendary Yogi Berra used to say "it was déjà vu all over again" when you view that era from a 2009 perspective.
The incentives were the same too because Chrysler was underwriting solid deals on trucks to get buyers for their Ram Tough trucks.
But the deal wasn't good enough for his cash-strapped cousin so Grant's dad stepped in and bought the truck for the family farm. This made sense because the truck had the real working truck 4-speed and the bulletproof 318 V-8.
Like most farm trucks the Ram worked hard, but not a lot so to this day the 150 has just over 100,000 real miles. And like most farm trucks it was regularly maintained so when Grant bought the retired farm worker from his dad it was in remarkably good shape mechanically and physically even after a life of trailer pulling as a hired hand in an agricultural setting.
Grant is still proud of this early 80s refugee. He should be because early 80s Rams are becoming rarer and rarer as they approach their 30th birthdays. It's the kind of vehicle that is just on the cusp of being noticed at a show because there are still a few examples on the street in regular traffic but in another five years these old Dodges with the Ram hood emblems are going to be another "my dad used to own one" vehicle.
In Grant's case the story is true.
Jerry Sutherland @mystarcollectorcar.com
For more mystar truck stories go to…https://www.mystarcollectorcar.com/3-the-stars/star-truckin.html