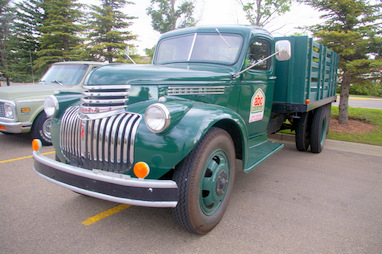 Charles and Nicole Leclair run a family restaurant and they needed a promotional vehicle for their business.
Not a run of the mill minivan with a logo on the door.
'They wanted a late 40s-early 50s automotive something that would really stand out and this big old post war farm truck really fit the bill.'
This truck started out life on Oct 10, 1946 like most 2-ton trucks-working on a farm. It spent time in the rural world until the mid-70s when it was sent to summer camp.
Definitely not the fun in the sun, swim every day summer camp life.
Instead the old Chevy workhorse spent the summers doing mundane things like hauling garbage and firewood at the camp until the next owner purchased it. That owner reluctantly and tearfully sold it to Charles and Nicole a few months ago.
The truck passed a rigorous safety inspection with only a few minor issues and since mid-summer 2009 it has become the restaurant's "Chuck the ABC Truck" working mascot. Nicole reports that Charles is like a little kid with a toy with his newfound giant friend and you can find Mom, Dad and their young daughter at most local car shows-along with a few die cast replicas of the truck.
But Chuck the ABC Truck isn't in full time retirement mode-things don't work out that way for most trucks. This old Chevy is still a working vehicle that hauls something food service industry related nearly every day so Charles gets to justify his new toy on a regular basis.
Charles plans on keeping the old truck stock and he's still on the forced learning curve that every vintage vehicle provides. That's how he found out that the gas gauge is slightly less than accurate and the truck "glides really nice" without fuel. It also tends to bleed gas vapors when parked inside but overall Charles is really happy with Chuck.
The Leclair family is really having fun with their new company asset and the future includes billboard like signs covering the stake sides of the truck.
As for shows, there are many planned in the future…but only after Chuck the ABC truck is unloaded.
Jerry Sutherland