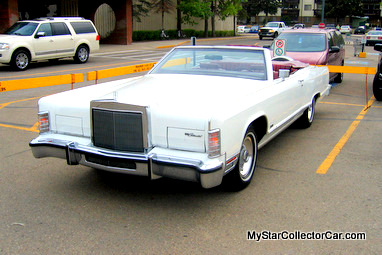 1979 Lincoln Continentals were massive cars out of the factory, and yet this custom built convertible was even bigger than its factory cousins.
Ford contracted out for ten of the elongated drop tops and they came with a very appropriate Continental kit that extended the rear quarter by a foot.
The big Lincoln came with every available option-with the possible exception of tug boats to assist in the docking procedure of the giant Ford.
Its current owner, Gary Derko, is a big car guy who has always had a soft spot for Ford's biggest flag- ship. He couldn't resist an opportunity to own an extremely rare convertible version of the Lincoln.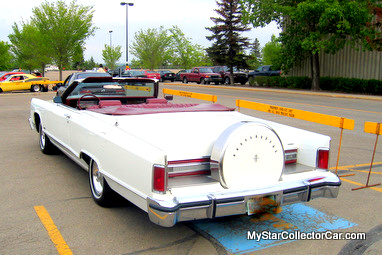 Bear in mind that Detroit had cooled its jets on drop tops by 1979 and they were as rare as reasons to love disco at that time.
Gary's convertible was built to a very high standard. It has a reinforced roof structure that prevents the tent look at highway speeds with the top up on the Lincoln. It is quiet and solid down the road, a sign that the 26,000 miles (44,500 km) on the odometer are legitimate.
Fittingly, bystanders could barely hear the 400 cubic inches running under the hood. Gary's car has been pampered and driven very little since its debut in 1979, and it is a little like stepping back in time when you see this car. It looks like it just came off the dealer's lot for the first time.
This Lincoln is a serious head-turner at a show. Most people scratch their heads and ask themselves whether Lincoln made a convertible in 1979.
The answer is "yes", but only ten people on the planet owned one.
Jim Sutherland