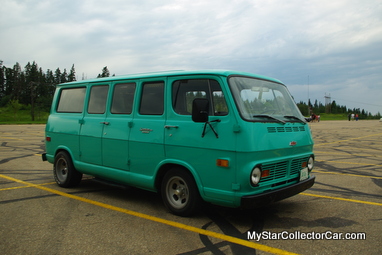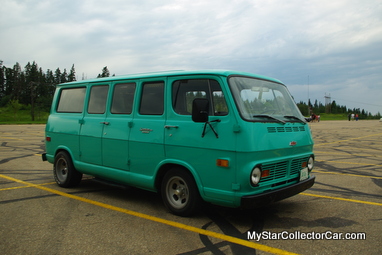 You do not see many 1968 Chevy vans on the road in 2013, so I headed right over to this van when I spotted it at a car show.
Its current owner was far too young to have any first-hand knowledge of the Summer of Love in '67, but he looked the part and so did his van in a retro-hippy kind of way.
Seriously, I doubt the 20-something owner of this 1968 Chevy van has even heard Sammy Johns' 1975 anthem to four-wheeled romance (Chevy Van) in his brief time on earth, but he seemed pretty happy with his van.
I had seen plenty of these vans back in the day and thought Sammy Johns had exactly the right idea in his song.
Some were simple hard-working delivery vehicles; others were seen on job sites with surveyors, while others hauled band equipment for wannabe rock stars back in the day.
They became party wagons and hippy transport vehicles and were homely enough to rival the more famous Volkswagen microbuses.
The big difference was the '68 Chevy vans had power-train options that included water-cooled V-8 engines, so these vans and their shaggy passengers could have gotten to Woodstock a lot faster in this van than a VW bus.
The owner of this '68 Chevy van was a young guy named Craig Fenrick and he seemed more connected with the old school hippy philosophy from the 60s than the car guy culture. He said, " I always wanted one and fell in love with it when he saw it".
The van was upgraded to a 350 Chevy engine bored out to 400 sometime on its past and Craig said that its history included some time on a quarter mile track as part of its legacy along the way.
Craig also said the van is very comfortable at 70 mph on the highway, so the bored-out 350 is more than adequate in the power department for this light van.
Craig bought the van in November 2012 and has put enough time behind the wheel to appreciate his purchase. The van seemed pretty solid and ran well when he pulled into the show, so Craig's investment seems like a good one, well beyond its unique appearance.
A 1968 Chevy Sport Van was part of the automotive scene in the 60s, but it garnered little attention at the time from car guys because the vans were not exactly a new Camaro or Road Runner in the hearts and minds of the average gearhead.
However, a 1968 Chevy Sport Van gets a lot of attention at today's car shows because they are not a common sight in 2013.
These vans were used up by delivery guys, tradesmen and hippies many years ago and they were crushed when they ceased to serve a useful purpose for any of these groups of people.
Craig's Chevy van drew plenty of attention when he brought it to show for that very reason: what was once common and unnoticed is now a rock star at car shows.
This '68 Chevy Sport Van is a true car show rock star in 2013 and its owner looks like one.
Jim Sutherland