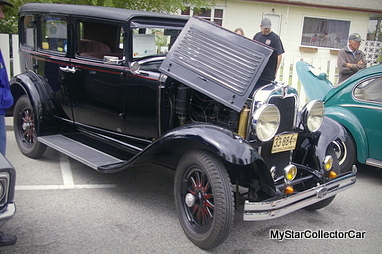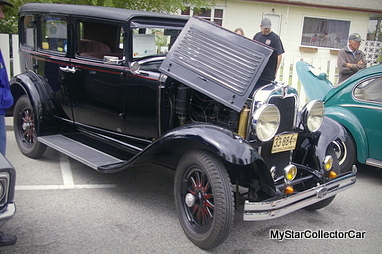 Ever heard of a Roosevelt?
Neither had we, until we discovered a Roosevelt at a car show last year.
Roosevelts were only built for two years in 1929 and '30 by the Marmon Motor Company and were named after President Teddy Roosevelt.
In fact, the top half of the radiator features a black and white image of the famous president. The cars were a low cost alternative and were the first straight eight automobile that could be purchased for under 1000 dollars.
Roosevelts had a unique horn button: press down and it was a horn, pull up and it was a starter, twist and it was a headlight switch.
One family has been well aware of the Roosevelt since 1929, a time when Eva Maye's grandfather bought their Roosevelt as a brand new car. The car was destined to become a major family legacy, although her grandfather probably just liked the car and its sticker price back in '29.
Her husband Lea was well aware of the car's long history with his in laws and is a big fan of the car. The car eventually ended up with Eva's father in 1948 and he drove it until 1959 when it was retired from the road.
Lea decided to get involved in the Roosevelt's restoration in 2000 because he wanted to bring the car back to its original Roaring 20s glory and preserve the family heirloom.
The car underwent a major three year restoration under Lea's guidance and now sports new upholstery and a frame-off-body rejuvenation. The Roosevelt has a place of honor in the garage when it's not on the road and is now the most pampered member of the family.
Lea told us an interesting point of trivia about the Roosevelt; "As far as I know, there has only been four people who have ever driven the car; my grandfather in law, my father in law, me, and my son." That is a very short list of people who have driven the Roosevelt over the past 86 years since it left the factory in Indianapolis.
These days Lea and Eva hit the road in the Roosevelt for shows in their region of the Okanagan in Canada, a resort region well known for its large lakes and warm summers. They are comfortable driving it to shows when the distances work out for them.
The Roosevelt is comfortable at 40 mph (65k/h) and will hit 50 mph (80k/h) if Lea wants to push it a bit, but they are never in a big hurry when they travel in the car.
Lea is a congenial guy and was more than willing to answer questions about his unusual car from curious onlookers. Most of us are very familiar with names like Ford, Chevy and Dodge, but a Roosevelt is a head-scratcher for many car guys.
Lea fills in the blanks very well and is happy to share the story of a lesser known American car from a bygone era.
Lea and Eva are clearly attached to the car for sentimental reasons and Lea's final words on the Roosevelt are pretty straightforward; "My son can't have it until I'm finished with it."
We do not expect that to be anytime soon.
Jim Sutherland
CLICK HERE to Like us on Facebook
CLICK HERE to Follow us on Twitter
CLICK HERE to Follow us on Pinterest
Please re-post this if you like this article.