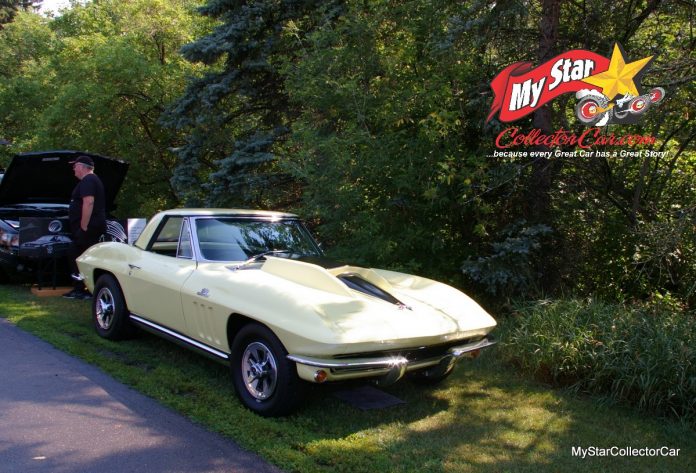 The Corvette Sting Ray has taken its place in automotive folklore as one of the most famous brands ever built by the General.
These cars looked fast at a standstill when they debuted as a sleek 1963 sports model.
The good news is they were fast cars in stock form.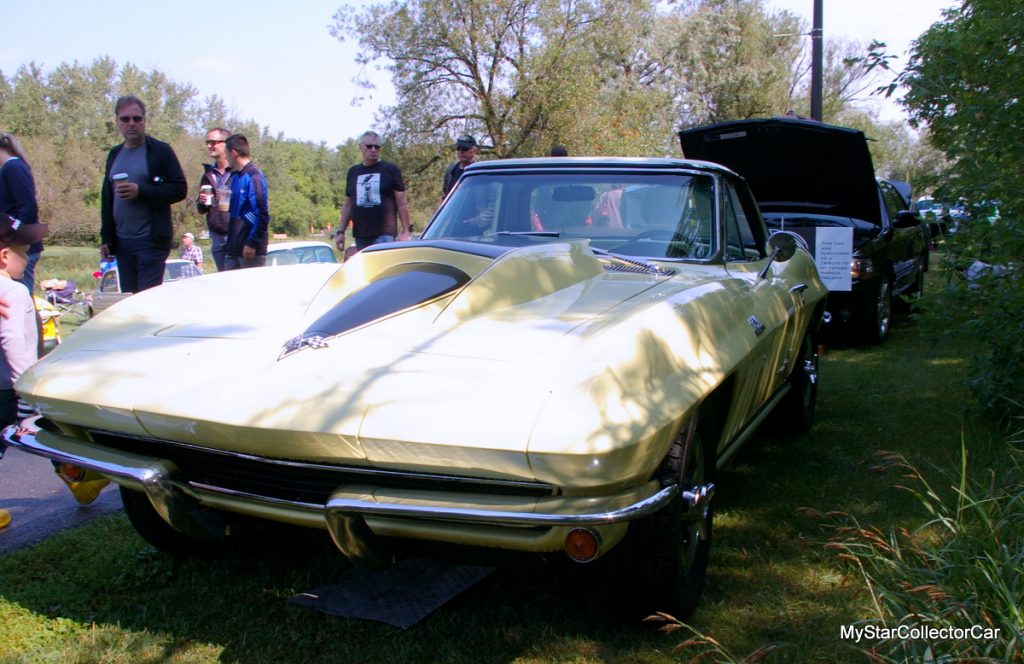 By 1965, the Corvette had even more horses corralled under its fiberglass hood, including its amazing 396 cubic inch version-the one with 425 horses to be exact. None of the Corvette Sting Ray's performance was lost on Wade Murray when he became the proud owner of a '65 Vette equipped with the 425-horsepower option about 40 years ago.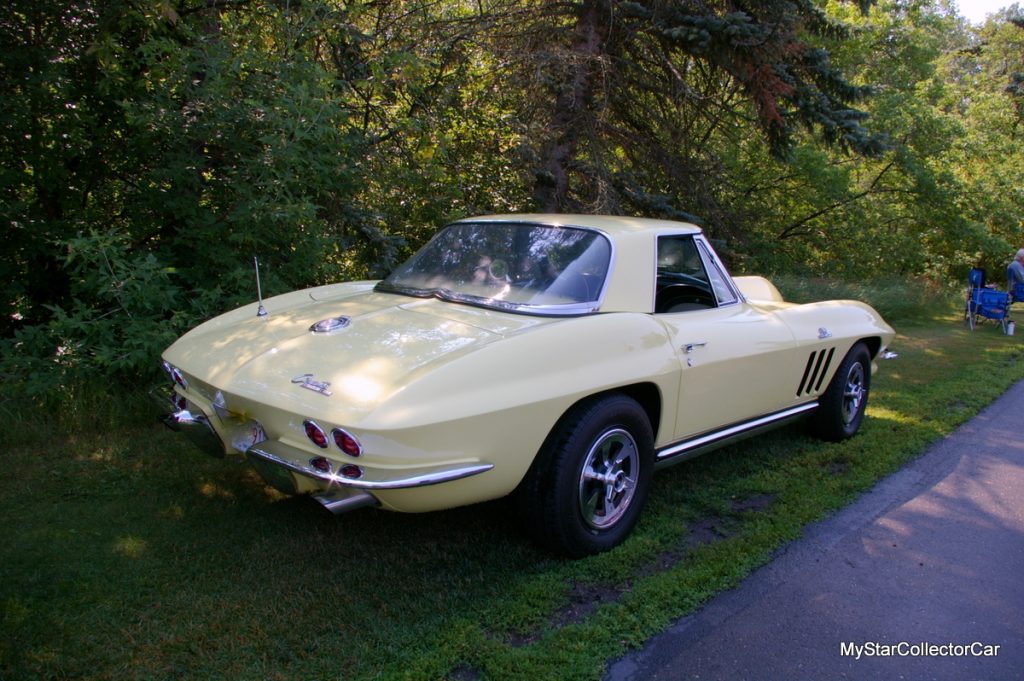 Wade was content to drive the car in stock form for a while, but he is an unapologetic "more-power" in the finest tradition of TV's Tim "the Toolman" Taylor's famous life philosophy.
Wade decided to pull his Sting Ray's stock high performance 396 and replace it with a massive 572 cubic-inch Chevy big block that was able to churn out 840 horsepower, almost double the ponies of the factory 396. Wade added an aftermarket 5-speed manual transmission that was built to handle the brute force produced by the 572.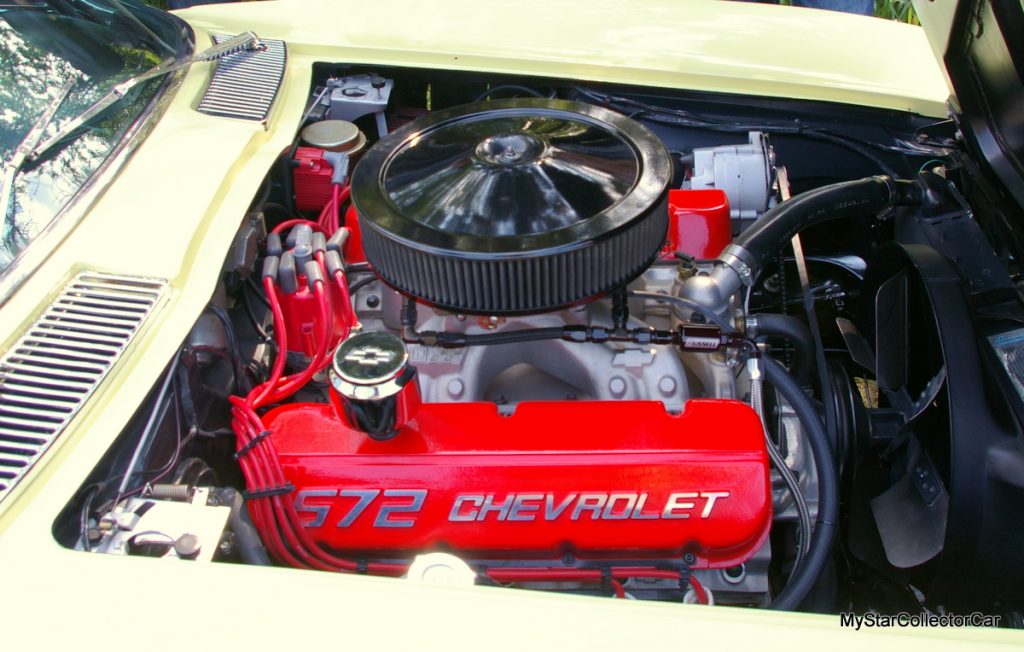 Just for the record, Wade kept the car's original powertrain, a fact that should pacify Vette fans who might be upset with the swap. He is a practical car guy and understands their concerns, plus he was able to spare the Vette's original engine and tranny from more use and potential abuse.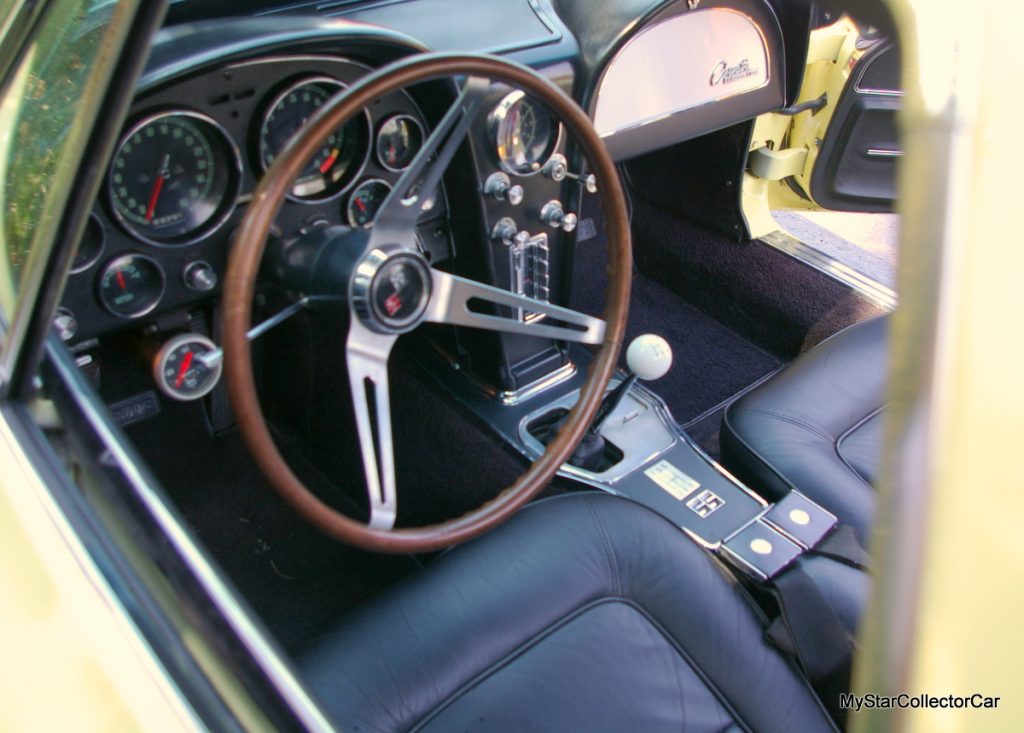 As mentioned, there is a huge power difference between a factory '65 Vette engine and its replacement aftermarket big block, a fact not lost on Wade's wife. She enjoyed the Vette's original ability to hit high speeds in mere seconds and was skeptical about whether the new setup would intimidate her.

Wade said "Honey, this is a 572-it's fast!". Her response was, "It can't be that fast", but she was very wrong. Wade's wife was blown away by the car's new speed capabilities and let him know in an enthusiastically loud way.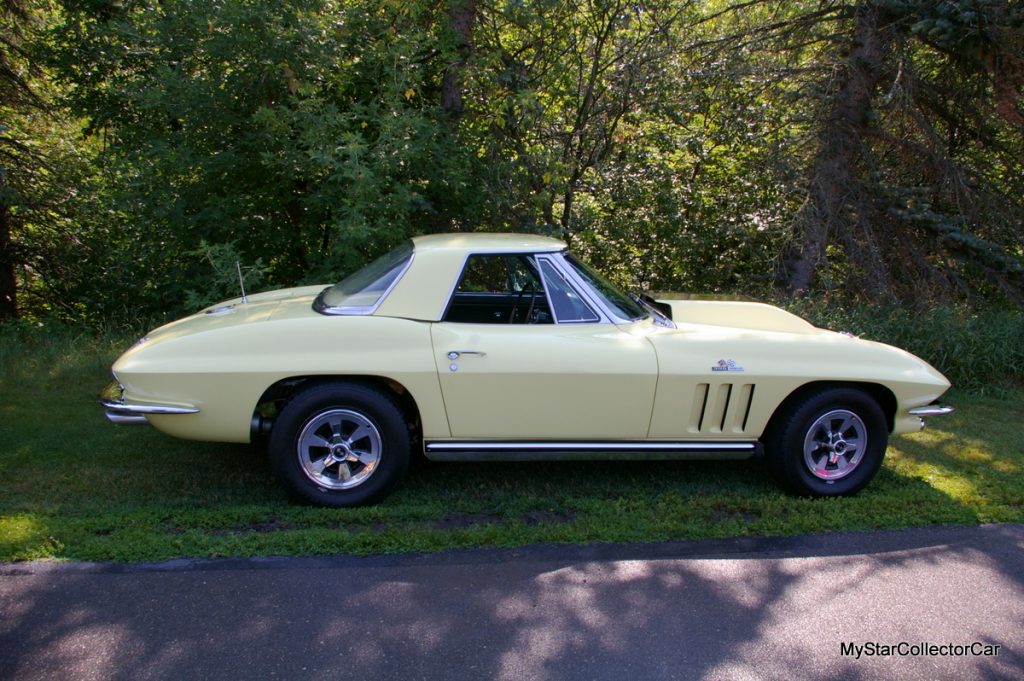 These days she is used to the car's ability to hit high speeds in a hurry and "loves its acceleration", according to Wade.
He is happy with the car's ability to hook up on the TA tires, but added "If you want, you can smoke the tires", in Wade's words. MyStarCollectorCar believes Wade's assessment is a massive understatement if the driver decides to melt the tires with that much horsepower under his gas pedal foot.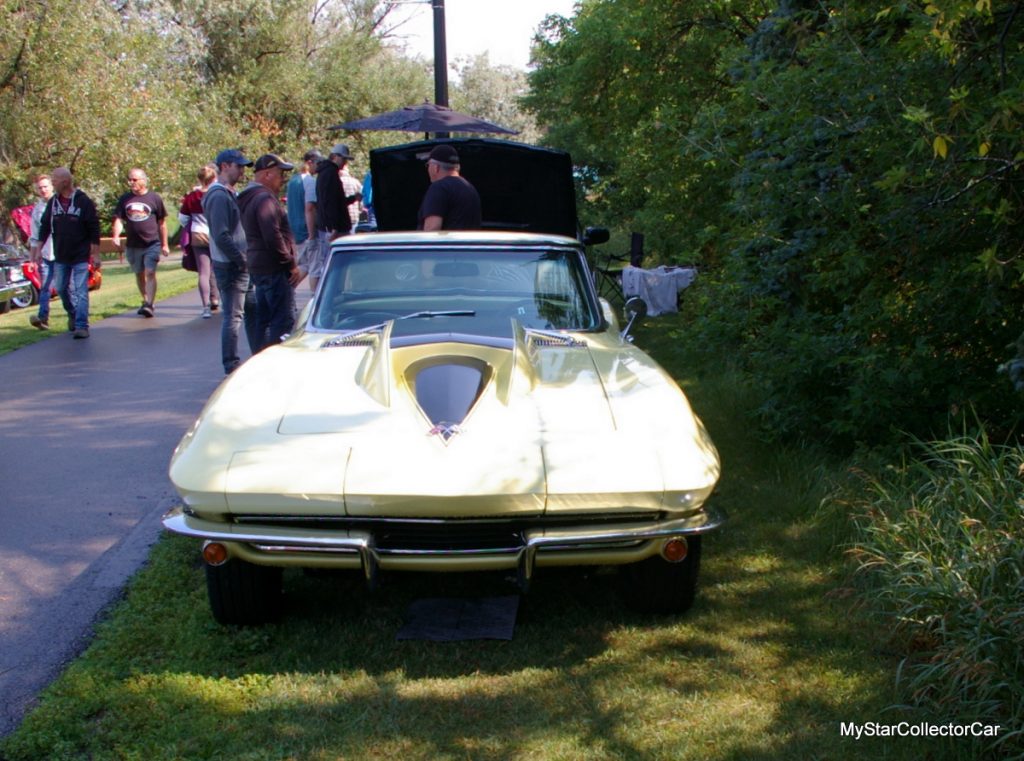 Wade kept the car as original as possible-outside of the powertrain changes and the color swap from its original red paint job. One of the more noticeable cosmetic changes was the hood change, mainly because the big 572 engine took up plenty of space in the Corvette and needed the extra height to fit.
The hood swap was "a long process to get it right", according to Wade, but it was a necessary process to ensure the engine swap was a success.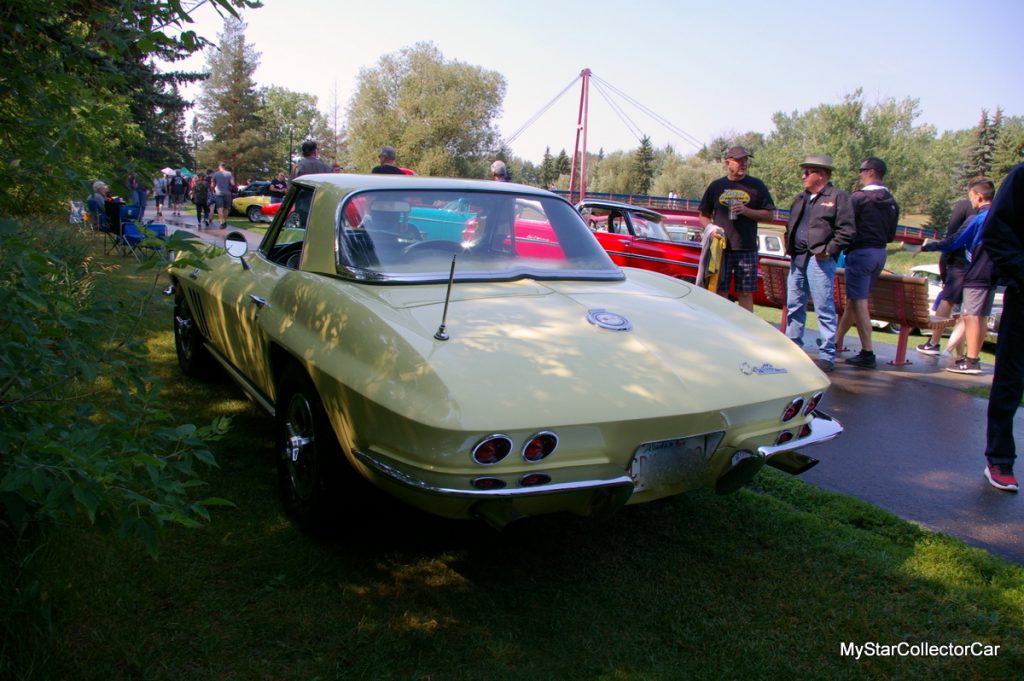 A 1965 Corvette Sting Ray will draw a crowd whenever it is on the road. A '65 Vette with a 572 cubic- inch monster under its custom hood will draw an even bigger crowd.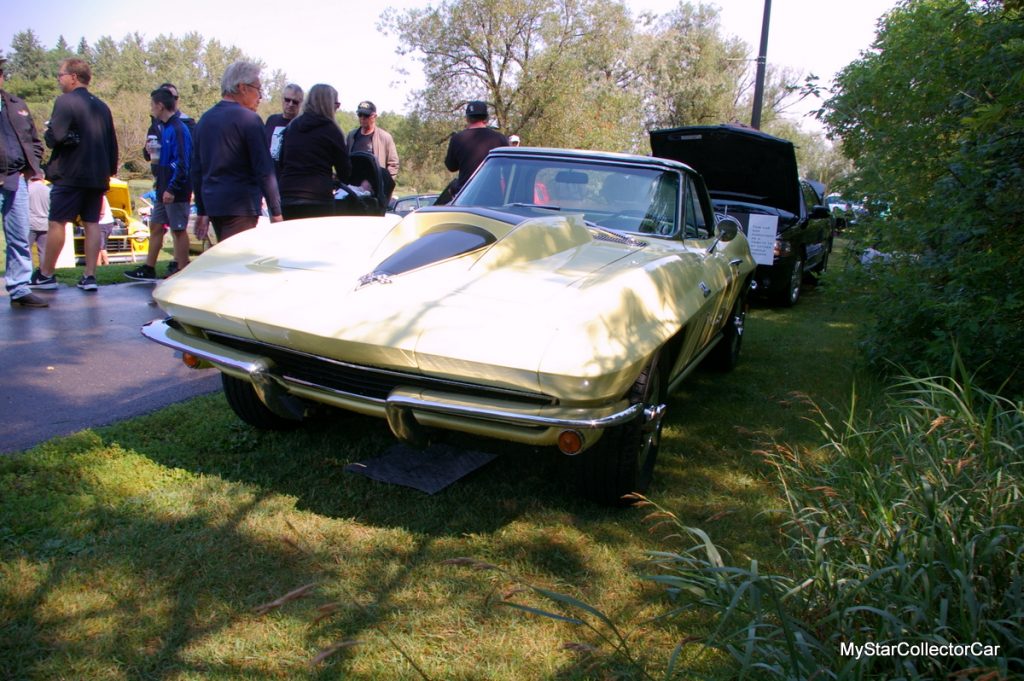 BY: Jim Sutherland
Jim Sutherland is a veteran automotive writer whose work has been published by many major print and online publications. The list includes Calgary Herald, The Truth About Cars, Red Deer Advocate, RPM Magazine, Edmonton Journal, Montreal Gazette, Windsor Star, Vancouver Province, and Post Media Wheels Section.