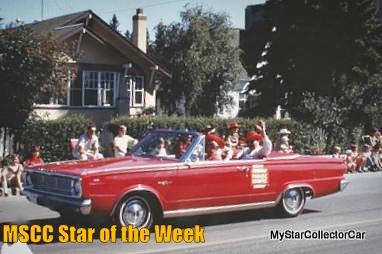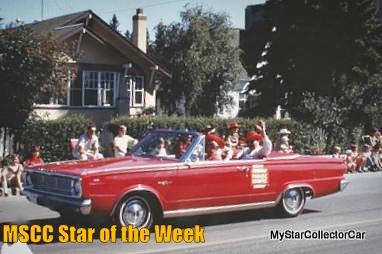 MSCC FEB 8 STAR OF THE WEEK: '66 VALIANT CONVERTIBLE— THE PERFECT PARADE CAR
Parade cars are typically convertibles because it doesn't make much sense to hide your VIPs in a limousine with blacked-out windows.
That's like going to a Bruce Springsteen concert and watching him play from behind a thick black curtain.
Parade watching is a purely visual experience so everything is out in the open and a convertible with the top down is the open window.
This MSCC Star of the Week '66 Valiant convertible was the parade marshal car at the 1966 Red Deer ( Alberta, Canada) Exhibition Parade.
This little Mopar was the perfect parade car because it was sporty, it was red, it was a convertible and it got great gas mileage.
MSCC FEB 7 STAR OF THE DAY: MERC LOWRIDERS CAN COME IN MANY FORMS
The Merc lowrider is a timeless cultural icon in the same way The Beatles or Frank Sinatra are timeless icons.
These old Mercs are one of the best blank canvases on the planet for the lowrider concept, but there are many versions of ground scraping, chopped and channeled rides.
This MSCC Star of the Day is a scene from 2012 where a Pontiac and a Merc gave a great side by side comparison of classic low riders.
They come in many forms.
MSCC FEB 6 STAR OF THE DAY: '74 PONTIAC SD 455—PONCHO WITH A PUNCH
The Pontiac Trans Am was a concept that really gained ground during the smog era at Detroit.
This was almost unnatural because performance cars were in a death spiral in the mid-70s.
Smog laws and other forms of touchy-feely safety regulations made politicians happy but they literally choked the life out of muscle cars.
The Trans Am was the last vestige of the muscle car era thanks to a massive 455 cubic inch monster under the hood.
This MSCC Star of the Day T/A was at an auction last month where it sold for over 100K proving that this Poncho still had a punch in 2015.
MSCC FEB 5 STAR OF THE DAY: A SCENE RECREATED FROM THE EARLY SIXTIES?
There were many different scenarios on the road in the early 60s.
Punks in hot rods competed with giant 50s and early 60s Detroit iron for a lane in traffic and the outcome could go either way.
Most of the time sheer size would win but if that leather-jacketed hoodlum looked like he was carrying a switchblade, then all bets were off.
This MSCC Star of the Day hot rod versus '60 Cadillac scene took place in August 2014 and nobody was harmed during the lane change.
MSCC FEB 4 STAR OF THE DAY: '68 DART GTS-A LOOK INTO THE DUSTY MSCC FILES
MyStarCollectorCar burst out of the starting gate in April 2009, but the digital photo files go back to 2007.
In those days, you packed a big camera 12 months of the year just in case there something really cool was on the street.
Needless to say, there were many vintage sightings over the course of 8 years but this classic was spotted early in the game.
This MSCC Star of the Day '68 Dart GTS was on the street back in November 2007.
That's what kind of gold you find in dusty old photo files.
MSCC FEB 3 STAR OF THE DAY: THIS IS HOW YOU JUSTIFY A 70-YEAR-OLD TRUCK
The biggest argument against a vintage car or truck is the sheer impracticality.
People with no car guy soul will point out the lack of heat, ABS, airbags, traction control and heated seats in old iron.
Real car guys are undaunted by those kind of weak arguments so they'll take a 70 year old ride and make it work all year.
This MSCC Star of the Day Chevy truck with a load that includes a truck rear axle is a classic example.
MSCC FEB 2 STAR OF THE WEEK: '36 AUBURN BOATTAIL SPEEDSTER RECREATION-CLOSET CAR GUYS
Most car guys follow a predictable road that begins with their first toy car.
They'll latch onto that toy car like a life jacket on the Titanic and eventually the toy car turns into a real car.
Thus begins a lifelong journey for most car guys but there are surprises within the fraternity.
Car guys separate non-car guys from their world pretty fast so when a big name from Hollywood, sports, TV, music or even politics turns out to be a closet car guy, those of us within the car guy fraternity think that's pretty cool.
Such is the case with this MSCC Star of the Day '36 Auburn Speedster recreation-it was owned and recently sold at Barrett-Jackson by R&B soul guy Cee-Lo Green.
That makes CeeLo car guy cool…
For past MSCC Stars of the Day please follow this link.
CLICK HERE to Like us on Facebook
CLICK HERE to Follow us on Twitter
CLICK HERE to Follow us on Pinterest
Please re-post this if you like this article.
Star of the Day page sponsored by Southside Dodge