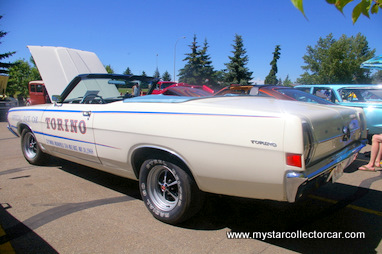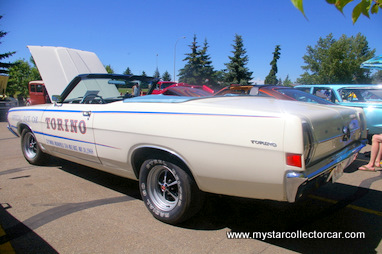 Dave Morgan has a strange story about why he owns a 1968 Ford Torino GT Indy 500 pace car.
It helps him focus on his lengthy restoration on a 1969 Torino.
The '69 is a car that Dave has owned since he was eighteen.
No offense to Dave, but we would guess that eighteen was a long time ago.
Anyhow, we were very happy to encounter Dave and his newest purchase, because there are few opportunities to see a 1968 Indy 500 pace car replica in 2010.
Dave has only owned the car since this past Easter, but it is clear that he is used to all of the attention that his Torino GT convertible brings on the street. It is a beautiful car and Dave has a lot of fun with it. It had a complete restoration ten years ago, but it is very clear that the Torino has led a pampered life since the re-build.
Dave could have told us that the car was completed this past spring and it would be difficult to argue with him.
So the real purpose for Dave's 1968 Torino GT Indy 500 pace car is actually two fold. On one hand, it will light a fire under Dave to finish a lengthy restoration project on a car from his teenaged days. Dave wants to avoid becoming a part of the world's longest car restoration.
On the other hand, Dave can enjoy the sheer driving pleasure found in a 60s convertible on a hot summer day.
Those are the occasions that will push back the restoration completion date on his 1969 Torino.
Jim Sutherland @mystarcollectorcar.com