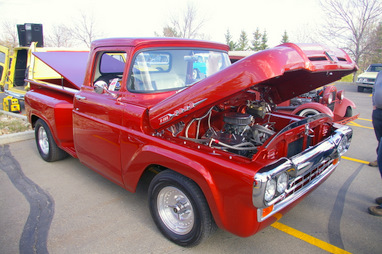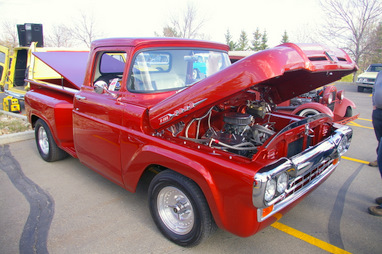 Blair Henry is a stereotype-a car guy stereotype.
"Like most car guys, his father influenced him and Blair attributes his fondness for the old iron directly to his father because "dad's owned a 40 Ford for over 40 years".
Obviously, Blair inherited the old car gene.
The other car guy stereotype is the 'start out with a simple job' scenario-in Blair's case it was "simple engine job that turned into a frame-off project". Most car guys are painfully familiar with that playbook.
But, like most car guys Blair is really happy with the end result-"end" being a relative term because…again like most car guys there are a few tweaks left.
Blair has owned the truck for over 20 years and like a true car guy, he's been involved in every facet of the project. He literally put the Ford back together piece by piece after each section was painted individually. Blair found a '73 Mercury Marquis that donated, of all things-a CJ Cleveland. Talk about a rare find… 
Blair refers to this era of Ford truck as the 'ugly duckling' series and he attributes that name to the lack of reproduction parts for these classic Blue Oval pickups. That spilled over to the rear window because he couldn't find a wrap around rear window until after the job was done so he compromised with the smaller glass in the cab.
That small back glass hasn't hurt the truck at all–this Ford has won 7 first place trophies including a 2007 Powerama first place in its first outing. He has the celebrity photos to prove it-the stars of TV's "Overhaulin" next to his beloved '59 Ford.
The whole project has been made difficult due to the lack of parts but car guy Blair improvises-"the cab is a'59 and the front end is a 1960". Other things like making a rad support out of 3 donor parts are typical strategies with projects involving less traveled roads-Blair is well aware of that "they just don't make parts for these ugly ducklings".
As mentioned earlier, this is an ongoing project because the old Ford is really working at highway speed thanks to a low gear rear end-Blair would like to upgrade to overdrive or swap out to a gas friendlier differential. Either way he'd like to avoid refinancing his house to pay for the gas in a 100-mile trip.

Like most stereotypical car guys Blair had considered selling the truck over the years but as he realized "as soon as I got in and drove it I knew I couldn't sell it". Does that sound familiar?


The "Ugly Duckling" has become the Sunset Lady to Blair as he explains, " it's sunset orange and it's become my mistress".
'Spoken like a stereotypical true car guy…'

Jerry Sutherland @mystarcollectorcar.com