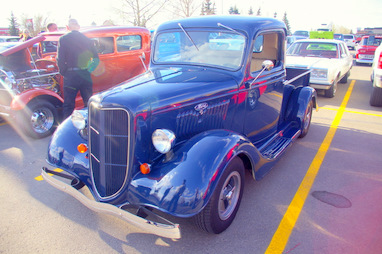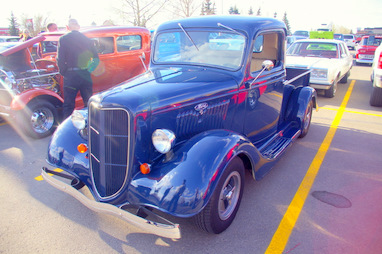 The first thing we noticed about the 1935 Ford truck was the young couple in the cab.
The classic old school hot rod look of the truck will catch your attention, but Warren, its young owner, seems more like a guy who would be fairly comfortable behind the wheel of a tricked-out tuner car.
However, Warren is an old school hot rodder trapped in the body of a young guy.
In short, Warren gets the hot rod philosophy and he feels right at home behind the wheel of his tricked out truck.
Warren bought the truck in its present configuration. It has a 1979 Olds frame under it and a 305 small block from the General to get it down the road. This is the point where the inner hot rodder in Warren kicks into the equation. He wants to put his own stamp on his new ride.
The only rule that Warren wants to follow is "no small block Chevy". He hasn't quite figured out what to put in the Ford, but he is leaning heavily toward a big block from a yet-to-be-determined engine choice. But it sounds like it would meet Tim the Toolman's "more power" rule- and then some.
Warren had a few toys to sell before he purchased the truck. He also was not looking for the Ford when he became its new owner. His only requirement was "something old", and a 75 year old vehicle definitely meets that wish.
It is a very good looking rod right now.
'But it will be interesting to see what happens when Warren puts his personal signature on this vintage resto-mod.'
Jim Sutherland