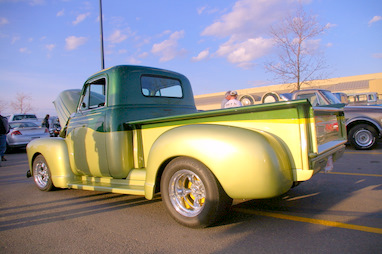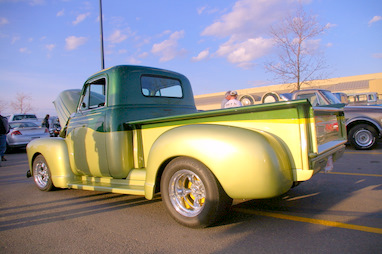 We could not help but notice when this beautiful truck pulled into the parking lot for the show and shine.
Val Hilker is the proud owner of one of the nicest custom trucks that we have seen in awhile.
'Val is a guy with an uncontrollable affection for hot rods that has held him in its grip for decades.'
He liked them when he was an impressionable kid and he loves them as an impressionable adult.
The difference is that Val is now in a position to make his fantasies come true: Enter the custom 1951 GMC beauty into his life.
Val's wife understands him very well and she is willing to share the stage with his other love interest. In fact, she was with them at the show and shine.
The truck is part Camaro with a front clip and rear end donated from the General's flag ship rival to the Mustang and Mopar pony car entries. It also carries a two tone paint job that is borrowed from Ford (dark green) and Chrysler (light green) to give some jump to the classic GMC lines on the truck.
Val beefed up the front springs to give a little extra stiffness to the ride. It also sports a 350 Chevy engine to give it a little extra pop on the road. It is a summer ride for Val, so it also has air conditioning and some very comfortable seats for life on the road.
The Hilkers can now arrive in style and comfort at any car show with this beautiful 1951 GMC resto-mod truck. But they still have to figure out how to deal with all of the attention their truck gets on the street.
'This truck will always be the belle of the ball at any car event.'
Jim Sutherland