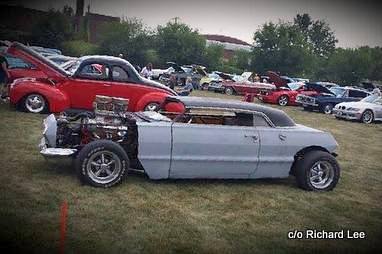 Chevy Impalas became a cultural icon in the sixties because they defined the American dream.
They were trend-setting, stylish dependable cars with a US pedigree that was on a level with Coca Cola and baseball.
The Impala was born in 1958 but 1961 is when these cars really took off because they set a standard that the other two members of the Big Three had to chase.
Dad may have driven a '63 Impala back in the day but he never drove anything like "Jaw Dropper".
Rat rods have been featured many times on the pages of MSCC and one recent editorial eliminated anything post-war as a rattie. That was before Jaw Dropper.
Richard Lee is the guy behind Jaw Dropper and he's extremely proud of his ride. He began with an explanation of why he chose a '63 Impala, " I went for this car because I always wanted an Impala and also a rat so this car was like a bonus". Jaw Dropper is one of those rare occasions where a guy can blend two different concepts because lowering a 60s and painting it flat black is far easier than building a car that blends rattie style with a post war car.
This Impala is like virtually every project because your starting point is extremely important. Richard had a head start as he explained," It was pretty good when I got it and it wasn't that hard to find. I actually saw it on craigslist but after buying it I saw it somewhere else too".
The car was more than a mere rolling chassis. "It ran when I got it but not very well the points were shot and the distributor was advanced pretty far".
Richard had a serious game plan for the mechanical side of the Impala, "I eliminated the points and put a modern coil on it also eliminated the mechanical fuel pump and put an electric pump on it".
The real story behind Jaw Dropper is the new dimension in this seriously-altered '63 Impala,"The car is approx. 50″ shorter/19″ taken out of the middle (sectioned )/9″ lower than stock measurements.I also have a ton of pictures how it was when I got it and now. Some more measurements are front bumper is 41″ wide,47″ from ground to top of cars highest point,10″ between rear tail lights,13″ between headlights,windshield is 41″ wide and 18 1/2″ tall,side windows are 7 1/2″ tall,41″ inside door to door".
Richard added another non-factory feature to the classic Impala, "Also I have a sliding rag top to put in it".
Richard explained how the Jaw Dropper driving experience is a 4-wheeled circus for spectators, " It is street legal and when I drive it people actually stop and stare when I pull in a gas station people actually flock towards it taking pictures and talking to me about it so it's never a quick trip to the store per se".
Ratties are like old Harleys so the comfort levels are atypical and this one is no exception, " I don't really drive it long distance cause it's really a pain to drive but it's also awesome to drive if that makes sense".
The wheels are retro-70s, "Original set of Cragars that were purchased in 1972 (rears 14×10 front 14×7)6-7- 8-"
Every iconic custom on the planet has a tribute scale model version and Jaw Dropper is no exception, "This one was built by Steven Stockstill".
Long term game plans are the key to a great cat story and this one has a solid family connection,"As far as long term plans for it I have already told my son I would pass it on to him. He is 11 and he thinks because I said it would be his he thinks he will drive it for his first car I told him probably not …"
Wise words-he'd never be able to go anywhere with a rock star-like high school entourage hanging around Jaw Dropper.
Jerry Sutherland