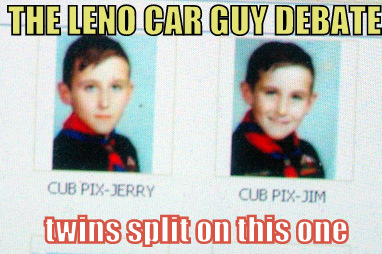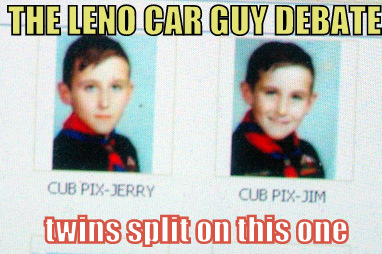 There is a big myth that identical twins think exactly the same.
My brother Jerry wrote a puff piece back in April 2009 that came up with a crazy conclusion that Jay Leno is a car guy.
Jerry is delusional people-please forgive him for he knows not what he says.
By the strictest definition, a car guy is an average guy with a limited budget who manages to justify time and money toward an extremely non-essential item (his bride's view-not ours) like a collector car. An old car falls comfortably into this category for most women.
It is true that Jay comes from humble beginnings, and is a self-made man with a deep passion for old iron. But Jay's Garage proves only one cold hard fact to me: Jay is a car collector these days.
Sure he lives a car guy's x-rated dream of hot and cold running cars, but he pays for his affection with appearance money, primarily Vegas gigs, so he has no sweat equity in the game anymore.
A Leno gig will buy a lot of vintage iron, plus it will pay for his full-time staff of world-class craftsmen that do all of the work for Jay in his garage. One of Jay's better bits is the obligatory shoot in every TV car show where he appears to be working on a vehicle.
And let's face it, Jay is in a lot of TV car shows. In fact, he appears to have shown up in every TV car show on the planet except Motoring in Somalia.
But the one thing that is painfully clear is Jay leans toward the rare, unusual and very expensive these days. He has a world- class collection of Deusenbergs that are not coming soon to a garage in most car guys' neighborhoods.
I really don't blame Leno for living the dream. He has earned the right to buy whatever his heart desires, that is a pleasant perk of fame and fortune. Even his high- powered modifications to his beloved '55 Buick were done with a generous power train donation from General Motors.
But the Buick is an example of Jay's new world– a world without any limitations-and limitations are a part of the car guy soul. A car guy has to sweat the investment of time, money, broken knuckles and potential broken marriages to get his dream car on the road.
Meanwhile, Jay has to book another Vegas gig.
It's not jealousy that drives my conclusion that Jay is no longer a car guy. In fact, I salute him and his efforts to save any vintage ride because I would do the same thing. But he is a full-on car collector who likes to drive his collection.
He is not, by any broad interpretation of the term, a car guy. Despite my brother Jerry's best efforts to anoint him as one of the boys.
Jerry's misguided opinions will likely trigger the best twin fight since our childhood when babysitters (aka) older brothers promised an extra hour of TV time to the winner of our twin slugfest.
Jim Sutherland @mystarcollectorcar.com 
Many more Jim and Jerry articles at https://www.mystarcollectorcar.com/ 
Jerry's original Leno article can be found here https://www.mystarcollectorcar.com/2-features/editorials/65-is-jay-leno-a-real-car-guy.html
COMMENTS
BOB:"WOW I CAN SEE THE BATTLE LINES BEING DRAWN, AND I THOUGHT BEING A CAR GUY MEANT JUST SOMEONE WHO LOVED OLD CARS. ARE YOU GUYS OVER THINKING THIS OR AM I JUST NAIVE?"
MARK:"I want to also take offense at your implication that Jay is NOT a car guy.  How do I know? I have spent time with him in his garage, his shop, his plane, his dressing room at Vegas and riding in more than one of his collection.
My visit was about a year and a half in the past but I just talked to Jay last night and he is still 100% car guy!  When I was there at the shop, he wanted to take me and my wife for a ride in his 1907 White steam car.  He had just driven it the week before and I watched as he spent forty minutes with his mechanics getting his hands dirty and burned on a hot throttle valve (think 1″ brass and steel plumbing in a car with a hot boiler.  It was Jay who actually pulled it apart and got it to move free while I and his top mechanic watched the master.
Once he got it running, we are traveling down the expressway in the White at 5:00 on a Friday afternoon in Burbank and he leans over and says "you ever been to Autobooks Aerobooks?"  I said no and we headed off for a visit in style.  When we were getting back into the car – a kid about 10 years old says "You sure have a lot of cars!"  Jay replied "you sound like my wife kid! Listen you can never have too many cars!" that pretty much sums up any car guy I know – he has a job that pays very well and can afford more cars than most other people – that does not exclude him from the car guy club.
Jay is more comfortable around car people than his Vegas people – I have seen that in person!  Jay carries a large briefcase full or mostly car magazines, books and other car stuff he reads while traveling to and from gigs in Vegas.  He loves to perform but that is his job not his passion.  His passion is cars all the way.
Jay also told me that if anyone has a car they claim he sold them, they are lying!  He does not sell his cars.  A "collector" is in for the money.  Jay drives his cars and he fixes them if they break, he also studies and can tell you great detail about every car he owns – that make him even a better car guy than most because he has a lot to remember.
Just had to take a swing at your comments".