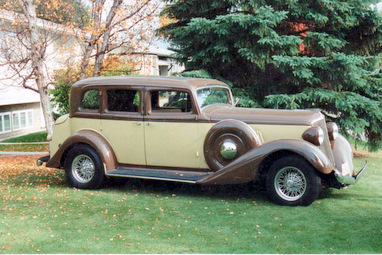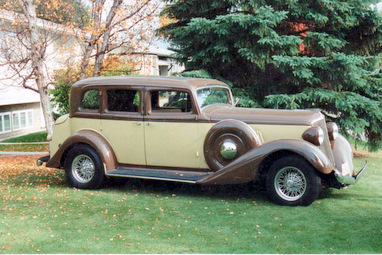 Wayne Russell has owned many cars over the years-in fact what Wayne has owned would be a lifetime Christmas list for most car guys.
He liked them all but one of his favorites is a car he still owns-a 1934 Graham Blue Streak.
'To actually explain how rare this car is requires an expert-somebody like Wayne…'
He explained "Not very many model 67's were sold because for $95.00 more you could buy a model 69 with a supercharger and 135 horsepower.     As far as I know my car is one of only 2  Model 67 4 door Grahams left in North America."
Wayne had coveted this old classic for years  but it took a few decades to unite car and owner: "The first time that I saw the Graham it was sitting in an empty lot beside the curling rink in Elnora.  That was in 1972.  I told a local friend about it and he tracked down the owner and purchased it.   He then spent the next couple of years restoring it and Soren Hanson (Western Collision) gave it its final coat of paint in 1975.  At that time the car had less than 22,000 miles on it.  By then the owner had rounded up any parts that were missing and had completed a really nice restoration on a very rare car.  He sold the car in the mid 80's to a collector in Edmonton and I tracked the car down in 1992 and purchased it.  I had to sell a really nice black 1957 Chevy Nomad to come up with the cash for the Graham but I really wanted the Graham". 

Wayne had to balance the appeal of this incredibly rare car with the reality of his own resources "I drove it for 3 summers stock and had lots of fun with it.  Unfortunately, since it was so rare it was really hard keeping it on the road with stock parts. ($385.00 U.S. for 1 rear axle bearing). After a lot of thinking and a lot of coaxing from Ron Panton I decided to " tastefully update" the Graham".
After that, Wayne decided he wanted this car to loaf at highway speed so a big block was a natural choice "The original continental 8 and running gear was sold to the president of the Graham owners club in Fort Worth Texas and then we started swapping in newer running gear.  The rear end is a Ford 9 inch posi from a 69 Mustang.  The motor is a 1972 Pontiac 455 (out of an ambulance).  Intake is a Holley hi-rise.  Transmission is a TH400.  Headers are ceramic coated.  Front suspension is power rack and pinion with disk brakes. Wheels are 1956 Chrysler wires. The car is a blast to drive and handles extremely well".

Grahams were cutting edge in design as Wayne explained, "Here are a couple of points about the 32-34 Graham Blue Streaks.  …. First American built car to use actual pearl in paint  (pearlescent paint?).   First American built car that was wider than its height.  Low stance was due to the rear axles actually going through the side frame rails. The frame rails were " banjoed" over and under the rear axle. 32 Graham had the first " skirted" front fenders".
Wayne is a two-legged encyclopedia of Graham knowledge and he routinely holds court on the history of these unique cars "In 1927, with the banking syndicate controlling Dodge trying to sell the company, the Graham brothers decided to enter the automobile business on their own. In 1927, they purchased the Paige-Detroit Motor Company, makers of Paige and Jewett automobiles, for $4 million. Joseph became president, Robert vice-president and Ray secretary-treasurer of the company.
The company's initial offering included a line of Graham-Paige cars with six- and eight-cylinder engines. For a while a line of light trucks was offered under the Paige name, soon discontinued when Dodge reminded the Grahams about the non-competition agreement they had signed as part of the sale of the Graham Brothers Company".
As you can surmise, Wayne likes to keep the Graham history alive…
'Now Wayne has the car of his dreams and it drives like one too-the ultimate goal in car guy heaven.'
Jim Sutherland