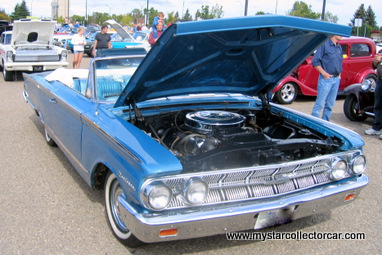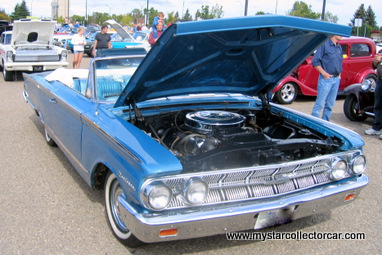 Earl Kjelland is a sentimental guy.
He is sentimental enough to restore a 1963 Mercury that reminded Earl of his courting car- a car very similar to the flashy blue Mercury drop top that he brought to an international Mustang/Ford meet this past summer.
He may have left the original car in his past memories, but he kept the girl.
Earl and his wife have been together for many years and both have a sentimental soft spot for 1963 Mercs.
Mrs Kjelland had to be onside with the replacement convertible. Earl discovered the car in tall weeds while he was mowing a property for a friend. The car was the neglected aftermath of a divorce and the ex-husband was willing to sell it.
That was the easy part for Earl. The car was in serious need of repair, so a frame-off restoration that took almost three years began for the convertible.
Earl found a restoration guy who was willing to take on the job. As most people know, rust finds a very good home in tall grass, so it was an expensive restoration.
Luckily, Earl had his bride's approval, so he was able to complete the job in a series of balloon payments with the body guy. The results were spectacular and Earl is now the proud co-owner–along with his understanding wife-of this beautiful and rare automobile.
So now the happy couple re-live their dating years every summer with their replacement courting car.
Jim Sutherland @mystarcollectorcar.com