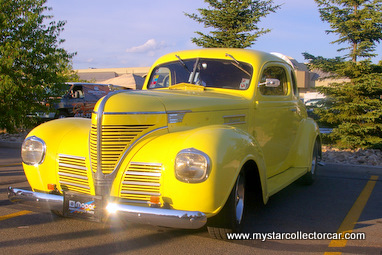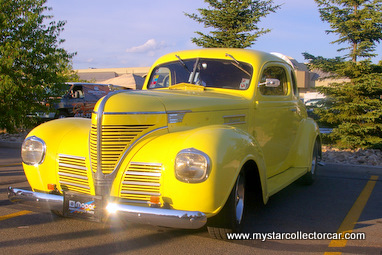 Most people over a certain age remember the Bob Newhart show from the 1970s-the one where psychologist Bob offered really crappy, lukewarm advice to his patients.
One his favorite pieces of advice was "get a hobby" when his patients had relationship problems.
Don Douglas was never in any of Newhart's group sessions but he did heed the advice when he had some problems in his own life.
So he bought this classic 1939 Dodge D-12 coupe and really leaned on the project when he wanted to wind down from the stress-bumbling Dr. Bob was right.
Sharp eyed readers will spot that this is a Canadian Dodge because of the Plymouth square headlights-that makes it even rarer.
This car was last registered in 1967 and Don bought it several years later-as he says, "the rats had done a big number on the car–it was a hell of a mess". That was great because Don needed a project to distract him from the real world and this Dodge was perfect.
Don was really smart about this car because he turned the process into a long but logical game plan. The first motor he bought "just so he could drive it" for it was a 100 dollar 218 cubic inch 6-with a cracked block.
That wounded old six was followed by a donor 360 V-8 from a Dodge Aspen wagon-Don proudly said that he "drove that one until it blew up". But he finally settled on the permanent solution when he put a bulletproof 318 into this daily driver.
Don was very systematic about this car-it wasn't even painted until a few years ago but now that he has a new paint job…and a new wife, he is truly enjoying the lifestyle in this '39 Dodge.
This is a solid, reliable car that as Don says, "will keep up with anybody and I don't have a lot of money tied up in it". It's a beautiful car with a highway sweet spot at 70-80 miles per hour and get 23 miles per gallon". You really can't ask much more of a '39 Dodge.
Don is a Mopar guy to the core and he proudly states that this car is almost 100% Chrysler Corporation from its 1970 Challenger wheels to the custom Dodge Ram head built into the trunk lid carpet. When pushed on the non-Mopar facets of the car, Don admitted to the Mustang II front end and '39 Ford LED taillights.
Don is adamant that this car kept him sane during a very rough period in his life-Bob Newhart probably wasn't talking about building a classic old ride with his hackneyed TV shrink "get a hobby" advice but…
In Don's case it clearly worked.
Jerry Sutherland mystarcollectorcar.com