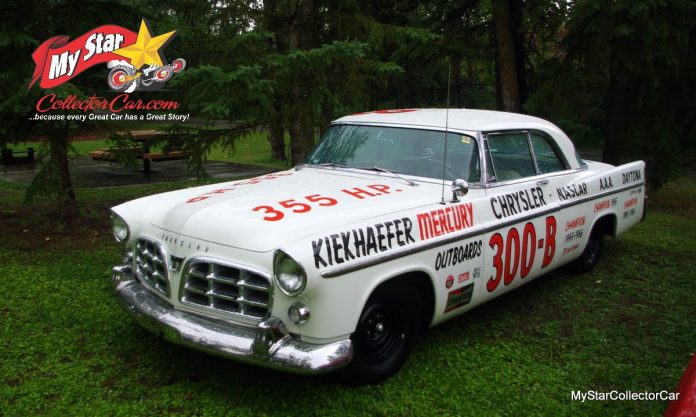 The Chrysler letter cars were arguably the first muscle cars Detroit ever built because the emphasis was on performance–not practicality.
Jamie Melo is the proud owner of a Kiekhaefer tribute 1956 Chrysler 300B because he,"always wanted a hemi car" plus he is a huge fan of 50s iron. This car was done in Kiekhaefer livery around 1983 and then stored for ten years. Jamie explained how this 300B was also a track car, so many of its initial miles were piled up at ¼ mile dragstrips before it became non-competitive–but it still has traction bars.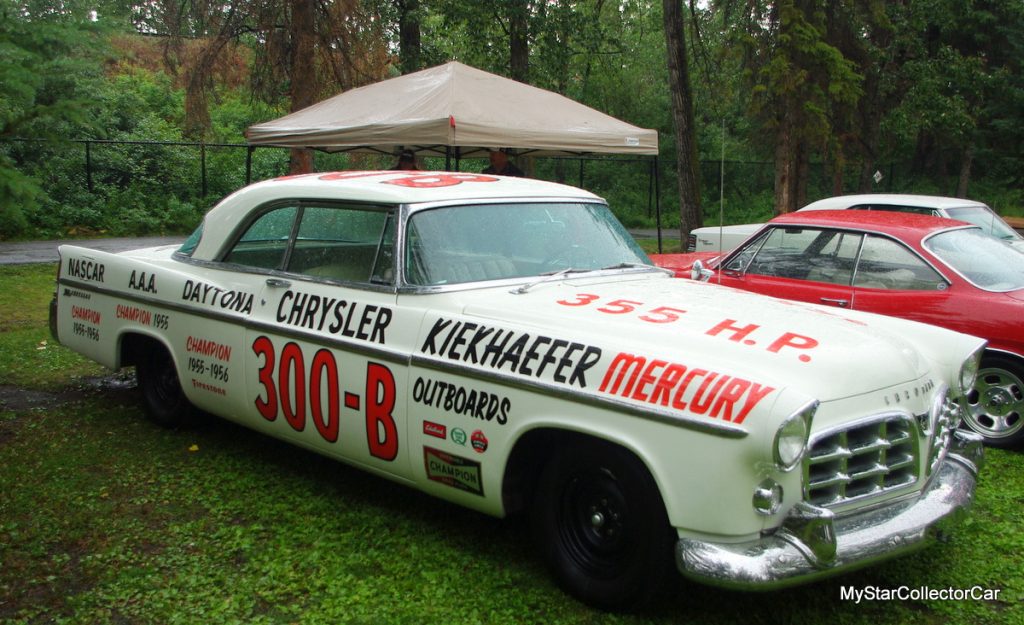 Jamie said the lettering on the car is "a composite of the Kiekhaefer cars and the promotional dealer cars", so this 300B carries more decals than any Kiekhaefer car would have had at Daytona in NASCAR form. He also admitted he's "not really a NASCAR fan" but the history drew Jamie in, so now he's a student of the racing history behind these legendary cars.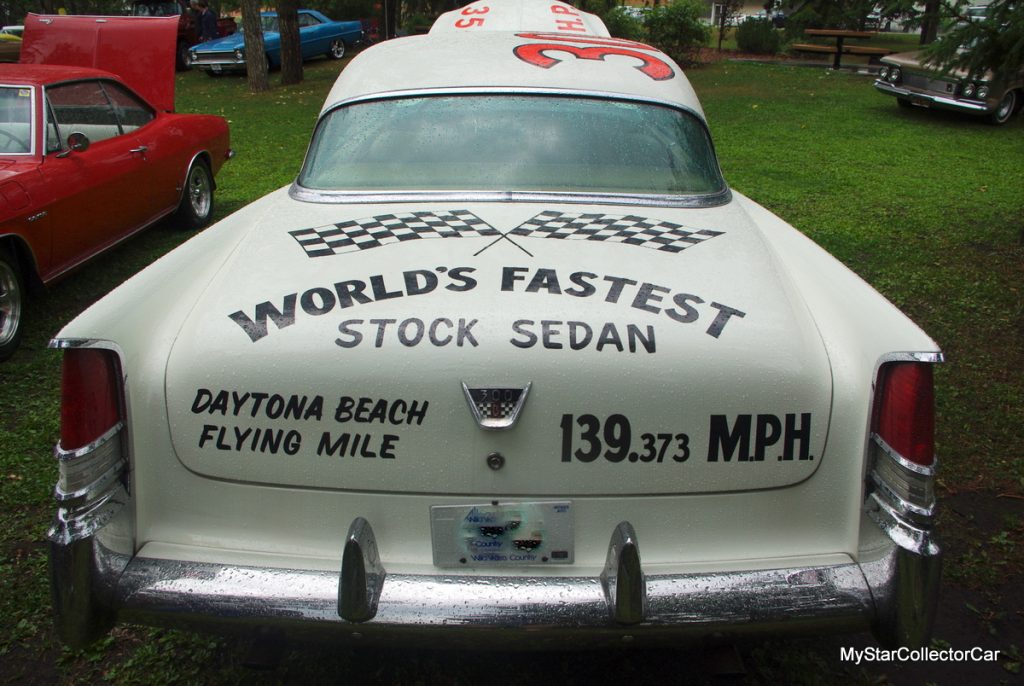 Jamie said (according to his owner's manual) these letter cars came with numerous rear end options because they were designed to run on so many different racing options–everything from dragstrips to circle tracks to the Flying Mile runs at Daytona Beach. His car has a driver-friendly 3:36 rear gear.

This car also has what Jamie said is one of the first 150 mile per hour speedometer in a factory car from a Detroit builder.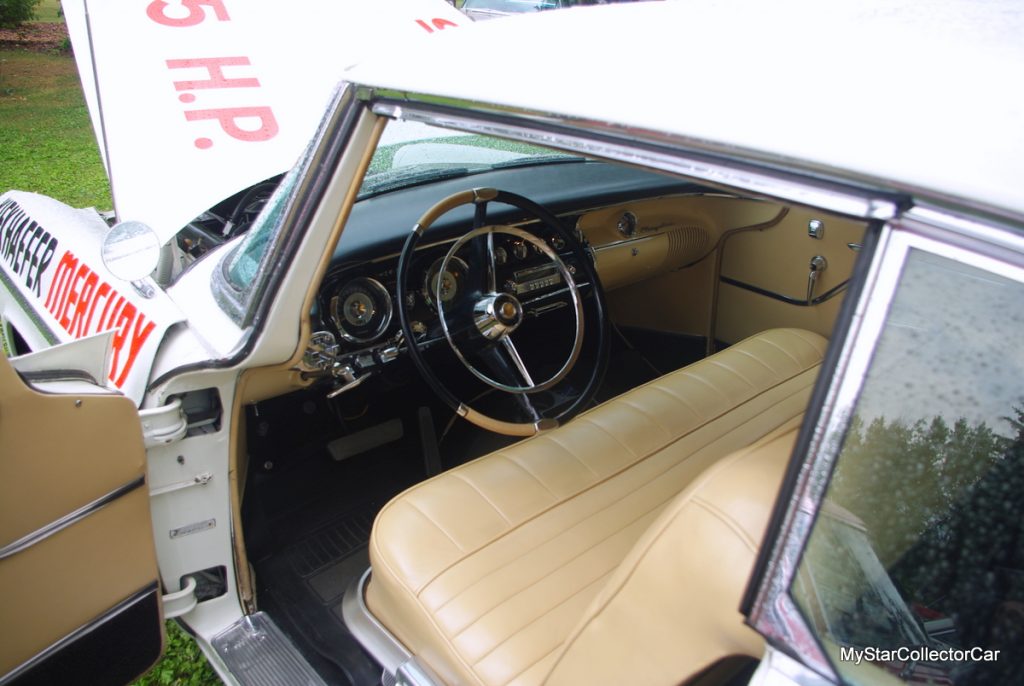 This 300B also came with a three-speed Torqueflite and Jamie believes it's one of the earliest cars ever equipped with the legendary automatic transmission because it was a later build.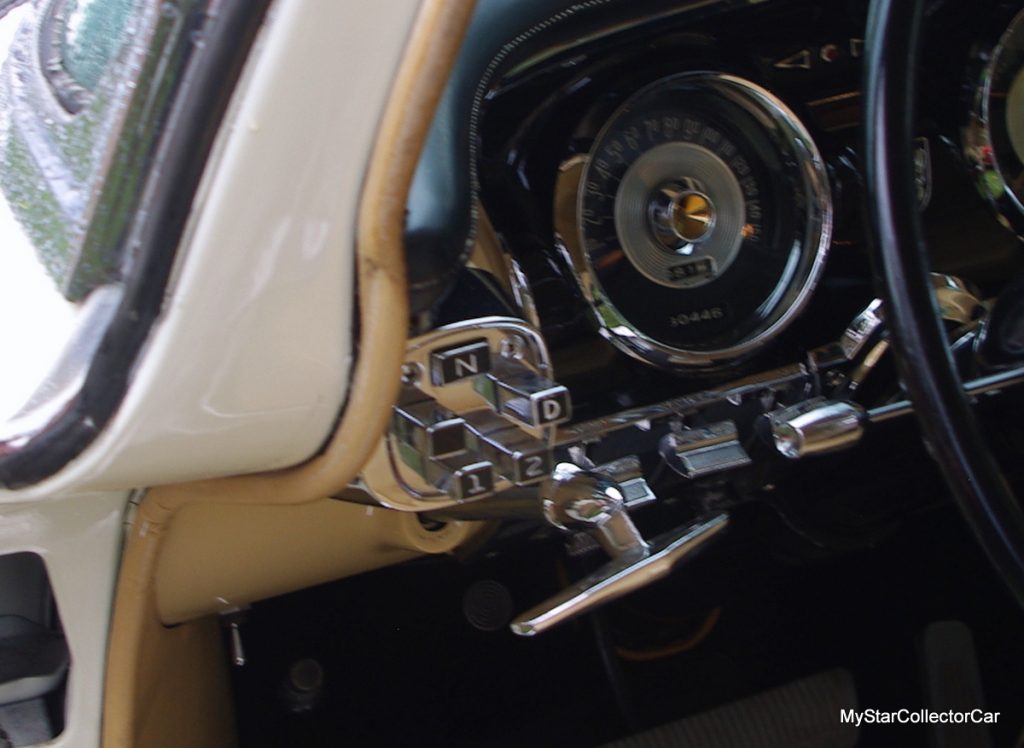 Jamie's 300B has a 354 cubic inch dual quad (4-barrel) carb and he has it running like a clock. It required a rebuild, but Jamie is a huge fan of multi-carb 50s cars, so he did all his carb work himself because he's "self-taught" in the world of exotic carbs. He also rebuilt the engine and transmission to get the 300B up to his standards of performance.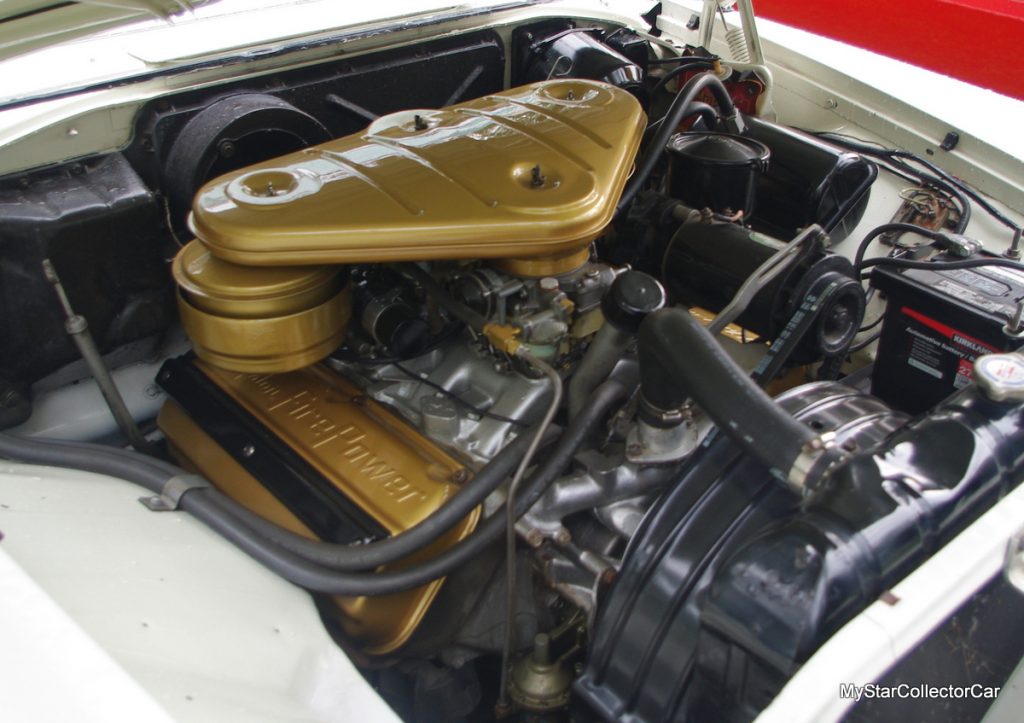 The car suffered a little under long term storage, but Jamie explained how he brought it back by "taking care of all the usual stuff that happens" to things like the interior and headliner. He also addressed typical fuel supply issues after long-term storage–things like the gas tank and fuel lines and the aforementioned carburetor.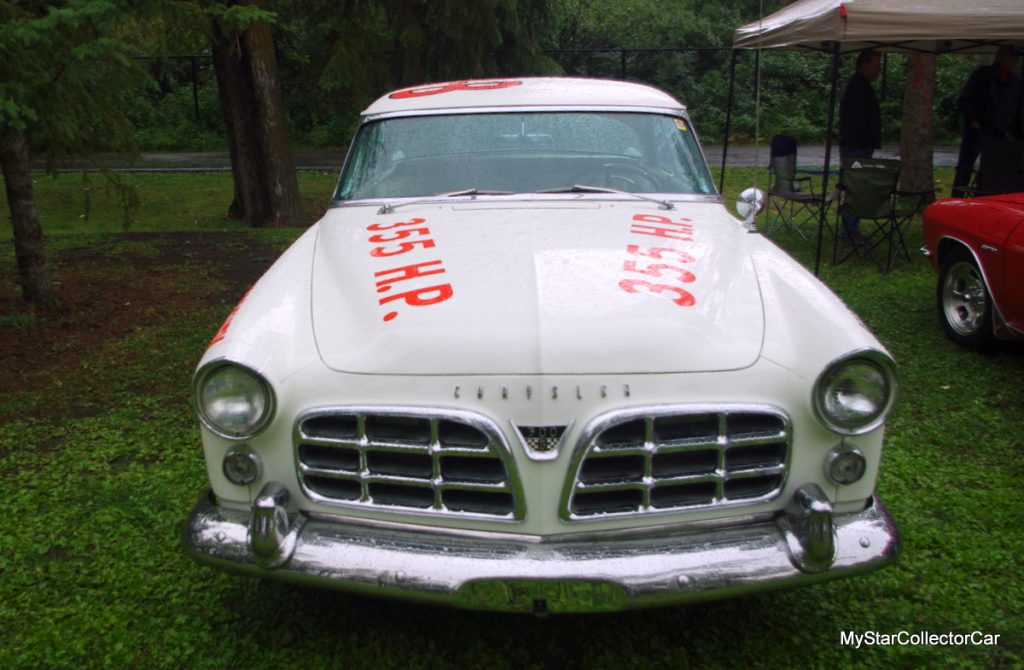 This 300B may be a rare and mechanically exotic car, but it's definitely not a trailer queen. Jamie likes to drive it on a regular basis because exercise keeps old iron running better. Jamie said it "drives really good for an old car" because it has lots of power and decent brakes.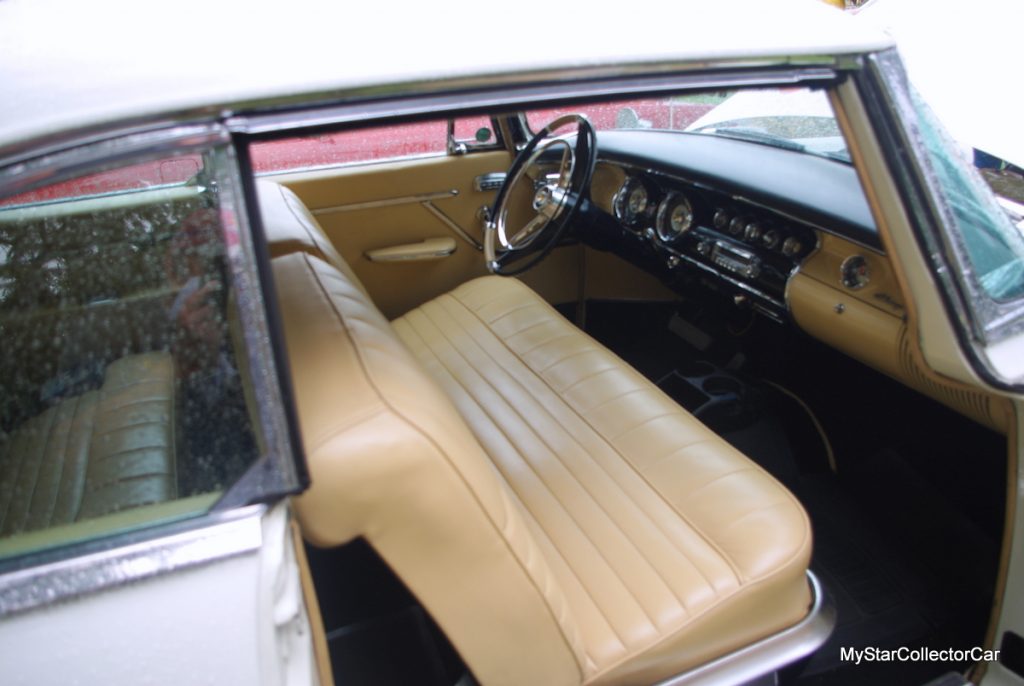 He admits the Mercury outboard lettering is confusing to non-NASCAR fans because they can't understand why Ford would work with Chrysler on a racing program.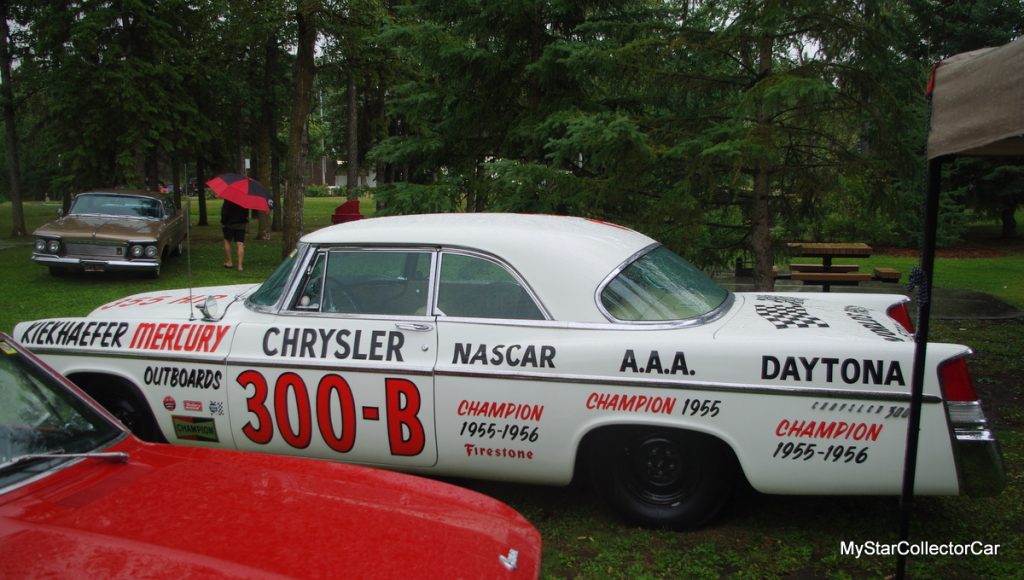 Clearly they didn't read the fine print on the car.
By: Jerry Sutherland
Jerry Sutherland is a veteran automotive writer with a primary focus on the collector car hobby. His work has been published in many outlets and publications, including the National Post, Calgary Herald, Edmonton Journal, Ottawa Citizen, Montreal Gazette, Saskatoon StarPhoenix, Regina Leader-Post, Vancouver Sun and The Truth About Cars. He is also a regular contributor to Auto Roundup Publications.
Please re-post this if you like this article.