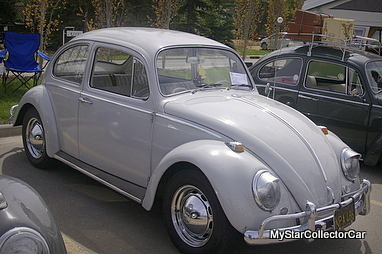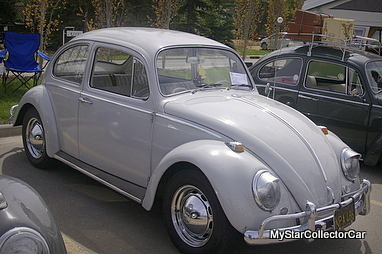 Volkswagen Beetles were produced in the tens of millions during their lengthy production run.
They were very common in North America and found a niche market as a second car for people with plenty of kids during the Baby Boomer era.
Most Baby Boomers can probably trace the current arthritis in their shoulders back to Punch Buggy, a mildly violent game where the first kid to spot a VW Beetle on a road trip could punch the kid squeezed in next to him in the back seat.
There were plenty of opportunities to play the game because there were so many Beetles on the road. They were not exactly lightning-fast, so kids also had plenty of time to spot them on the streets and highways.
Eventually the once-common Beetles were discontinued by Volkswagen and the Bugs slowly faded into the sunset, replaced by faster and more efficient small cars in North America.
However, the VW Beetle will always enjoy a large fan base and sometimes they get together with like-minded VW owners for a gathering of the clan.
We met Ralph Tweten at a VW show and he is the proud owner of a 1965 Volkswagen Beetle which he purchased in California 11 years ago and drove back to his western Canadian home.
This Beetle is a well-preserved car with a well-documented history that extends back to its original Glendale, California purchase and still has its original California plate.
Ralph is a retired commercial pilot who still does some charter flight work, but he looks forward to time behind the wheel of his beloved Bug whenever he has an opportunity.
He tends to average about 15-1800 miles per year on the road with the car and runs it around 58 mph (95-100k/h) on the highway. Ralph indicated the car could go faster, but "you're working the engine too hard above 60 mph".
Those of us who have owned Beetles can attest to the grim results when one of their engines is pushed too hard on the road. We ended up on the side of the road because we were not as smart as Ralph.
Ralph explained another element of his lengthy search for a 1965 Beetle: it had to be a '65 because he was 16 in 1965 and he wanted a VW from his first year as a licensed driver. At the time, his father did not want Ralph to own one because he believed Beetles were not a safe car.
Ralph also revealed that his favorite car style era was the 30s and the roots of the VW Beetle's design extend back to its initial production in 1938. He also noted he was always impressed with the engineering behind the iconic little German car.
The VW has a Sears radio which was specifically made for the car by the large American retail chain and shows how many Beetles were on the road when a company like Sears saw an opportunity to sell VW-specific aftermarket radios.
We at MSCC were happy to meet Ralph Tweten and get the story of a guy who finally got to own the car of his dreams as a sixteen year old.
Jim Sutherland
CLICK HERE to Like us on Facebook
CLICK HERE to Follow us on Twitter
CLICK HERE to Follow us on Pinterest
Please re-post this if you like this article.