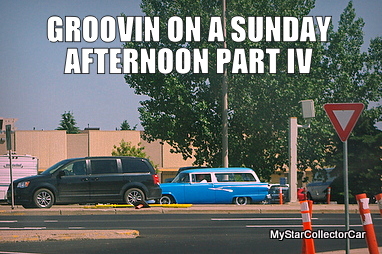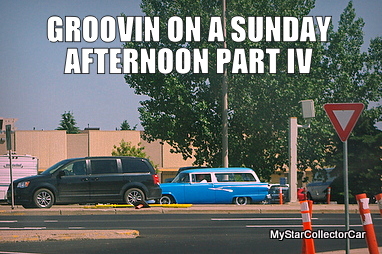 This is the fourth Groovin' on a Sunday Afternoon.
Who knew a Young Rascals classic from 1967 would become a theme song for a car crazy city?
The rules are pretty basic – grab a camera, head out on an average Sunday afternoon and see how many cool old rides are on the street.
The only other conditions are a sunny day, a half-hour time limit and the streets have to be in Red Deer, Alberta, Canada.
This past Sunday was a bumper crop of unusual old classics. It started with a 1969 Olds 442 convertible whipping in and out of traffic like it was on rails.
There was a mint C-body Chrysler within a few minutes of the 442 and it was stopped at a major intersection. This was a stock ride height, non-flat black, non rat-rodded example of how these big Mopars should look.
This intersection was a gold mine because there was a 60s Caddy stopped in traffic to the right of the Chrysler. Again, this was a non-ratty version of a classic ride.
The next classic was a 4th Gen Thunderbird in a supermarket parking lot. This car would have looked great at a car show so it was a spectacular sight in the real world of the bland and boring.
There was a very cool '56 Ford wagon in traffic two minutes after the T-bird sighting. A car like this is rare at a big show, but it's almost extinct in 2014 traffic.
Pontiac TAs have a huge fan base so this one was a welcome sight less than a minute after the Ford wagon sighting. It stood out like the Statue of Liberty in a sea of minivans.
There was an 80s era Vette about seven minutes up the road from the Trans Am in heavy traffic. Cars like that have no trouble on 2014 streets because they still handle better than a fleet of SUVs.
Mercury Grand Marquis are on the "regular traffic" extinction list but this one was two minutes down the road from the Vette. It looked like an oasis in the middle of a desert full of mediocrity.
Quests for vintage iron are easy in Red Deer so the half hour ended with two more classics. This big Caddy and 1st Gen Challenger were the best way to cap off a very groovy Sunday afternoon.
Jerry Sutherland
CLICK HERE to Like us on Facebook
CLICK HERE to Follow us on Twitter
CLICK HERE to Follow us on Pinterest