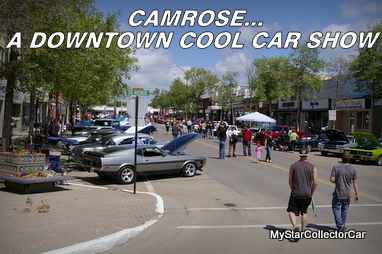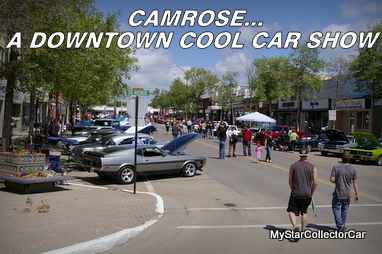 Camrose, Alberta, Canada is a small prairie city of about 20,000 people located about an hour and a half northeast of my community.
However, I visited Camrose for the first time in my life when I attended a recent car show in their neck of the woods and now I wonder what took me so long to discover this community.
The first thing I noticed was the abundance of parks and trees in Camrose. It is a very clean community and it is obvious the locals take pride in their city.
My primary goal was to cover their annual car show and I was happy to hear the event had returned to their downtown main street after a brief hiatus.The show's location once again proved why a downtown car show is such a good decision for a community because the Camrose show was a winner.
We at MSCC may tend to beat this downtown car show concept to death, but the shows spark more excitement and atmosphere on Main Street. You just cannot beat old rides in front of old architecture at a car show.
The first vehicle I noticed was a 1956 Dodge Crusader, commonly known as a Plodge because these Canadian Dodges had Plymouth tail fins. It current owner was an almost-40 year old guy who feels he may have "started mid-life crisis" with the purchase of the car.
The Dodge only has 40,000 original miles on it and spent its life on rural roads in southwestern Saskatchewan not far from the Alberta border. Its new owner had quite a story to tell us about his car and we will feature the Dodge in a future MSCC article.
Then I spotted an ultra-customized 1950 Pontiac Chieftain at the Camrose show and knew there was a story behind this wild machine. I was right because the car had a long journey from its near-death experience at a junkyard where its current owner found it just before its date with the crusher.
The car is actually the sum total of an abundance of talent and a scarcity of frivolous cash to let somebody else build this Poncho. Its owner explained his pivotal role in this beauty's salvation and revival in a somewhat understated way that you will see in a future MSCC story.
Another Camrose story was a 1951 Mercury four-door (factory rear suicide doors) sedan that was only mildly modified from its stock form, mostly small details like a 12-volt electrical upgrade. Its current owner has some very good reasons to retain the Merc's originality and we will share them with you in a future MSCC feature.
Finally, a father and son team had a rare day off from their family business and attended the Camrose show in a 1953 Mercury resto-mod pickup truck. The Mercury truck model was sold only in Canada and this one was a great blend of a cool Canadian truck with some serious performance upgrades. Check out this story in a future MSCC article.
There are always plenty of good reasons to attend car shows, they are even better on Main Street and Camrose once again proved that rule.
Jim Sutherland
CLICK HERE to Like us on Facebook
CLICK HERE to Follow us on Twitter
CLICK HERE to Follow us on Pinterest