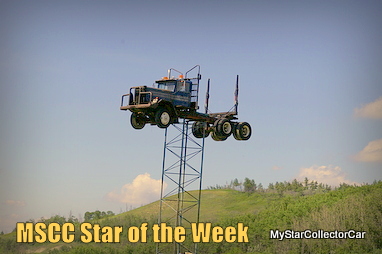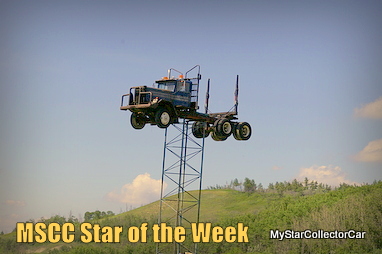 MSCC JULY 13 STAR OF THE WEEK: LOTS OF AIR TIME WITH THIS BIG RIG
There are many things in life that are rarely, if ever, seen and verified.
Bigfoot, UFOs, ghosts and efficiency in any level of government are a few things that don't seem to have any form of verified reality.
Big rigs that look like they're suspended in mid-air are high on the "have to be seen to be believed" list so you end up with a classic fact or fiction scenario.
This MSCC Star of the Day big rig looked like it was hovering from a distance but truth and fiction merged as you get closer.
It sure looked cool even though it wasn't really flying.
MSCC JULY 12 STAR OF THE DAY: AN IMPROMPTU DESOTO CONVENTION
Car shows aren't overflowing with DeSotos because they definitely don't enjoy the same popularity as tri-five Chevys or 1st Gen Mustangs.
In fact, they never did but that doesn't diminish their built-in cool factor.
Nevertheless DeSotos did have hardcore fans over the years and that dedication extends to this day.
That dedication showed up when this MSCC Star of the Day impromptu DeSoto convention took place at a show last weekend.
MSCC JULY 11 STAR OF THE DAY: 1967 COUGAR – THE CAT IN THE PONY CAR GAME
The 1967 Mercury Cougar was the other Ford pony car when it debuted three years after the Mustang.
Cougars were a more gentile version of the popular 'stang but they did offer the 390 cubic inch option in the GT package.
Cougars never enjoyed the same popularity of the Mustang but they certainly have a cult following to this day.
This MSCC Star of the Day '67 Cougar was in traffic back in the summer of 2012-clearly this cat belonged in the pony car game.
MSCC JULY 10 STAR OF THE DAY: '69 CAMARO – THEY WEREN'T ALL SS, Z-28 OR ZL1 COPOS
The '69 Camaro could be successfully described as the most popular Camaro ever built.
This 3rd year version of the Chevy pony car really captured the interest of the bowtie guys back in '69.
Some guys like the '69 Camaros for their cleaner look but most liked them for the massive big blocks in cars like the ZL1 COPOs or the power to weight ratio in the newly-minted Z28 model.
Despite the more-power stance of most '69 Camaro guys, some of them came in tamer packages.
This MSCC Star of the Day '69 Camaro came with a 250 six-banger.
MSCC JULY 9 STAR OF THE DAY: FUNCTION AND FORM IN A CLASSIC HOT ROD
Hot rods are often criticized for their impractical side because most people are used to comfortable, predictable, sedate and quiet cars – basically everything a hot rod isn't.
Despite these limitations, hot rods have been around longer than paved roads so clearly they have longevity on their side.
This MSCC Star of the Day Ford truck was at a show back in June and it was great example of form and function.
It had a decent payload, easy truck bed access, compact size and above all…it oozed cool
MSCC JULY 8 STAR OF THE DAY: A CORVETTE SUMMER ON SERIOUS STEROIDS
Very few summer activities can top a summer afternoon behind the wheel of a vintage Corvette.
There is something existential about a warm July afternoon, an open road and a classic American automotive icon.
Most car guys would be happy with this experience but even perfect moments can be enhanced.
Enhancement can come in many forms like this example from last Saturday afternoon.
This MSCC Star of the Day Vette had a massive, supercharged, big block under the hood.
MSCC JULY 7 STAR OF THE DAY: 1979 LITTLE RED EXPRESS — DISCO ERA COOL
The Little Red Express was one of those Hail Mary passes for Chrysler in the late 1970s.
They needed some kind of affordable performance machine so they looked to a humble Dodge Stepside truck.
The truck was picked because pickups could skate by some of the smog crap that choked off cars in that era.
Little Red Expresses were really quick when they debuted in '78 thanks to a 360 police package and the aforementioned free-breathing truck status.
This MSCC Star of the Day '79 Little Red Express was at a show two weeks ago showing off its disco-era cool.
For past MSCC Stars of the Day please click here.
CLICK HERE to Like us on Facebook
CLICK HERE to Follow us on Twitter
CLICK HERE to Follow us on Pinterest
Star of the Day page sponsored by Southside Dodge.