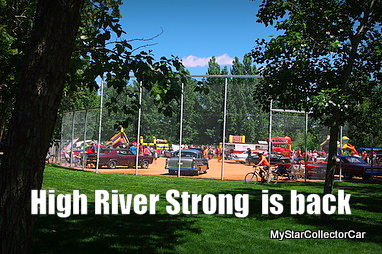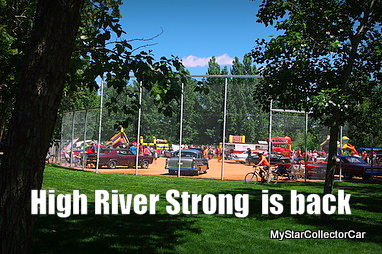 We spent Canada Day in High River Alberta Canada, a town near Calgary that is still recovering from a devastating 2013 flood.
The people of High River are tough and they have rebuilt in a place where devastation wiped out their community only a year ago.
One of the casualties was their main town park (George Lane) because it was underwater last year and had to be completely decontaminated and re-sodded after the flood.
The park is a source of considerable pride for the people of High River and is a centerpiece for many local community events.
Fortunately the large trees in the park survived the flood and still offer considerable shade for visitors. The new sod took very well and now the park is once again a cool retreat from a hot July sun in this prairie town.
We wanted to visit High River during their Canada Day celebrations to see how the recovery process has gone thus far and also hang out with the local car guys.
Their car show took place on a baseball diamond in the park and spilled out into an adjacent parking area. The vehicles actually looked pretty impressive parked in the middle of a baseball diamond and we were able to find some really good stories at this show.
The first thing we spotted before we even got into the baseball diamond was a couple of Pinto station wagons with a few custom touches designed to give the little Fords a cool factor back in the 70s.
Their owner was a very enthusiastic Pinto fan who had a collection of these iconic sub-compact Fords. His first car was a 1974 Pinto and he always had a soft spot for the cars- enough to get a '74 Pinto tattoo on his arm and own several Pintos.
Needless to say, the man had a great story about his Pintos and you will read it in a future MSCC article.
We spotted a very nice 1973 Pontiac Lemans on the baseball diamond and noticed how it was an original-look Poncho with an early 70s sporty flair. The car looked great and had spent its entire life with one family.
Their story will be told in a future MSCC feature and it will show how this car became a big part of their family history.
We ran into a local car guy legend who has been a hot-rodder since skinny Elvis scared the living hell out of parents in the 50s. He was also a 2013 flood victim and his 1949 Meteor customized beauty was caught right in the middle of the chaos.
The story had a happy ending because his Canadian Ford custom ride is back on the road and as beautiful as ever in '14. Learn about how an old school hot-rodder applies his considerable experience to an old school custom project with a few modern overtones in a future MSCC story.
This was a small show but we counted 3 Triumph TR6s in the crowd, including a canary yellow TR driven by Tweety Bird. It was the only time we liked the cartoon bird better than the cartoon cat trying to kill him.
Thank you to the people of High River for a great Canada Day show.
You really are "High River Strong".
Jim Sutherland
CLICK HERE to Like us on Facebook
CLICK HERE to Follow us on Twitter