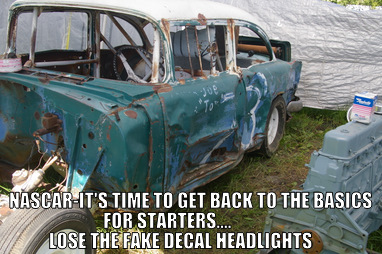 Those of us old enough to remember Fred Flintstone as a high school punk recall a different NASCAR.
'Long before the Samsung 500, Food City 500, Kobalt Tools 500 or the Coca Cola 600 we had the World 600, Atlanta 500 or Firecracker 400.'
Simple, honest descriptive semi-geographical names that worked.
I get the value of sponsorship-I know it's the heartbeat of pro sports.I get that- but I sure don't have to like it.
The cars are a different thing-long ago guys like Buck Baker, Lee Petty, Cotton Owens and Joe Weatherly actually drove their cars to the race then taped over the headlights, raced the liver out of their ride and drove it home.You know what you'd get if Dale Earnhardt Jr. drove his car home? You'd get a State Trooper with a very tired writing hand and a Guinness Book of World Records for most equipment violations on one car.
Back in 1964 when I was a kid I truly embraced NASCAR and the single reason was Richard Petty's Ford-eating, Hemi-powered electric blue Plymouth Belvedere because it looked just like the one your uncle bought at the local dealership.The cars #43 raced? They looked just like '64 Pontiacs, '63 Mercurys, '64 Galaxys. Now we have decals that look like grilles instead of body lines to define our racing biases.This cookie-cutter look may be cost-effective but it doesn't make it right.
Remember when Ford had to build Talladegas and Chrysler had to build Daytonas and Superbirds? They didn't actually want to.They had to because we were still watching "stock cars". Back in those days you could part out Cale Yarborough's Ford after a crash and fit most of the panels on Cousin Floyd's Country Squire wagon.Not now-unless body work suddenly evolved into a decal-friendly magic act.
My solution-make them "run what they brung",just like the old days.
Don't force a Ford Fusion or Dodge Charger into the 2-door world. Make them run Mustangs and Challengers. Maybe car racing adventures are the last thing Detroit needs right now or maybe it's exactly what they need. GM has the new Camaro so force Toyota to race something that's more interesting than vanilla ice cream.
Simplistic?Maybe- but right now these cookie cutter templates should give way to the past-the innovative and independent-thinking of the past.
The past that sold cars and built loyalty.
Jerry Sutherland @mystarcollectorcar.com