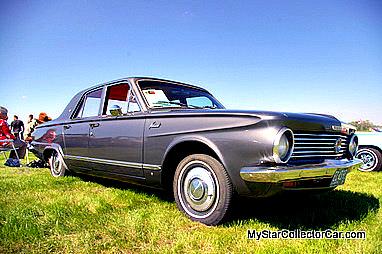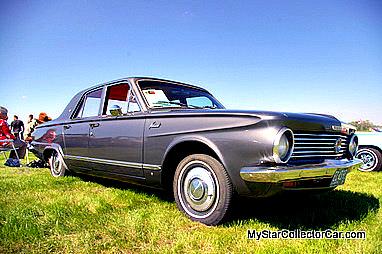 Gary Osbal's grandfather purchased this brand new 1964 Valiant at a local Chrysler dealership-it was his last car.
This is a bare bones, radio delete, 3-on-the-tree, 6-cylinder "stripper" car.
He was a practical man and this was a practical car so he drove it until he was 80 years old.
That's when Grandpa's practical side kicked in and in 1974 after he hit a snow bank he said, "that's it, I'm not driving anymore" and sold the car to his son–Gary's father.
Gary's dad drove the now 22,000-mile Valiant for 9 reliable years until the body was done in 1983. After that the car went into hibernation for 26 years until Gary and his brother Nolan took the car to another level in a complete restoration.
The car did require new quarters and a fair amount of the grunt work that comes with any restoration but Gary admits that he doesn't regret any of the time, money or effort when he drives the pristine Valiant.
One thing that didn't have to be done was the engine-it hasn't even had a head lifted in nearly 50 years. That's the kind of reliability that Gary's grandfather was hoping for back in '64.
Gary didn't have a wealth of experience in the Valiant as he explained, "I was 17 when they bought it and I never really rode in it but my brothers did". He did spend some time behind the wheel and admits, "he may have had a beer or two in it" during his misspent youth.
Gary and Nolan brought this Valiant to a "class of show" level and even though it's not a Hemi Cuda or Super Bird, this little Plymouth is much more than a mere commodity to the Osbal family. The family legacy is priceless.
Back in 1964 Gary's grandfather bought the Valiant based on sheer pragmatism so whether he would agree with Gary's investment in his function-only car is open for debate.
The end result is not…
Jerry Sutherland
For more car guy and car relationships please click here-https://www.mystarcollectorcar.com/