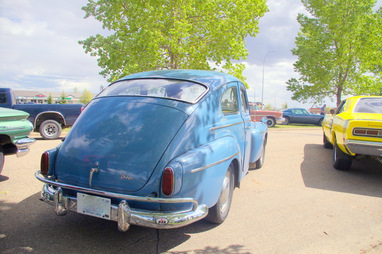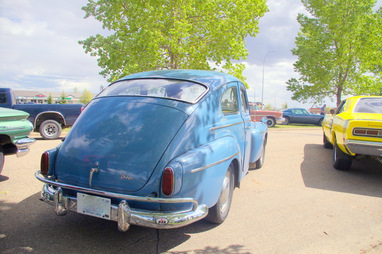 Volvo 444 and 544 models are always a source of confusion for the average person.

Most people think they are close cousins with the legendary Volkswagen Beetles, but that is not an accurate guess.
The Volvo 544s were water cooled front engine vehicles that could offer two features not found in Beetles: Enough power to run at highway speeds and enough heat to survive a highway trip in winter.
The Volvos were the pride of Sweden's automotive industry, so their geographical location meant that Swedes knew a little about cold weather.
Living that close to the Arctic Circle will remind you of that fact.
Other people compare the body design to the Detroit car styles of the 40s. But the Volvo style blazes its own path for its typical owners. They view these cars as well-engineered vehicles from a legendary European auto-maker. Whatever the case, you do not see many of these Volvos on the road in 2010, so we were pleasantly surprised to find this 1963 544 at a recent car show.
The car's owner still has his 1961 544 (since 1965), but its days on the road as a family kid-hauler are long behind it. The 1961 model needs a lot of future TLC to get back on the road and its owner Bill Kroner, needed a 544 fix to feed his automotive addiction. Enter the 1963 544 to give Bill some quality Volvo time while he sorts out the future for his original 544.
Bill told us that the 1963 had a previous owner who wanted to take on a restoration project to distract him from his daily job as an executive. So he put his time in on the Volvo as a pleasant hobby, a learning experience, and a diversion from his corporate life. The result was a drivable restoration car that he enjoyed in his leisure time.
Bill purchased the car from the suit about two years ago, and he has enjoyed his time with the car ever since that day.
He can even live with the add-on Volkswagen bumper that will only contribute to the confusion at car shows.
COMMENTS
DENNIS: "Great little cars."