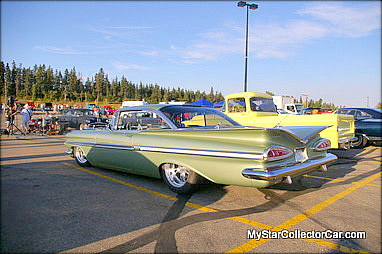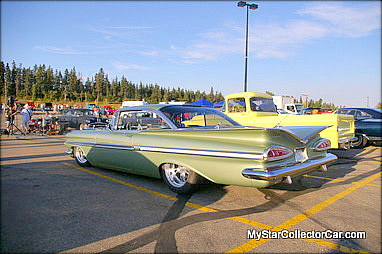 Peter Pollock had the perfect car but it made an all too brief stop in his life.
He had a show-stopping, bright red 1959 Chevy Impala 2-door-hardtop.
This was a car that he'd coveted since he was a kid but a fire ended that brief relationship.
Peter explained how "That one burned in a fire that was so hot even the frame sagged from the heat. There was nothing left".
Needless to say, that '59 Impala would never hit the streets again. Peter added, "I lost 4 cars in that fire, it was pretty bad but the insurance company was awesome".
This is the point where Peter had to rescue victory from tragedy so he decided to get another 1959 Impala from the insurance money. '59 Impalas are not easy to replace because the supply is much lower than the legendary 5-6-7 Chevy inventory.
1959 Impalas never enjoyed the cult following that their tri-five cousins had from the start but in the last twenty years these bat-winged late 1950s Chevys came into their own as an extremely desirable "bow-tie". Clearly the cool factor couldn't be stopped.
Peter went back to his best connection for this late 50s Impala…the same guy in Georgia who sold him the first red '59 Impala. He had another '59 Impala and Peter recalled, " I didn't want to go back down but he said you have to come. I trust his opinion enough so I did go and it was this car".
Peter added, "He asked me what do you want next so I told him I'll take this '59 and two weeks later I had it back home".
This Impala was similar to the original car because it had undergone an extensive resto-mod. This one had a crate 454 big block under the hood so clearly power isn't an issue.
The interior is pure 1969 Chevrolet Impala because the seats and console came out of a donor car. Despite the passage of decade this '59 Impala looks like it came from the factory with a late 60s interior. This is a very effective look.
Peter is a firm believer in driving his cars. He is firm about that philosophy as he pointed out, "You gotta drive them, that what they were built for and this one is great to drive even though it's a stock front end".
Peter likes the creature comforts so this '59 Impala has AC, tilt, cruise to go with those incredibly comfortable '69 Impala seats. Long distance driving also requires a civilized rear end so Peter explained the setup in this '59 Impala, "It's got a 3.23 rear end so it's loafing on the highway and actually gets 18 miles per gallon".
Despite Peter's relatively short relationship with his replacement 1959 Impala, he's put thousands of miles on the car. He's done car journeys that log over a thousand miles at a time and the Impala has been bulletproof on every mile.
Nobody likes to lose a classic old car to a fire or any other disaster because vintage iron is basically irreplaceable. Peter mourns the loss of the red Impala but admits, "this new one is better".
That's how you snatch triumph away from tragedy in car guy world.
Jerry Sutherland
Follow us on Facebook at-http://www.facebook.com/MyStarCollectorCar
Follow us on Twitter at- https://twitter.com/#!/MyStarCollecto1