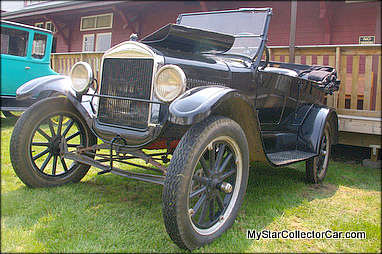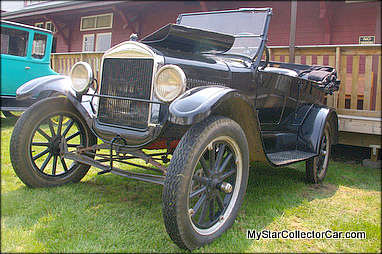 Model Ts were known for many things back in the early 20th Century but the term "luxury" rarely entered any discussions about these legendary Fords.
The years went by and by 1926, buyers were asking for more in the Model T lineup and this was a great example.
This 1926 Model T Touring was originally an Idaho car. A local bootlegger decided he needed a little comfort, style and speed so this T was the perfect answer.
This guy was like a character out of a Hollywood movie because he owned 15 cars at the time and stored them in his large shop. He was true to his bootlegging roots because guest were always offered a cocktail – even at the peak of Prohibition.
He rigged up a system where a simple touch of a button caused a wall to swing open and expose a hidden bar as the current owner Lawrence Gould explained, "The bootlegger lived in his shop so he'd say we'd better have a drink, the wall would spin around". Clearly Elliot Ness was just a name in the news to this guy.
Lawrence loves this T Touring and he's an expert in the field of these icons of American mass production. He explained how he bought the T, " I got it from the second owner after he bought it from the bootlegger so this 86-year-old car has only had 3 owners".
Lawrence hadn't spent many weeks with the car (at the time of the interview he'd only owned it for a few weeks) but he'd already piled up some miles on the old Model T. He was impressed with the ride and the speed of the car.
He explained, " I think the compression was boosted on this car at some point because it really goes. My other Ts are nowhere near this fast, it'll do 45 miles per hour". That might seem comical to non-T guys but most T owners will agree that 45 is really fast in a fairly stock Model T.
Lawrence has the right philosophy for a car like this T Touring because he understands every nut and bolt in the car. In fact, that is how most T owners are because they have to be experts in the repair and maintenance of these old workhorses. Ford dealers would be more likely to have a Martian working for them than a tech who could diagnose a problem in a Model T.
He's realistic about the range of these antiques but Lawrence has no fear that this T Touring could go anywhere. The biggest limitation is the sheer idiocy of modern drivers but he admits, " I'll do a 100-150 mile round trip in it for fun".
This Model T Touring is one for the ages because its history is woven into the fabric of the early 20th Century…the Prohibition Era.
Jerry Sutherland