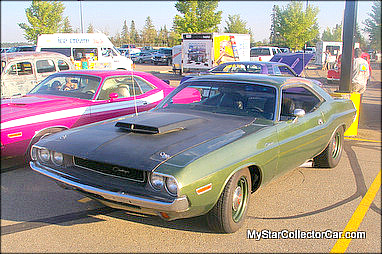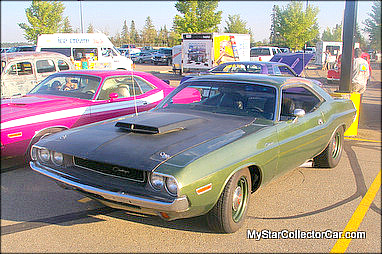 Car guys know the basic meaning of the term "driver quality" but the concept is very subjective.
For example, a driver quality car might be a class winner if the owner is a concourse level guy because they believe in impossibly high standards.
That's the world a guy like that lives in so his set points for driver quality will always be considerably higher than the average car guy on an average car guy budget.
This 1970 Challenger is far more representative of the concept, "driver quality".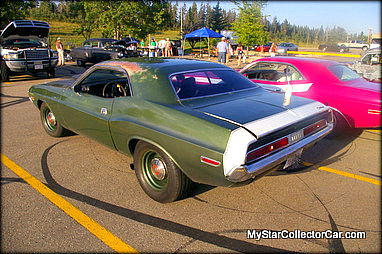 Essentially a "driver" is weighted heavily in favor of the fun factor over the worry factor. Consequently, if you spend six figures on a car you have what is known as a trailer queen—the kind of car that you can't park anywhere without an armed guard.
Murray Phillips is a guy who loves to drive his old iron even though he owns some valuable Mopars like his one owner '68 Roadrunner and a '62 Fury convertible. They get driven, but they still come with a built-in concern about the mean streets of 2012.
This Challenger was purpose built as he recalled, "I wanted something that I could drive anytime and not worry about parking it anywhere, so if I take it to a mall and somebody banks a shopping cart off it, I'm not going to worry".
Murray found the Challenger in a field after his buddy had stripped everything he wanted out of the car. Murray explained, "It had no fender tag so I decided to build it any way I wanted to and forget about factory correct stuff. Most of these are pretty rusted out but this one was pretty good. I bugged these guys for a couple of years".
He's had the car for ten years and it's strayed several light years away from factory stock as Murray said, " it was a 340 4-speed car, but I put in a 360 crate. I was going for a T/A look and feel but I didn't want to sweat bullets over factory correct".
Murray built the car for straight ahead acceleration as he explained; " I put 4.10 gears and a line-lock in it so it does pretty well".
The car is completely street-worthy. Murray said, " there are lots of things that have to be done but the underneath part has been restored". The Challenger definitely showed a factory level stance as a result of that attention to detail.
The paint isn't perfect as Murray explained," lots of guys like to point out how rough the paint is…" but clearly guys like that are missing the point. He added, " it's going to be awhile because there are lots of things that have to be done like the rust in the bottom of the quarters".
Murray isn't remotely worried because the point of a driver is fun so he's given the Challenger the nickname "TS" – for "tire-spinner".
Murray has built the prototype for all driver caliber cars and he summed it up with this, " this car is pure fun, it's the most fun I've ever had with a car, I can smoke the tires and I never worry about it".
That should be the opening statement in the book 'How to Build a Driver'.
Jerry Sutherland
Follow us on Facebook at-http://www.facebook.com/MyStarCollectorCar
Follow us on Twitter at- https://twitter.com/#!/MyStarCollecto1