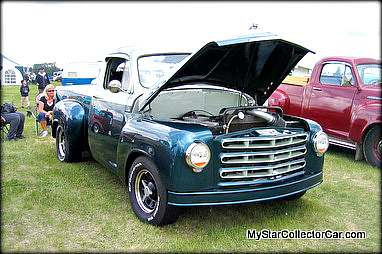 A well-planned custom project is a thing of beauty and this 1949 Studebaker ranks very highly on the ultra-cool scale.
Mark and Val Carson are the proud owners of this resto-mod Studie that wears its new modifications very well.
The truck still has a Studebaker heart because Mark put a 1963 Studebaker Lark engine under the hood for more power from a younger factory cousin. Bear in mind that Mark comes from a heart and soul General Motors family upbringing, but he chooses to blaze his own trail with his Studebaker affection.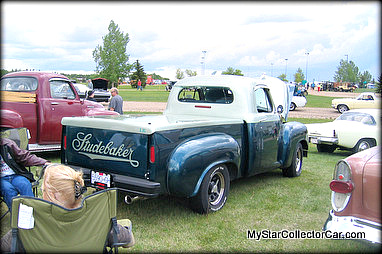 Mark purchased his Studebaker in 2003 and launched a seven year project to build his dream Studie pickup. He did just about all of the wrenching on the car and managed to find a machinist who built an adapter plate so that he could mount a modern four-speed automatic to the Lark engine.
He also used a rear end out of a Chevy Astro Van, a starter out of a Honda Accord, the seats are Ford F150 and the rear bumper is pure Ford Ranger. Other add-ons include GM power brakes and steering, as well as a custom torsion bar addition to the stock front end for better handling.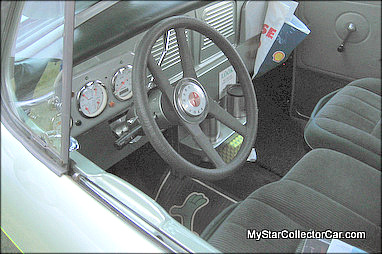 The Lark engine has an after-market fuel injection system from a custom builder and it runs like a top on its many road trips with Mark and Val.
In fact, Mark and Val can drive all day at 70-75 mph and pull down 23-25 miles per gallon. They arrive in style at every destination and they drive their little Studie beauty a lot during the summer car show season.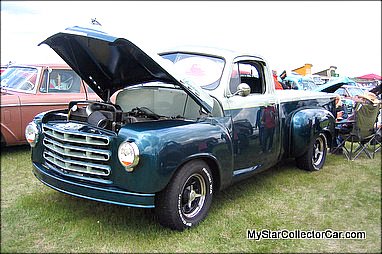 Mark added a flip-out rear window that looks cool and also adds cool air flow to the cab; the perfect marriage of form and function.
The final result of Mark's seven year project is a beautiful custom Studebaker that is very true to the brand because it still has a Studie heart. It would have been a lot easier for a guy from a GM family to throw a 350 Chevy into the truck, but that was never the plan for Mark.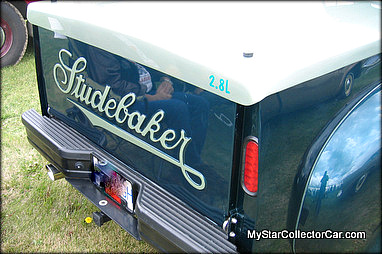 Mark had already outed himself as a Studie guy to his family a long time ago.
Jim Sutherland
Follow us on Facebook at-http://www.facebook.com/MyStarCollectorCar
Follow us on Twitter at- https://twitter.com/#!/MyStarCollecto1