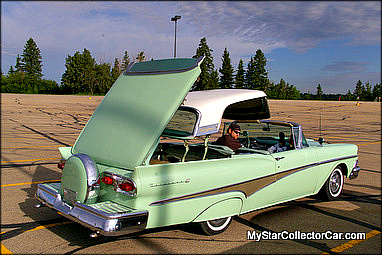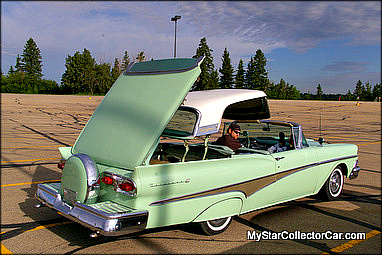 Dustin Brooker always knew how important his late father's 1958 Ford retractable convertible was to the man.
His dad had owned the car since 1974 and had spent a lot of time and money on his dream car.
His late father drove it for awhile and then began a restoration in the late 70s.
Dustin's father had the mechanical side covered because he was a licensed mechanic, but it took two body guys before he was able to properly repair the metal on the car.
The Ford needed rear quarters and other extensive body work to meet Dustin's father's standards for his beloved retractable.
His dad bought and sold many cars over the years but the Ford was never going to leave the family and Dustin will be true to his dad's wishes for the beloved car. Dustin has absolutely no plans to sell the car and hopes that his young son will be the next heir apparent for the car.
The Ford has its original 352 Police Interceptor engine so it can dangle down the road at a pretty good clip.
A transmission problem after a car show a few years ago meant that the car had to be towed to a transmission repair shop and Dustin was very careful to have it moved on a flatbed rather than by a tow truck. His late father would have done the same thing.
One of the unique bonds between Dustin and his dad is an urn in a small velvet box that rides along with Dustin in the Ford every time he hits the road. The urn contains his father's ashes and rides in the back seat because Dustin believes that his father is looking over his shoulder on every journey in the beautiful '58 retractable.
The car is actually an unbreakable sentimental bond between a car guy and his son.
It represents everything about the man's love for his car that make this 1958 Ford retractable a priceless family heirloom for Dustin because it was owned by a family legend—his dad.
Jim Sutherland
Follow us on Facebook at-http://www.facebook.com/MyStarCollectorCar
Follow us on Twitter at- https://twitter.com/#!/MyStarCollecto1