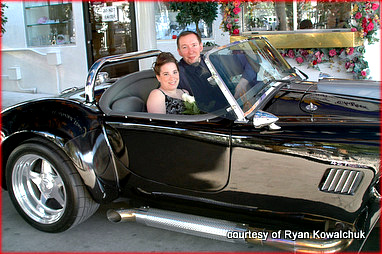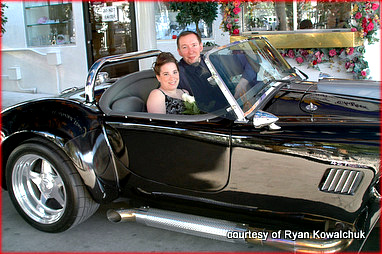 One of the more iconic cars of the 20th century was the famous Shelby Cobra.
These brute force rockets were the forced marriage of British sports cars and American V-8s presided over by the late Carroll Shelby.
They were rare and insanely fast in their 427 Ford big block form, now they are rare, insanely fast and even more insanely expensive to purchase from their largely reluctant to sell (and very lucky) owners.
The result of the Cobra rarity is a cottage industry of custom-built replicas that wear the same good looks as the originals, but may contain upgrades that make them easier to tame for their owners.
Ryan Kowalchuk is the proud owner of a 1966 Cobra tribute car that has an even rarer personal history for Ryan because he got married in his car.
Ryan and his future bride were on a road trip to LA via a Vegas side trip when they made a semi-serious pact to get married in a drive-through wedding chapel if they could find a Cobra for the ceremony.
The second Rent a Cobra shop in Las Vegas just happened to have the car which was named Casey the Cobra, so the three of them went ahead and drove to the chapel. Casey stayed behind in Las Vegas after the nuptials and the newlyweds hit the road without the Cobra.
Ryan happened to check the Cobra rental's website a few years later and discovered that Casey was available for purchase from the company. He told his wife that he wanted to buy Casey and hoped that she would have a sentimental attachment to the car.
She did and Ryan flew down to buy the car and then to drive it back home. He got about ten miles outside Vegas when it overheated and changed his plans. Ryan had second thoughts about the Cobra and was lucky enough to have bought it from an ethical seller who was willing to take it back or knock ten grand off the price.
The problem was only a small coolant hose leak but the seller honored the discounted price and Ryan had the Cobra shipped to him because he had saved so much on the purchase price and left his urge to gamble on a road trip home in the car back in Vegas.
These days Ryan, his lovely wife and Casey the Cobra are one happy trouble-free family once again.
Sometimes what happens in Vegas does not necessarily stay in Vegas-just ask the three of them.
Jim Sutherland
Follow us on Facebook at-http://www.facebook.com/MyStarCollectorCar
Follow us on Twitter at- https://twitter.com/#!/MyStarCollecto1