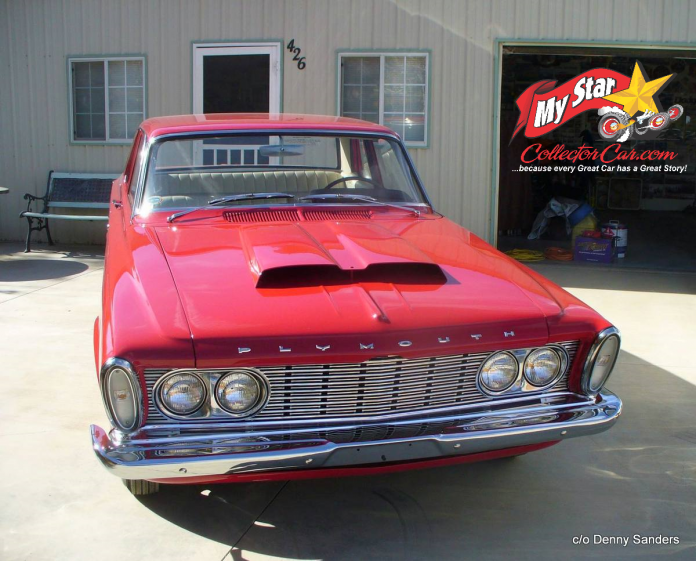 There's little doubt their father's choice in cars profoundly affected most car guys.
In most cases, dad's car was something less glamorous like a Chevy Biscayne 4-door sedan or a Rambler Classic wagon but decades later, most red-blooded car guys would pop on a chance to buy it back.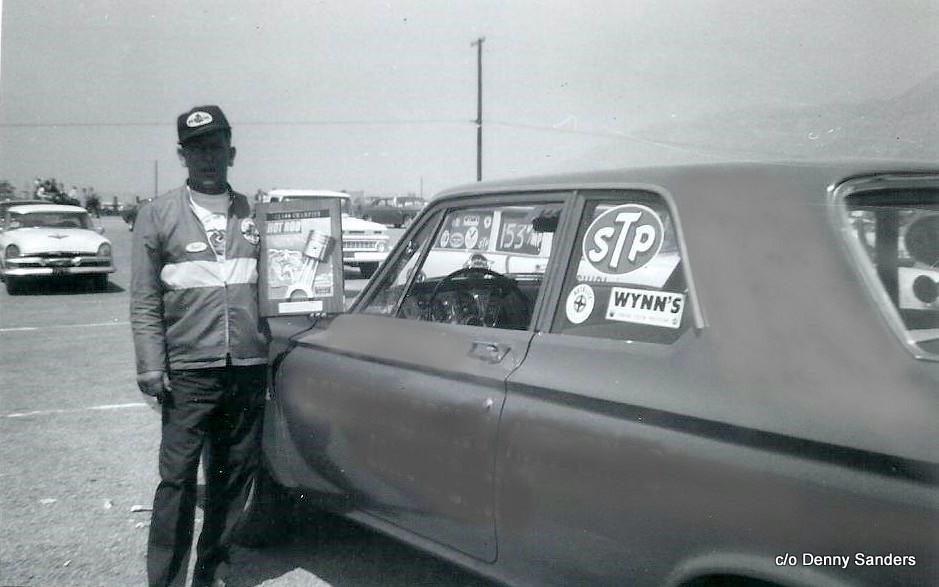 Denny Sanders is the proud owner of a 1963 Plymouth 426 Max Wedge two-door sedan and it has an unsurpassed history – it was his dad's car. Denny explained how his dad picked off this incredibly rare Mopar track machine: "My dad was Fred Sanders. He died at 50 in 1976. He worked at Al Robert Plymouth in Garden Grove 1961-64. He bought this one after racing three dealer-owned and sponsored cars, a '62 Savoy 413/410, a '63 Savoy 426/415, and a '63 Belvedere 426/425 –this is an original 13.5:1 compression 426".
Denny's father was a force at the track with his Maxie: "He raced the car 1963-69, selling it after my mom had two strokes that required several years for her to recover to about 90%. Along the way he won at the local, regional, and national event level (wins in SS/CA and SS/DA at the 1967 and 1968 Hot Rod Magazine Championships national events at Riverside) – he was in the final round a number of times too".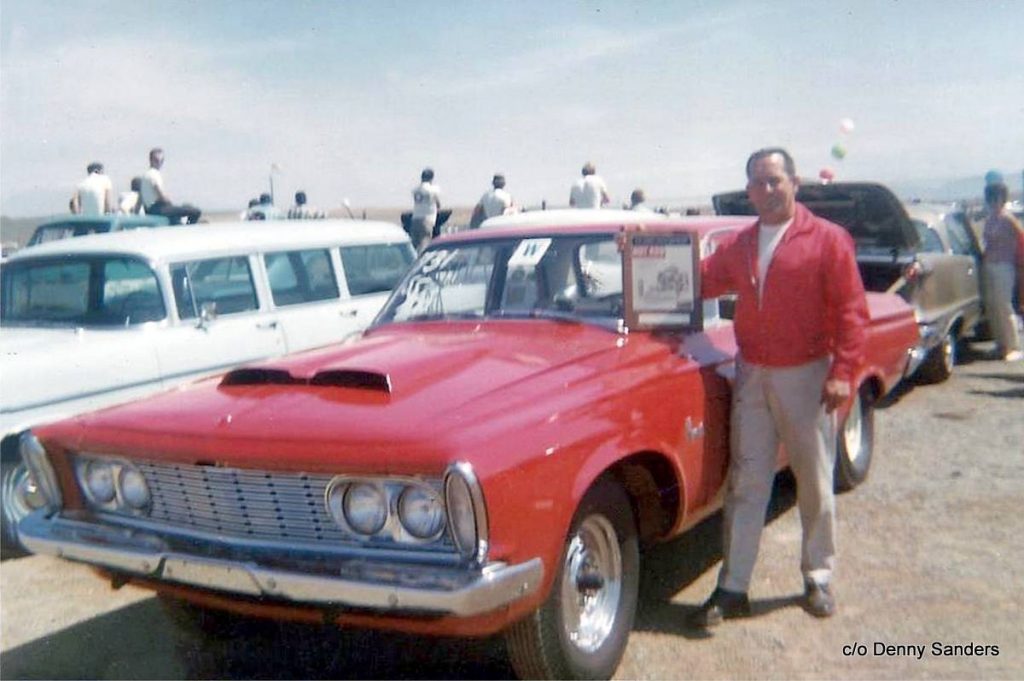 Denny listed more highlights from his dad's incredible record: "In AA/SA trim (7″ tires) he ran a best of 11.88 at 120 in 1965. In AHRA trim (9″tires) he ran a best of 11.66 at 122 in early 1966. In SS/DA trim in 1968 (9″ tires and 11:1 compression-high compression would have been SS/CA that year) he ran a best of 11.62 at 122. In all the time he ran it he had a stock, unmodified torque converter and used an OEM 426 camshaft".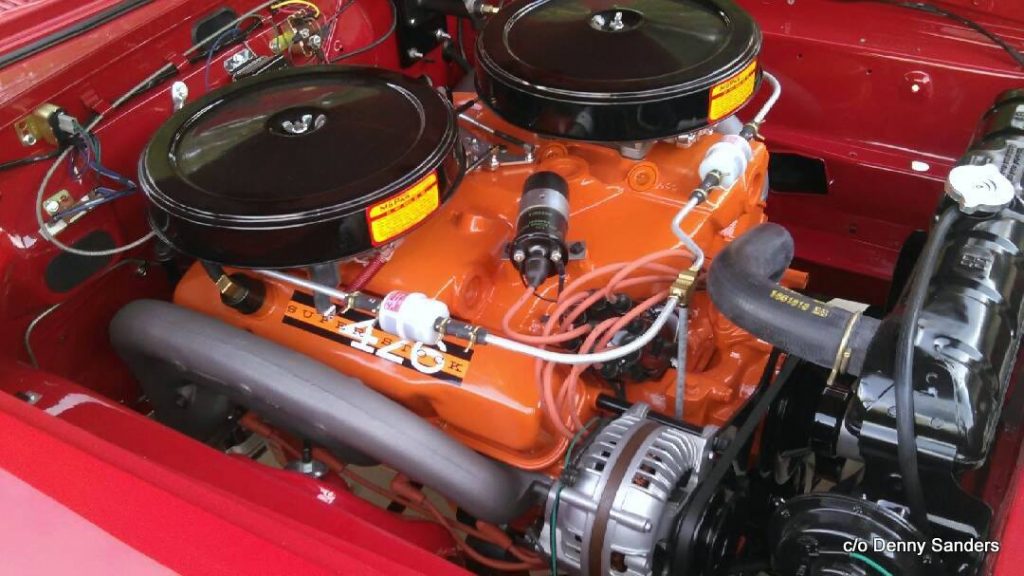 "After he sold it the car ended up running a best of 11.41 in 1971 running B/SA, which was 7" tires (though a lot better than the 1965 models, 13.5″1 compression, an aftermarket "cheater" cam, and a 9″ high stall torque converter. It was retired from racing in the early seventies and then passed through a series of collectors".
The '63 Plymouth meant a lot to a young Denny: "I tried to buy it back in 1975 when I was 20. The guy said he was pretty much done racing but wasn't ready to let the car go. A few years later, I got a call asking if I was still interested in buying the car. I had just gotten married, and did not have any money to buy it with (I even stopped racing my '64 Dodge 426 race car for two years until I felt that I could return to racing without causing us to be completely broke)".
"At that point, I figured that I had my chance and was not going to get the Plymouth. By the early eighties I lost track of its whereabouts until 2014 when its most recent owner contacted me for information on the car. In 2017 he had a line on an original 1968 Hemi Dart – he asked me if I was interested in buying my dad's car. Within three weeks it was in my garage".
Denny couldn't believe his luck: "When contacted in 2014 my biggest hope was that the Plymouth would be making the trip to be displayed at the Mopars At The Strip event in Las Vegas. I was going to that event running my Dodge in the S/SS eliminator (it's a B/S class car), or the NSS program depending upon which year we went. I hoped to see the Plymouth in person for the first time since 1971, and if lucky, get some photos of both cars together on the move in day. I never dreamed that I was going to buy the car until the offer was presented in 2017".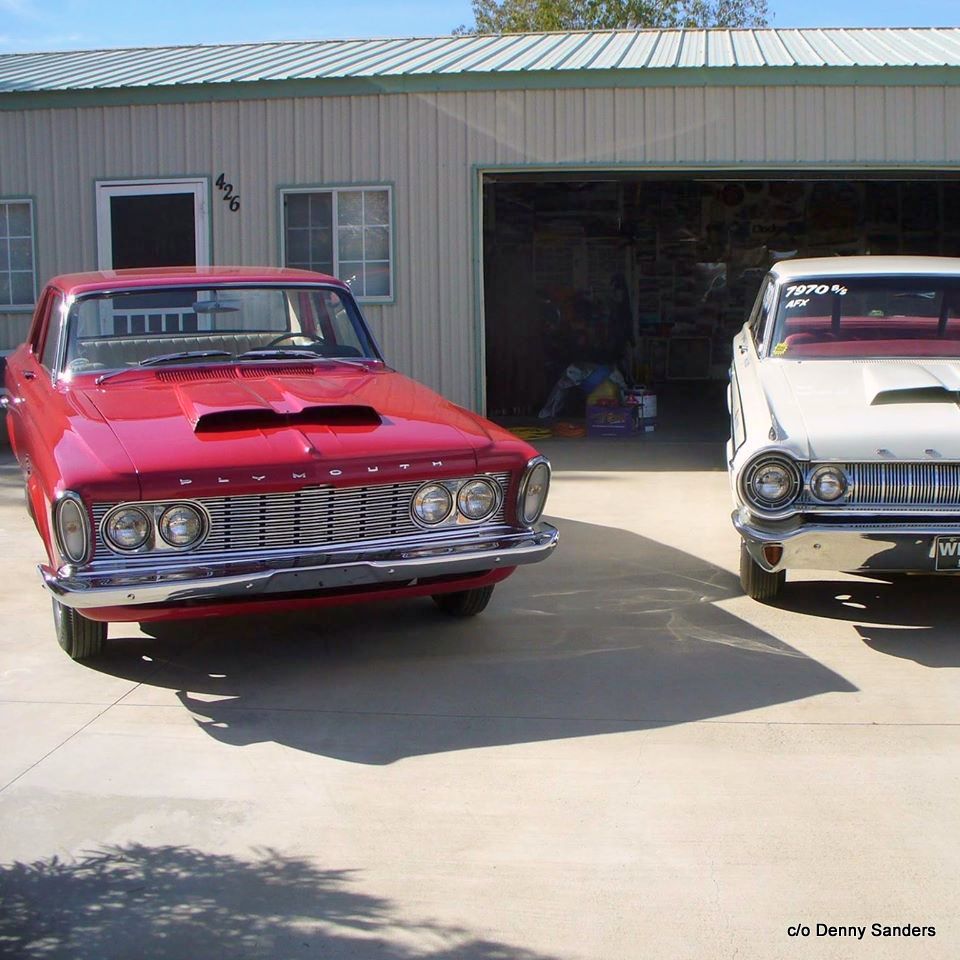 Now the Maxie is safely in Denny's hands and it leads a much quieter life: "I drive it inside the neighborhood once every 2-3 weeks on a 2 mile route….staying off busy streets to avoid accidents. I've never stood on it hard since I've had it. Not safe doing so inside the neighborhood. My Dodge serves that purpose when we go racing. Plus it's a 4-speed, so it's a lot more fun".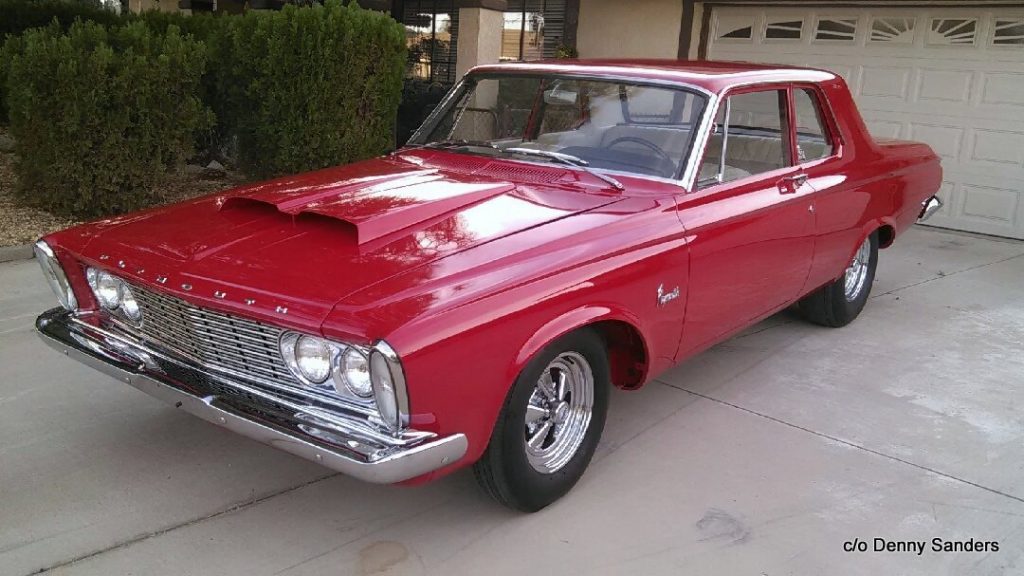 The path to restoration was relatively easy for Denny: "It has never been tubbed, welded on, or damaged in any way. Never seen a spec of rust anywhere inside or out. Still has the original interior, sheet metal, glass, trim, etc. It was lettered a couple of times in its racing days. In order to fully remove traces of that, it was completely disassembled, stripped to metal, then painted with the same oil based, single stage acrylic enamel as was used by Chrysler in 1963 in its original Ruby Red color. The excellent work was done by Barry Gallanti in Minnesota. After reassembly the car looks and drives like a new car (it only has 6800 miles on it, with well over 5000 of that from flat towing it to the races with the driveshaft still in place)".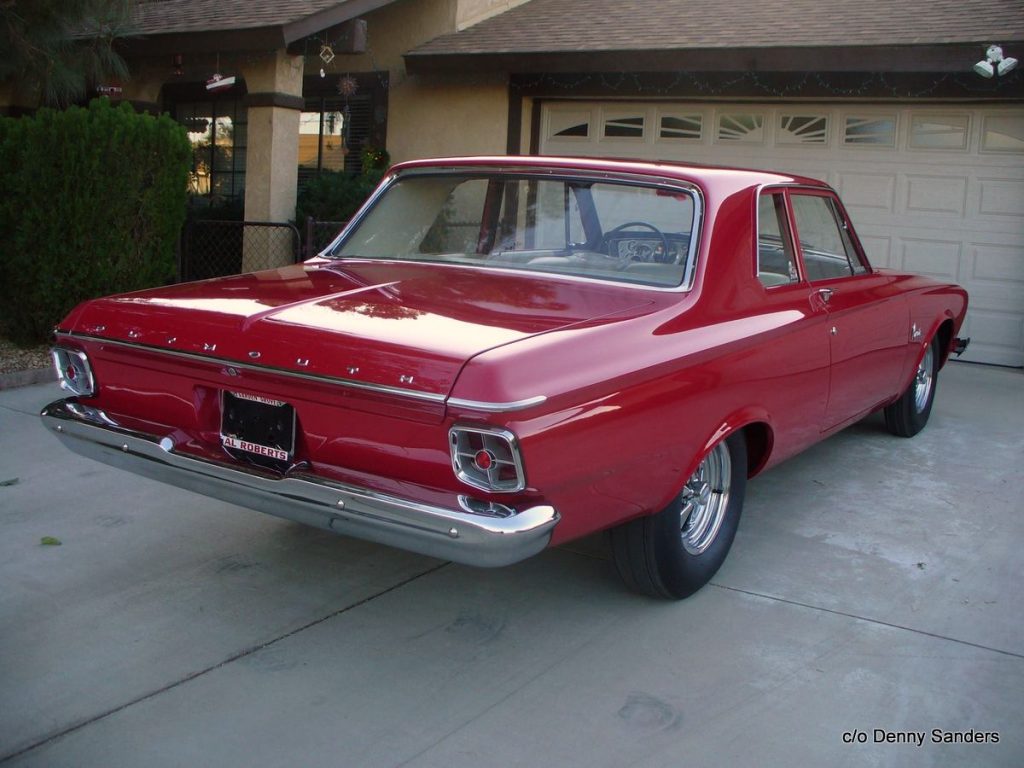 Denny's connection to the Maxie is incredibly strong and he feels it every time he's behind the wheel: "He sold it before I was old enough to drive. The first time that I ever drove it was when I drove it from the street after being unloaded from the transporter to my driveway. Very special feeling for me. My dad, mom, and brother were all gone by then".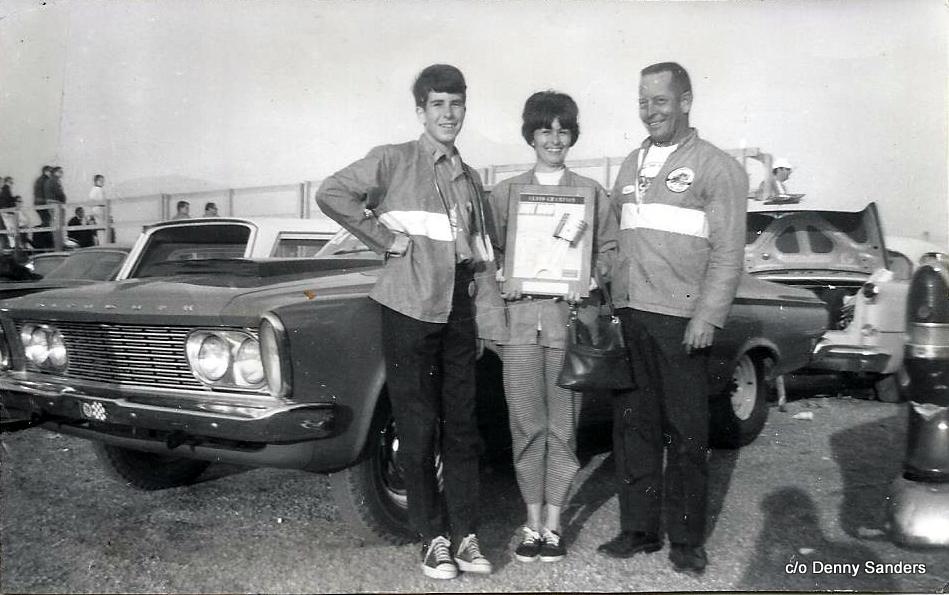 This is one of those priceless vehicles because its roots are so deep in Denny's family.
By: Jerry Sutherland
Jerry Sutherland is a veteran automotive writer with a primary focus on the collector car hobby. His work has been published in many outlets and publications, including the National Post, Calgary Herald, Edmonton Journal, Ottawa Citizen, Montreal Gazette, Saskatoon StarPhoenix, Regina Leader-Post, Vancouver Sun and The Truth About Cars. He is also a regular contributor to Auto Roundup Publications.
Please re-post this if you like this article.