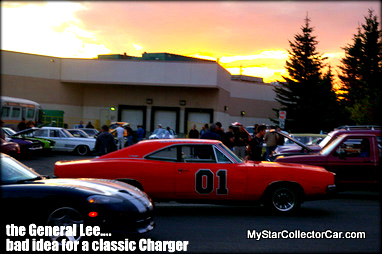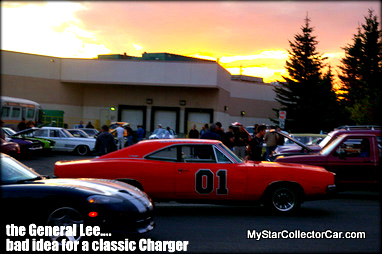 One of the most famous cars in the world is one of the most despised cars on my very short list of despised cars.
Hell- who am I kidding? I love all old cars more than most people.
But I don't love the General Lee.
I love 1969 Chargers- maybe not as much as '68 Chargers-but I hate the General Lee. I have never even watched ten minutes of 'The Dukes of Hazzard', but I also hate this old TV show- probably more than the General Lee.
Sadly, I have seen the commercials and 'highlights' from 'The Dukes of Hazzard' and the horrible carnage of too many '69 Chargers sailing through the air toward a very uncertain future. I am no expert on physics, but I do know that large cars will fold like a cheap suitcase every time they get launched into a low orbit and return to earth.
The TV show was a rip-off from the Burt Reynolds "Bandit" movies that starred a Firebird Trans Am. The herd of 'TA Birds were not thinned as drastically because movies are not filmed on a weekly basis, unlike 'The Dukes of Hazzard'.
As a result, many 1969 Chargers were harmed during the filming of this highly forgettable TV show. This ridiculous excuse for a TV show wiped out a big chunk of 1969 Chargers and infringed on '68 and '70 models during the process.
Don't get me wrong, I am not a sophisticated comedy guy. In fact I love the Three Stooges almost as much as I love old vehicles, but Moe and the boys were smart enough to inflict most of their damage on themselves and other people in the successful pursuit of comedy. The idjits behind 'The Dukes of Hazard' simply wiped out vintage Chargers every episode, and that is a very serious eye-poke-worthy offense.
Excuse me if I feel nothing but contempt for the General Lee. It is the ugly bastard child of a brutally bad TV show that only serves as a sad reminder of the extermination of a fine car model from the Mopar boys.
In a perfect Utopian world, the next General Lee that goes over a cliff would have every one of the bozos who created this TV monster strapped inside and screaming like girls.
Jim Sutherland
Happier car stories at–https://www.mystarcollectorcar.com/