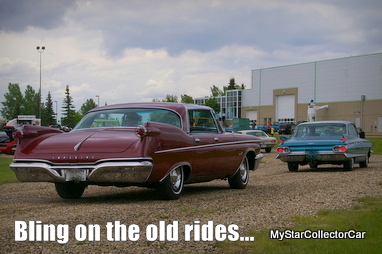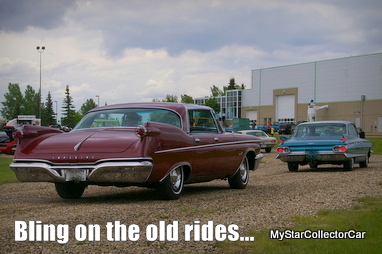 Chrome is a dicey subject for car guys.
Some love it and some hate it, it all depends upon your idea of the ideal ride in car world.
There are shining examples of why bright stuff works and shining examples of how a chrome-free world is also a good choice.
We are consummate fence-sitters at MSCC. We have our own opinions about all car hobby choices and see more merit in some than others, but we understand how individual choice is the foundation of the car hobby.
Take chrome for instance. There are past automotive eras when chrome was king. More bling meant more sticker price-and no decade reflected car guy chrome dreams better than the 50s.
The kings of chrome in the 50s were high end cars like Cadillac, Lincoln and Imperial, but the Buicks, De Sotos and Mercs kept it close in the bling game during the Ike years. Detroit had a caste system in the 50s and the top guns wore plenty of chrome.
Low-end Plymouth, Ford and Chevys had little chrome to go along with their bare bones six cylinder-powered three-on-the-tree cars, outside of the dog dish hubcaps. These style of cars were very popular in the 50s with budget-minded owners and their large herds of kids.
The early hot-rodders and customizers also loved chrome during the Elvis era. They added plenty of it to valve covers, engine parts and even firewalls in the 50s.
Anything was possible when it came to a chrome finish on a car part for these cats, even it was not readily visible on the ride. Sometimes it was just enough to know it was dipped in chrome and somewhere on the car for the owner.
Chrome was still around in the 60s and 70s, but it no longer dominated the high end rides because they sported other cosmetic highlights like vinyl roofs and opera windows.
Chrome had been demoted to more of a nameless Supreme and less of a Diana Ross in the grand scheme of things in Motor City's later years.
The one constant through all of this era were the rat-rodders and their view of chrome use. A true rat rodder uses as much chrome on their car as Lex Luthor used hair gel on his head.
The rat rodders are minimalists in very sense of the concept. They strip a ride down to its essence and throw out anything that does not need to be included in the equation. Casualties may include fenders windows, seat cushions and especially chrome.
Chrome serves no function for a rat-rodder. The rat rod hobby was born in an era of tight budgets where less weight was a cheap way to gain some advantage in the power to weight ratio during a time when power was a big issue to a car guy with limited resources.
Chrome was extra baggage and the authentic rat-rodder of today honors that idea, even though he has plenty of high-powered engine options available for his modern era rat rod.
Today a rat rod is all about the authentic look and chrome is still a deadly sin in this world.
Chrome has made a subtle return to today's new cars and they add a sense of elegance to them. It also never left the custom world and most of today's show winners still have plenty of bling to dress them up for competition.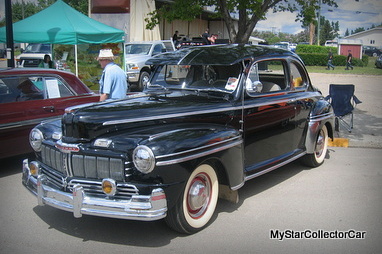 Chrome will never really disappear in the car hobby. It will always be a great way to doll up a ride, unless we are talking about rat rods.
Those cats will always stay the course when to comes to no bling.
Jim Sutherland
CLICK HERE to Like us on Facebook
CLICK HERE to Follow us on Twitter
CLICK HERE to Follow us on Pinterest
Re-post this article if you like it…thanks.