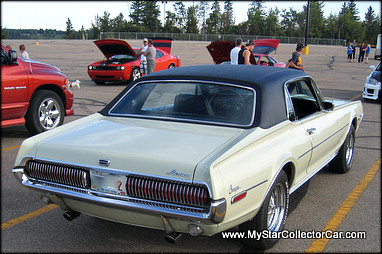 Dale Glass always liked Mercury Cougars from the 60s.
These cars were an upscale Mercury cousin to the Mustang in the Ford family that never quite reached the cult status and stratospheric heights of popularity enjoyed by the Mustang.
Nevertheless, a Mercury Cougar was a stylish addition to the pony car wars in the late 60s and Dale liked them well enough to own one during the critical misspent youth portion of his life.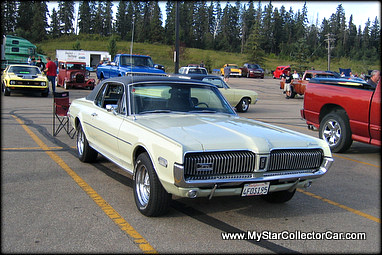 Unfortunately Dale's original Cougar "met a bitter end" (Dale's words) in a snowstorm during his younger years and Dale was destined to wait quite awhile before he would own another Cougar.
He found one in Ohio on the 'Net about five years ago when he finally decided to replace his original Cougar with a solid replacement. This 1968 Dan Gurney Special Cougar was the right car at the right time in Dan's life, even though it was on the other side of the continent in Ohio from his western Canadian home.
A Dan Gurney Cougar was an endorsement from the famous American race driver who had so much success at every level of racing during his long career as a driver and owner. He had signed on with Lincoln-Mercury to as a team manager for their Group II sedan racing program that raced Cougars in the series.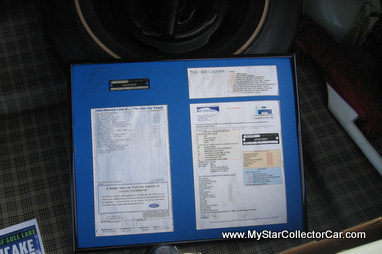 Gurney's name was attached to the 1967 and '68 Cougars because his name was a good way to promote a special edition Cougar at the time. The 1968 Gurney Cougars bore a sticker with his name and had custom wheel covers, while the '67 Cougars also had a chrome dress up package under the hood.
Dale Glass's '68 Gurney Special is a true survivor car with less than 40,000 miles on its odometer and it fills the void very well for Dale in the Cougar replacement department.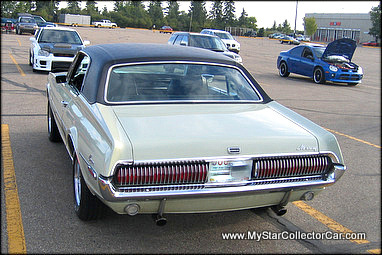 The only modification to the car is an electronic ignition for better performance. It still has its original Gurney sticker and its unique hideaway headlights still work, along with its famous sequential rear turn signals that were a signature look on the earliest Cougars.
Dale's '68 Cougar even has all of its original glass, so it has clearly been protected from harm for much of its life. One would assume that it was not subjected to Ohio winters during its earlier years and its new life in Canada will definitely not include winter driving under Dale's watch. He learned his lesson pretty well a long time ago with his first Cougar.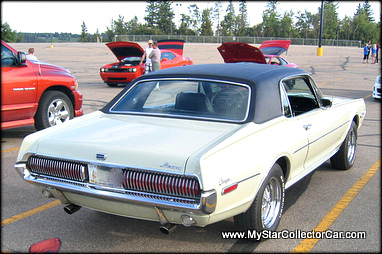 However, Dale loves to drive his Cougar– he took it to a Spokane Washington car show a few years ago for a road trip.
The original 302 in the Cougar provides plenty of power for Dale, so he is able to "keep up with traffic" very well in his words.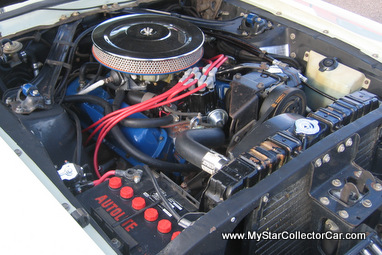 The important part of this car guy story is an owner who was able to right an accidental winter wrong from his past and get another Cougar to replace his long lost car from a different time in his life.
Dale seems pretty happy the second time around with his favorite brand of Cougar.
Jim Sutherland
Follow us on Facebook at-http://www.facebook.com/MyStarCollectorCar
Follow us on Twitter at- https://twitter.com/#!/MyStarCollecto1 
Follow us on Pinterest at- http://pinterest.com/jerrysutherland/classic-iron/